Bruce Springsteen Joins Jimmy Fallon For Chris Christie Song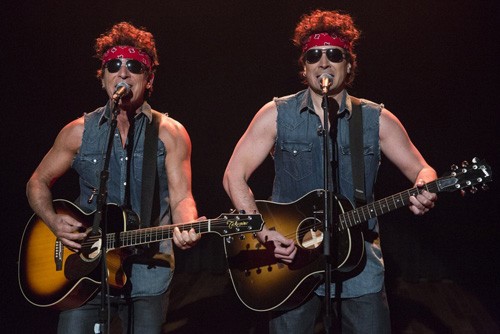 New Jersey governor Chris Christie is a huge fan of Bruce Springsteen, but he probably didn't like what the singer did last night on Late Night with Jimmy Fallon.
The Jersey native Springsteen joined Jimmy Fallon for a song about a recent political scandal involving Christie's aides allegedly shutting down part of New Jersey's highway to get back at a mayor who did not back Christie's bid for re-election - that's the short version of it, anyway.
Fallon begins the bit by singing an altered version of Born to Run while wearing Springsteen's signature denim cut-off shirt. The song, titled "Gov. Christie Traffic Jam," is about people in the state sweating out another traffic jam. Fallon does a pretty good Springsteen impression before the real deal shows up to sing the second verse.
Fallon sings, "Highways jammed with pissed-off drivers with no place left to go / and the press conference went on and on," before Springsteen interjects, "It was longer then one of my own damn shows!"
The "Springsteen twins" got a few "Bruuuuuce" cheers from the crowd, but we bet Christie wouldn't be cheering if he watched it.