Bruce Springsteen Ends Adele's Reign At The Top Of The Billboard 200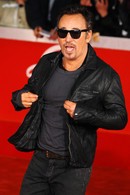 Bruce Springsteen has landed his 10th number one album in the U.S. after ending Adele's run at the top of the charts.

The rocker's "Wrecking Ball" only just beat the British singer's "21" to the top of the Billboard 200 countdown - sales for the two albums were close for much of the past week, but Springsteen's new release edged ahead of Adele's just in time for Wednesday's official chart announcement.

Springsteen's album sold 196,000 copies in its first week - just one thousand more than Adele's.

The rocker now ties Elvis Presley for the third-most number ones in history. Only the Beatles and Jay-Z have more.

He also scores a trans-Atlantic double - "Wrecking Ball" debuted at number one in the British album charts on Sunday.

Adele's "21" slips a spot to number two after spending 23 non-consecutive weeks at the top of the chart.

Meanwhile, Fun.'s "We Are Young" hold steady at the top of the Billboard Hot 100 songs chart. The anthem hit the number spot last week.

Kelly Clarkson's "Stronger (What Doesn't Kill You)" and Adele's "Set Fire to the Rain" also stay put at two and three, respectively.