Bruce Dickinson Determined To Save Iron Maiden's Ed Force One Airline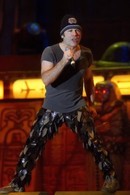 Iron Maiden frontman Bruce Dickinson is determined to take off with the band's official aircraft again after the company behind the jet was forced to cease operations due to financial problems earlier this week.

The band's Ed Force One jet was grounded by bosses at Astraeus Airlines, but the "Run to The Hills" singer is working on a new plan to set up his own company and rescue the plane he has been piloting around the world.

He says, "The good news is that Ed Force One will fly again, and we have time to prepare so there should be no problems the next time we need her. In the meantime, I'll get on with the business of flying until Maiden are out on the road again."

Dickinson was a Boeing 757 captain for Astraeus. He piloted the company's last flight from Jeddah to Manchester.

He adds, "I'm already working on a plan to try to save Astraeus, or at least create a new business with new jobs for my friends and former colleagues at Astraeus. This is a serious plan involving people who are very good at their jobs.

"Now Astraeus has been relieved of the business model imposed upon it by Icelandic owners, who, to be honest, perhaps did not fully appreciate the way the key commercial aviation markets operated, I see the potential for a viable operation should acquisition of the company prove achievable.

"I am also involved in a project which could mean the creation of as many as 1,500 jobs in aerospace... That could be a very good news story."