Bruce Campbell And Sharon Gless Appreciate Their Place In 'Burn Notice'

With seventy years show business experience between them, actors Bruce Campbell and Sharon Gless seem just about over it. A beloved B-movie icon, Campbell spent much of his career
either fighting off the undead in movies like The Evil Dead and Maniac Cop, or bouncing around several starring roles in well-received, yet quickly cancelled television shows like "The Adventures of Brisco County Jr." and "Jack of all Trades." Sharon Gless couldn't be any more different. The last of Hollywood's contract players, Gless hit it big as NYPD detective Christine Cagney in the CBS hit "Cagney & Lacey" and reinvigorated her career through acclaimed appearances on "Queer As Folk" and "Nip/Tuck," the latter of which earned her an Emmy nomination. These days, though, Campbell and Gless seem content working on "Burn Notice."

"Burn Notice" follows the life of Michael Weston, a former international super-spy that gets mysteriously burned out of the cloak and dagger business. Unemployable and penniless, Michael works as a PI and soldier of fortune with the help of retired spy, and wanna-be playboy Sam Axe (Campbell), while living at home with his doting, worrisome mother Madeline (Gless). With the third season having just finished up its summer run, Campbell and Gless took the time to take questions about their characters on Burn Notice, where the show is headed and the best recipe for making fake blood.

For both actors, "Burn Notice" came out of nowhere, but both connected to their characters quickly once they read the script. "I've always enjoyed playing a little left of center characters," says Campbell. "What's attractive to me was that these are real characters. These are characters who drink and smoke and make mistakes and have foibles in love and try to fix their mother's garbage disposal."

Gless had a similar attitude, "This script arrived and I was sitting all alone in my room and it made me laugh out loud and I was all by myself. And I thought, this is funny. This is fun, I like this. It had substance to it, too"

Both Sam Axe and Madeline Weston have their vices, but Campbell and Gless believe their characters to be both realistic and that there's more to them than the show directly addresses. Gless elaborates "Madeline, my character, first she's totally in the dark and very needy and very sort of just all sort of emotional things that are unattractive. And as time went on, [series creator] Matt Nix said, 'Sharon, she's smarter than what I was writing.' And he gave me one clue, he said, 'Remember, [Michael] gets his smarts from her.'"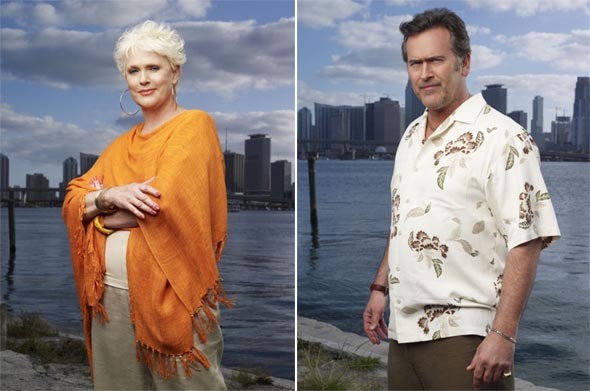 Burn Notice © NBC Universal, Inc.
Bruce feels a similarly about Sam, who seemingly spends most of his time mixing cocktails and hanging off the purse strings of rich older women. "I think my character is actually more accurate [than morose ex-military stereotypes]. …I'll tell you these guys like having a good time when they're not working. They don't sit around mopey dope, they sit around and crack gallows humor, lots of gallows humor, dark humor. Frankly, I think they're happy that they're alive... So I should think Sam is very indicative of the real guys, you know guys who are my age who have mustered out in their 50's. Believe me, most of them are drinking beer and sitting around a pool cracking jokes about the old days."

In regards to Sam's drinking, Campbell is quick to add "But you know, the one thing I want to point out is you never see him drunk. You know, a lot of people go, oh Sam's an alcoholic. Hey, he's a guy who likes to drink like a lot of Americans…. If I've got a morning meeting with the feds, Sam will have a cup of coffee. He's not a complete party boy."

Throughout most of "Burn Notice" Bruce and Sharon didn't share much screen time, but in this past season Sam was forced to live in Madeline's home giving their relationship a chance to grow. Sharon comments, "I see that [our relationship] can get rougher, it can get more tender, and I think there's a myriad of things that can come out of a relationship with two people who do respect each other and who both love this one man, this boy, my boy and his friend." But she and Bruce both draw the line at a potential Sam/Madeline hookup:

Bruce: "No, I don't think we'd ever want the romantic angle because it would be too creepy sleeping with Michael's mother. You know, it's too inbred… We've developed a familial attitude of almost more like cousins or something."

Sharon: "… We'd have to probably be very drunk and the next morning it would be really hard at the water cooler. I think it would ruin a potential of what they still have yet to build. Sex ruins everything!"

Corny plot turns and anxiety about where their characters are going don't seem to bother either actor. When probed on their knowledge of upcoming plot turns, both actors confessed that they know about as much we do. Campbell elaborates "I can't speak for other actors, but I don't really probe the writers, I honestly don't. I haven't bugged them in three years about what's coming up with Sam. Whether he's going to have a home or a girlfriend. I like to sit back, just like the audience, and let it happen. I get excited reading the next script, because I don't really know what they have planned. The season finale, I couldn't tell you sitting here right now what's going to happen. Not because I'm lying or that I'm not supposed to, I don't know because I haven't asked, I don't want to know."

Sharon feels much the same way "I never know where they're going to go with the show. I'm always surprised every time I open up the script and see what they're doing. I don't know if there's a track. I think sort of the beauty of the show is that it constantly surprises."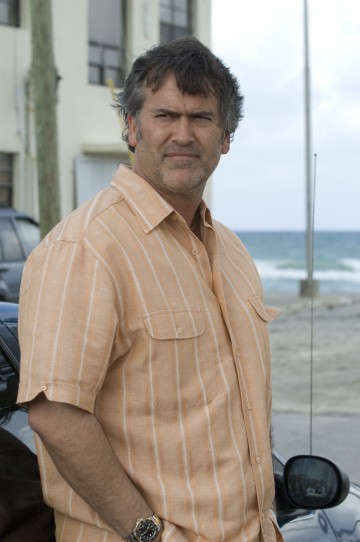 That's not to say that the actors are completely in the dark. In season 3, Michael's main goal is get back into the spy game, which, if successful would leave Sam and Maddie with mixed feelings. "I think he'd be happy for Mike to get back in," Campbell says "Even though it looks like it's borderline not worth it based on what [Mike] has to go through... In the episode we're shooting right now... Sam refuses to help him because he's doing stuff that is too questionable. So Michael's going to get in pretty deep. We'll see how deep he gets in. And if he winds up going back in, I think Sam would miss him because I think Sam has enjoyed getting back to work instead of just drinking and hanging out with rich Miami women."

While "Burn Notice" is a major success for the actors, both of them came into the show with their own massive sets of fans. Both fielded a number of questions on their past work, which allowed Bruce to show off his typical grace and soft touch when dealing with over-eager horror fans. When asked what the cast of Burn Notice would do if attacked by a horde of zombies, Bruce replied "I would pick you up and hold you in front the zombies for asking such a lame question."

Still, he obliged eager fans on his patented recipe for fake blood he developed from his years in the exploitation movie business: "... I wouldn't want to give [the exact Evil Dead recipe] all away. It's far too secret, just like military secrets,... this shows you how in this show you really can make an incredible amount of different things in your kitchen and fake blood is certainly one of them. It's one of the cheapest, for anyone making a horror film, it's probably the cheapest prop you can get. It's mostly Karo syrup, red food coloring, a little bit of cremora, and a drop of blue to make it not get too pink, you know, too bright."

Still, "Burn Notice" has shown a noticeable shift in their fan bases, and for Bruce Campbell it's a welcome relief from fans happy to show off their Evil Dead tattoos. "It's been nice. I'm now the old guy on Burn Notice, so it's awesome. I get to be a whole new persona of being spotted. And then there's all those fans who will discover Burn Notice and then they'll go back and go, "Oh, he was in these weird movies from years ago." So I don't care how they discover whatever, it's all fine, I'm just glad they're watching the show."

It's a similar story for Gless, "It would depend on who I'm talking to. They may initially say Cagney and Lacey, but most people who come up to me now are still, and now do recognize me as Maddie in Burn Notice... The demographics we have on this show span such an age range. I mean what I'm getting that's neat for me is young people… I actually had a 10-year old that's not usually my demographic, had come up and his father brought him up and the boy said, "Are you on Burn Notice?" And I said, 'Yes, I am.' He said, 'That's so cool!' So I'm learning more about the younger ones and it's fun for me."

Bruce and Sharon seem to appreciate their place in "Burn Notice" and plan to stay on board for the show's full run, which Campbell wagers will last up to eight seasons. "The reason I say that is because Monk went eight and we're outpacing Monk in the ratings. And so we're kind of the new tent pole for USA, and I think we're going to be around for the long haul and mentally, I have to say, I'm not looking over my shoulder. I'm fully prepared to ride this show to the bitter end… Actors always seem like they're looking for a better gig. This time I can't, there is no better gig. This is a good gig, and I'm happy to ride it until it ends."



Story by Kris King

Starpulse contributing writer