'Brooklyn Nine-Nine' Pilot Shows Potential And Characters You Want To Know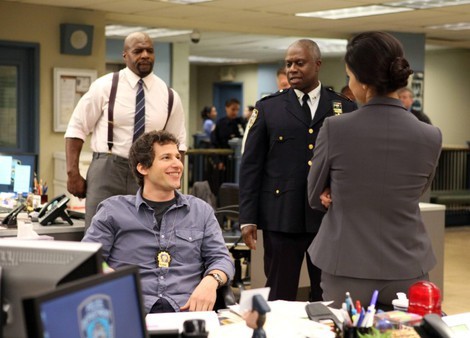 In a typical cop show, the episode usually opens with a murder. The world-weary detectives reach the scene, ready to find the clues that will bring justice for the poor victim. They assess the situation with their keen detective-eyes. And just before the scene ends, some wise guy cop feels the need to make a pun. That wise-guy cop is Jake Peralta, the main character of the newest addition to Fox's already strong Tuesday night comedy lineup.
Peralta (Andy Samberg) is the type of guy who doesn't take himself seriously enough to wear a tie, says likes like "Good news for all you murder fans," and still manages to solve the case five minutes before his partner even arrives. He seems to be a character in the same vein as Psych's Shawn, a sass-mouthed lead who is quick with the one-liners but without an ounce of ambition.  
His partner, Amy Santiago (Melissa Fumero), is the exact opposite. She needs to work harder to be successful at her job, but she's more motivated than anyone around her. Her Sargent describes her as constantly trying to prove that she's tough. It's yet another cop show stereotype, but it works.
Other detectives include Rosa Diaz, a no-nonsense badass who has already earned my love forever. Charles is a sad sack type character. Terry Jeffords is a formerly overweight, currently fraidy-cat Sargent.
Captain Holt (Andre Braugher), a serious minded law enforcer, joins the team in the pilot, set with his love of rules, ties, and frowny faces. He doesn't ask too much of his team, has a bit of a sense of humor when it counts, and is a proven great detective. I love how matter of fact he was about being held back from appointment as Captain because he's gay. He just wants to prove that those who didn't promote him for decades made a huge mistake.
Overall the show has tons of potential. I found it to be funny, filled with charismatic actors, and characters I actually want to get to know more. I'll definitely be watching more.
Other Musings:
Sargent Terry Jeffords (Terry Crews) named his twin daughters Cagney and Lacey which is the cutest thing ever.
This is the second premiere show this week with a great representation of people of color. Fox is doing pretty well so far, if you ignore the existence of Dads.  
"The only puzzle he hasn't solved is how to grow up." "That was very well put." "I've talked a lot about Jake in my departmentally mandated therapy sessions."
"It's impossible to solve a case without a tie."
"Captain, hey. Welcome to the murder."
"I am detective Right All The Time and this is Detective Terrible Detective."
In 1981, Holt solved the Disco Strangler murders with the help of his psychedelic afro.
"I just tune him out. It's like a white noise machine." "First of all, that's racist."