'Brooklyn Nine-Nine' Gets Full Season, Coveted Post-Super Bowl Slot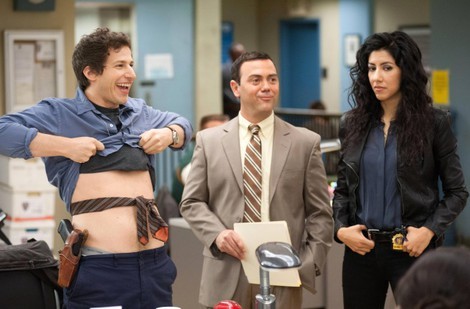 Fox is going all-in with comedy Brooklyn Nine-Nine.
The Andy Samberg-led cop show has been given a full 22-episode order, the network announced recently. To top it off, the comedy will also be shown thirty minutes after the Super Bowl to rake in the ratings.
Fox will be airing a comedy block after the big game, showing New Girl and Brooklyn Nine-Nine to see if they can give the show a new audience. Shows after the Super Bowl are pretty much guaranteed a huge audience: Elementary got 20 million last year and The Voice had 37 million viewers the year before.
Fox chairman Kevin Reilly said, "It's exciting to see that both critics and fans love Brooklyn Nine-Nine as much as we do. With Andy and Andre out in front of this incredible ensemble, it feels like this show is going to be around for a long time."
Brooklyn Nine-Nine is average 5 million viewers, but Fox says the audience is closer to 14.5 million viewers once DVR and online streaming is added.