Brooklyn Decker Talks About Maintaining Her Fabulous Figure & Her Girl Crushes In The May Women's Health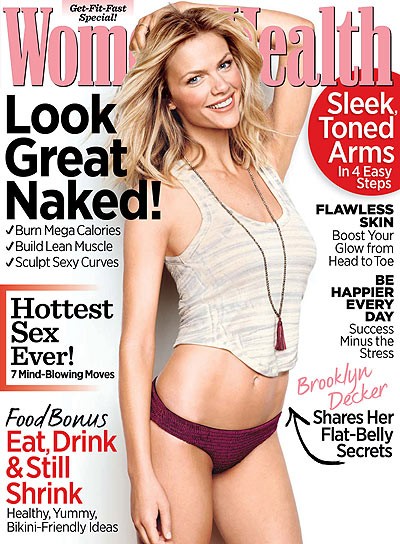 Model-turned-actress Brooklyn Decker has two movies coming out this summer, a tennis superstar husband and a body most women would kill for.

In the May issue of Women's Health she talks about her drive to stay in shape, exercising with husband Andy Roddick, and her girl crushes.

The former Sports Illustrated swimsuit model, who turned 25 on Thursday, says that her husband inspires the way she works out - both mentally and physically.

"Being married to Andy has given me a new appreciation for my body," she says. "He's taught me that it's not how thin you are that matters. It's how your body performs, how it endures wear and tear."

Roddick also attempted to teach her his sport, but it didn't go so well.

"He tried to give me a lesson once, and I ended up hitting all the tennis balls over the fence and smashing my racket because I was so frustrated.

"I told him, 'You don't teach me how to play tennis, and I won't teach you how to model in a bathing suit.' And so far, it's worked."

Brooklyn also reveals how she keeps her sexy figure: "[I eat] like a 12-year-old," she says.

"I try not to think about foods that are too fattening or too sugary. I always think about why it's important to eat the best foods. By not obsessing over the bad, I tend to stick with the good."

The up-and-coming movie star also talks about her girl crushes in the issue, revealing that Saturday Night Live star Kristen Wiig, sportscaster Erin Andrews and fellow model Marisa Miller are three women she admires.

"Her sense of humor is something we can all relate to," she says about Wiig. "She's like the inner soul of every girl alive. She doesn't care about preserving her beauty on camera—and she is very beautiful. She's very real."

ESPN college sports reporter Andrews was the victim of a stalking scandal in 2008, also inspires her.

"You have to love a beautiful woman who knocks down all the stereotypes and becomes one of the country's best sportscasters. She had to fight for years to be taken seriously, and she did it without once losing her sense of humor or her great enthusiasm."

Brooklyn also looks up to fellow Sports Illustrated model Marisa Miller, who gave her lots of support early in her modeling career.

"When I was a rookie in the Sports Illustrated Swimsuit Issue, Marisa had already been in it for years. But unlike a lot of models who get very territorial, Marisa rooted for the new girls. If there was a job she couldn't do, she'd pass it on to me. That's real grace."

Brooklyn, who starred alongside Adam Sandler and Jennifer Aniston in last year's flop, Just Go With It, hits the big screens in two big films this summer - What to Expect When You're Expecting, based on the popular parenting bestseller, and Battleship, based on the Milton-Bradley game.

The May 2012 issue of Women's Health hits newsstands on April 17th.