Brooke Valentine Represents Herself with New Album 'Forever'
"This album is like pages from my diary," explained R&B vocalist Brooke Valentine, describing her forthcoming album Forever. "Instead of writing it down, I sing it."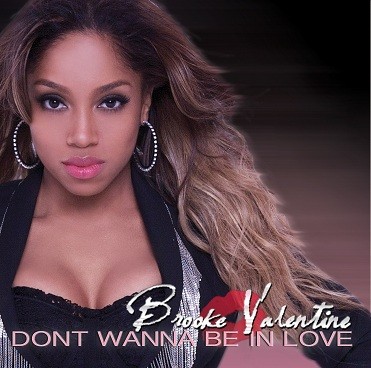 The album is her first since 2005's Chain Letter, which included her best-known single "Girlfight". Even with the success of the track, Brooke was unafraid to take somewhat of a break from music afterward and spend time with her son London. While other artists might have been worried about staying on the radar, her priorities have always been "Just to be real, to be honest, to be myself, to not turn into anybody else or be influenced by what someone else thinks.
"I'll never be a traditional artist," she continued. "I'm just me, I'm a real person, and I enjoy being real. I love my life. I'm a hands-on type of person. I don't follow whatever the protocol is."
That 'take it as it comes' attitude extends to the studio, where she explained that her creative process is "Nothing particular. I just let it flow. It's very organic to me. I don't have any expectations, so I'm never disappointed in the end. I always surprise myself."
Now she's showing more diversity than ever before. Forever mixes R&B, dance and pop music over its fourteen tracks, including the recently dropped single "Don't Wanna Be In Love". Asked what fans can expect from the album, Brooke summed it up in one word: "Honesty."
As far as her favorite new song, she added that "'In The Air' is really special to me. Every time I hear it, it takes me back to that place and I relive each emotion every time as well."
Yet for the listeners who are just getting started and want to know what Brooke Valentine is all about, she added that "I have a song everybody loves called "Cover Girl". People always reference [it] when they think of me as a singer-songwriter. I'm really diverse so I don't have a genre to fall into," as evidenced by Forever's multi-genre tracklist.
Looking toward the future, Brooke said that she "would love to work with artists that always are amazing [like] Sade, Lauryn Hill, [and] Prince."
But her ultimate career goal is "Just to remain myself. I did lose myself at one point in the past. I got real involved with what people wanted me to do."
Now that she's back to pursuing her own goals, she doesn't intend to take another hiatus. "I never fell out of love with music," she said. "It was mainly the industry that I was kind of over. But I'm back, and I plan to be here for my fans."
You can follow Brooke Valentine on Twitter (@4everbrooke) and visit her official website. For more from Brittany Frederick, visit my Starpulse writer page and follow me on Twitter (@tvbrittanyf).  
(c)2012 Brittany Frederick/Digital Airwaves. Appears at Starpulse with permission. All rights reserved. No reproduction permitted.