Brooke Shields Calls Miley Cyrus' VMAs Performance 'Desperate'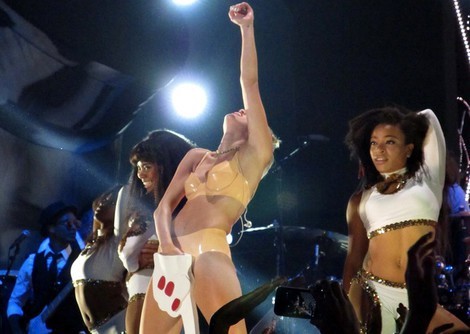 Brooke Shields has called out her former co-star Miley Cyrus for her provocative performance at the MTV Video Music Awards (VMAs) on Sunday night.
Shields played Miley's mom on Disney's "Hannah Montana," and her real-life daughters, aged six and 10, are big fans; however, Shields was a bit put off by Cyrus' sexy routine at the Barclays Center in Brooklyn.
 
Cyrus, 20, wore rubber underwear and made sexual gestures with a giant foam hand while performing "Blurred Lines" with Robin Thicke. She danced provocatively in front of the singer and twerked - grinded her butt into his crotch - while making inappropriate gestures to the crowd.
 
Shields was a co-host on "Today" on Monday and expressed her disappointment with her former co-star. She joked, "I don't approve. What did I do wrong?"
Shields then got serious, adding, "I just want to know who is advising her and why it's necessary. My six year old and my 10 year old, they can't watch that.
 
"She can sing beautifully, and I feel like if she lets that lead, rather than let her bottom lead. I feel it's a bit desperate - you're trying to be (Lady) Gaga... but it's different... She's trying so, so hard."
However, Shields did give Cyrus props for making headlines: "She went for it... and we're all talking about her."
Cyrus' pal Kelly Osbourne also criticized the star - for sticking her tongue out so much.