Brooke Hogan's Debut Album, "Undiscovered," Hits Stores Oct. 24

Brooke Hogan
may be the daughter of world-famous wrestler
Hulk Hogan
, but she has already pinned down her own celebrity status as a star of VH1's top-rated reality family adventure, "Hogan Knows Best," now in its second season.
On June 12, the 18-year-old will take her boldest step toward individuality yet with the release of single "About Us," featuring rapper
Paul Wall
. The punchy, rhythmic-flavored track is a testament to living in the spotlight and braving false media rumors. It was produced by
Scott Storch
, who has helmed projects for
Justin Timberlake
,
Beyonce
,
Christina Aguilera
,
Mario
and
50 Cent
.
"I have had the pleasure of producing some of the biggest artists in the music industry. Real knows real. And Brooke Hogan is the real deal," Storch says. "She is an accomplished musician, singer, dancer and actress, crossing four artistic disciplines, which is unheard of in the industry today."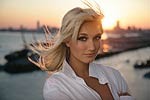 Hogan's spirited and demonstrative debut album "Undiscovered" personifies the multi-faceted musician's full range of talent. In addition to vocals, Brooke plays guitar and keyboards. She also contributes her own viewpoint as a co-writer of two of the songs. The project will street September 26 on SoBe Entertainment.
Hogan's quest for a recording contract is a primary storyline in this season's "Hogan Knows Best"-as is her struggle for independence against a very loving but strong-willed dad. The show is one of the highest-rated series on VH1, drawing nearly 90 million households.

The network will support its rising star with exposure of the video for "About Us" at the end of June. The clip-which includes Paul Wall and showcases the playful Hogan sporting a custom-made dental "grill" designed by the rapper-was shot over Hogan's birthday weekend (May 5) in Los Angeles under the direction of R. Malcolm Jones, with choreography by Hi Hat, and executive produced by Dave Meyers.
Watch the video for Brooke's "About Us":
Windows Media
|
Real
|
Quicktime
(Streaming audio and/or video links may expire without notice)