Brooke Hogan Unveils Her 'Women In Cages' Photo In Miami With Dad Hulk Hogan's Awkward Support (Pics)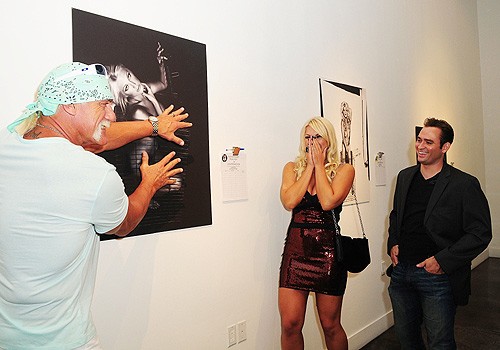 Brooke Hogan was in Miami's Wynwood Art District Thursday night to promote photographer Jordan Michael Zuniga's "Women In Cages" exhibition at Cafeina Lounge.

Brooke - who appears nude and in a small animal cage in one of Zuniga's photos - even had her dad, legendary WWE wrestler Hulk Hogan, with her for the somewhat awkward unveiling.

The exhibit is will benefit PETA (People for the Ethical Treatment of Animals), as 80 percent of all proceeds will go to the animal-friendly organization.

The 23-year-old blonde bombshell tells NBC, "[Zuniga] had such a great a concept: Let's throw women in cages because it's shocking to see a woman caged up, and we think nothing of it when an animal is caged up."

When asked about Brooke's reaction to the shoot, Zuniga tells PEOPLE.com, "She said, 'This cage is really small, it's really uncomfortable."

"To put beautiful women in those cages? Well, they got a taste of what it was like to be crammed inside a cage," he adds.

But having her dad there while she showed off a nude photo of herself has caused some backlash for Brook, who wants people to just chill out.

"I'm so sick of people saying me and my dad are in some perverted relationship. Go home and do your own thing! Stop picking on me!" she tweeted.