Brooke Burke-Charvet Talks Biggest Regret, Extreme Plastic Surgery In New You Magazine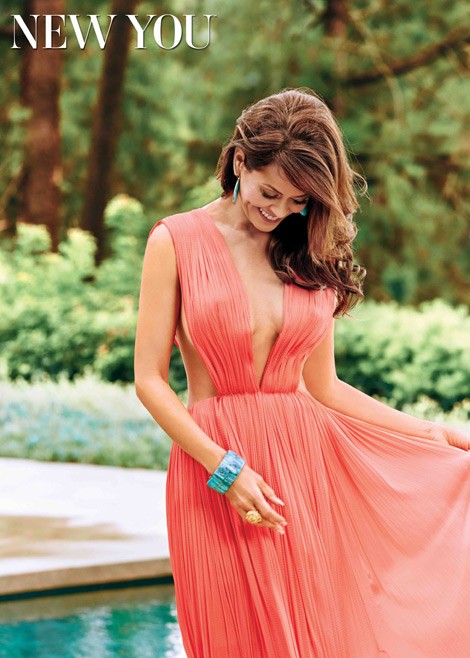 Brooke Burke-Charvet has opened up to New You magazine about being a mom of four, how it feels being in her 40s as well as her thoughts on plastic surgery, her biggest regret and what young women starting out in Hollywood should do.

"I regret having a marriage that didn't work, because divorce is "forever" for children," she explained. "I regret that my two oldest daughters have to grow up knowing that sometimes a family falls apart. That's my heartbreaking life lesson. But I'm happy that they can see love now."
She has also learned quite a bit from her children. "They educate me every day," she said. "I've learned how to be flexible, and how to listen. I've learned how to accept people for who they are. They have different personalities—what works with one fails with another. I've learned to speak a different language with each of my children."
As for young starlets in Tinseltown, "Women have so many opportunities today. One of the lessons I've learned is that you have to assemble your team. That is so important. I don't just mean your workforce. I mean your team.  That means your partner, or your family if you're choosing to have children.
"The most important people in my life are those who I see when I go home, the ones I fall back upon. Everything else is icing. If you have that kind of a foundation, you can do anything. Make sure that you assemble your team of friends and family, because everybody needs someone to count on. That can even mean one person. You have to know that somebody has "got you." I say that to my children all the time: "Don't worry, I've got you.""
Brooke-Charvet is also very comfortable with her age - 42. "[The] Forties started out a little bit rough because there have been some challenging life issues but physically I feel better today than I did in my thirties. I feel like there is a number of reasons: I know myself better. I have boundaries, a louder voice and I know myself as a woman.  I know my body better, how to dress my body and I have a better sense of style. I am also more experienced.  I feel more accomplished because I have a family and I'm very lucky to be in a loving marriage with a man that I'm in love with and he's in love with me and that's like amazing so in that I find beauty."
What does she think about extreme plastic surgery? "If a woman has done a bit of work, you should never know.  Women who do too much scare me. I'm glad it scares me. I was married to a plastic surgeon, so I've seen it all," she said.
She stays in shape by working out. "Health and fitness are a huge part of my life, and I'm working hard to build my fitness brands, and plan on continuing to produce DVDs," she said. "I'm very inspired when I look at Jane Fonda and what she's been able to do. I love to educate women about how to take care of themselves. Watching women change and seeing their results is really gratifying."