Broken Hearted Robin Thicke Tells Concertgoers (Again) He Loves Paula Patton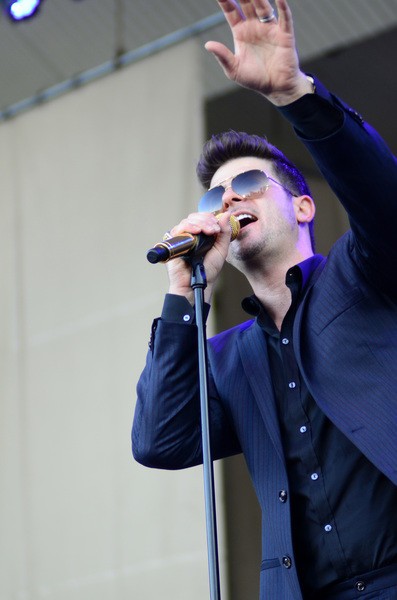 Robin Thicke has no problem talking about love in front of thousands of people. The singer, who recently split with actress Paula Patton after nine years of marriage, is staying positive.
The singer performed at Borgata Hotel Casino & Spa in Atlantic City on Sunday and told the crowd: "Never stop believing and you never stop loving. And even if it is over, make sure you treat each other right.
"Treat your family right. Take care of your mom, take care of your kids and good things will come to you. Just keep believing that God is good.

"That's what gets me by. Sometimes when I get a little scared or worried about the future, I just try to stay positive and do my part to spread love and spread joy."
Earlier in the evening he sang Al Green's "Let's Stay Together," prompting a fan to shout: "I love Paula!" Thicke answered, "I do too."
During a concert in Fairfax, Va., last week, he told the crowd: "For y'all that don't know me and my wife separated, but I'm trying to get my girl back. She's a good woman."
The singer is still wearing his wedding ring, while the actress appeared at two events over Oscars weekend without hers.
The couple have a three-year-old son, Julian.