Broken-Hearted Demi Moore Struggling To Cope With Mila Kunis & Ashton Kutcher's Romance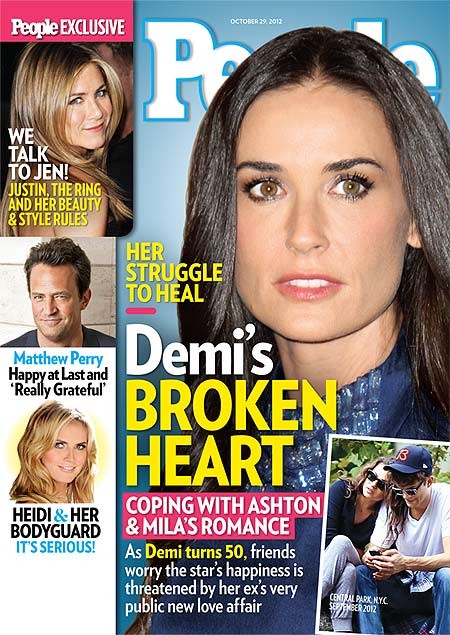 Actress Demi Moore works to regain her footing one "tough" year after her split from Ashton Kutcher, who is moving on with actress Mila Kunis. "As hard as it has been, despite the depression of going through a divorce, she came through it and really does feel better," a source close to Moore says of the actress in this week's issue of PEOPLE.

Their marriage came to an end almost a year ago, but Moore and Kutcher, it turns out, can still present a united front. Attending a private fundraiser hosted by investor Ron Conway in San Francisco earlier this month to combat human trafficking, the exes came together to support a cause they have long championed. "They were both as beautiful as Hollywood movie stars should be," blogged ex-San Francisco mayor Willie Brown, who was there. And yes, they got along just fine. Says a source in Moore's circle: "There is interaction [between Demi and Ashton] on a very amicable, friendly level."

Now, as Moore's milestone 50th birthday approaches on Nov. 11, the actress is working to forge a new path. "She was struggling, and she was sad," acknowledges a source. "There were things she had to work on. But she is not in a pool of tears on the floor every time something happens."

While a low-profile Moore focuses on her health, charity work and her film and business projects, her 34-year-old ex has very publicly moved on with 29-year-old actress Mila Kunis. What began as casual dating in early June has evolved into prolific PDA, with Kutcher sharing a romantic autumn in NY while Kunis shoots The Angriest Man in Brooklyn. "I would have never believed Ashton could get serious this fast," says a source close to Kutcher. (Multiple friends and business associates close to both stars spoke to PEOPLE but declined to be identified.) "He was so happy to get out from under the stagnant relationship with Demi that he was overeager to play around and have fun. But it didn't take long to bring him home again."

How does Moore feel about the blossoming romance? "Jealous and frustrated," says someone who knows her. "She's not in a good frame of mind." Not true, says another source. "There's no part of her that's saying, 'Mila Kunis is so beautiful and young, this is so humiliating.' What was humiliating was having her husband cheat on her in such a public way. But once that happened, she has not looked back."

Still, there have been "bumps in the road," acknowledges the source. Plagued by self-doubt during her marriage to Kutcher, Moore "was always worried about not being able to compete [with younger women] and hold her sexy image," says a source close to Kutcher. "Ashton wasn't bothered by their age difference. Demi was."

Multiple sources close to her circle say some friends are worried Moore hasn't fully recovered. Her thinness is still raising concerns, says one source: "Her friends aren't convinced she's all better." At a recent LA dinner party, "she barely spoke," says another. Meanwhile Moore and Kutcher have yet to finalize their divorce. The Moore source blames legal red tape. A Kutcher source, meanwhile, says details of the prenup have complicated matters – and that the actor has not wanted to push "amidst all of Demi's personal crises."

Still, Kutcher has made it clear that he has moved on with Kunis, introducing her to much of his Iowa-based family. "Ashton really wants kids of his own and loves being around them," says the Kutcher source. "It seems like Mila's the same."

Check out the new issue of People magazine, on newsstands everywhere now!

*Also In This Week's 'People'*
Exclusive: People Talks To Jennifer Aniston – Justin, The Ring And Her Beauty & Style Rules: The Proposal "Was One Of The Sneakiest Jobs I've Ever Seen"
Heidi Klum & Her Bodyguard: "He's A Huge Fixture In Heidi's Life"
Matthew Perry's Fresh Start: "I Really Am A Lucky Guy"
Argo's Tony Mendez On Ben Affleck: "He's Not Quite Handsome Enough To Play Me!"