Brody Jenner Hospitalized After Girlfriend Avril Lavigne Starts Bar Brawl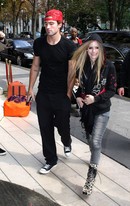 Avril Lavigne's boyfriend Brody Jenner was admitted to a hospital in Los Angeles in the early hours of Sunday morning after the couple allegedly became embroiled in a scuffle at a bar.

The singer and reality TV star Jenner were enjoying a night out at the Hollywood Roosevelt Hotel when Lavigne allegedly became involved in an argument with another woman.

Jenner, the stepbrother of the Kardashian sisters, attempted to intervene and was reportedly struck on the head with a bottle during the commotion, according to TMZ.com.

The website reports cops were called to the scene and Jenner's injuries were noted, although he declined medical attention at the hotel and later took himself to hospital to receive treatment. No arrests were made.

Earlier in the evening, Jenner took to his Twitter.com page to gush about his fun night out with Lavigne, telling fans, "Having the best night with the love of my life Avril Lavigne so happy right now!!"

He also posted a picture of the couple posing happily for the camera.