Brittany's 'The Voice' Blog: The Coaches Talk Season 2!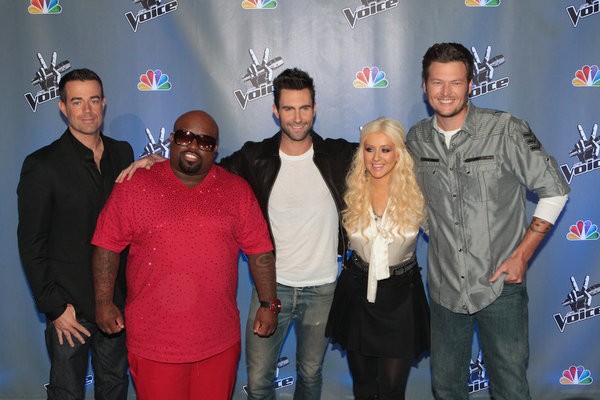 Here's the latest on and around NBC's The Voice: the coaches chat with me about what's ahead in season 2!
In its first season, The Voice was a surprise hit. Some say it even saved NBC's season. It changed people's lives. And this year, it's got the most coveted time slot on television: following the Super Bowl. No pressure, right?
Not when you're a foursome of award-winning coaches, possibly the most recognized former MTV employee, and definitely the most well-known reality TV producer ever.
Maroon 5 front man Adam Levine, Blake Shelton, Christina Aguilera, Cee Lo Green, host Carson Daly and producer Mark Burnett talked with me recently as The Voice wrapped filming its blind auditions.
They've paid attention to the show's freshman run, and made changes for its second time around. The most notable is that each coach will have twelve artists on their team, up four from last year's eight and increasing the overall field to 48 vying to be named 'The Voice.' Accordingly, blind auditions and battle rounds will be extended.
Behind the scenes, recording artist Christina Milian is the new social media correspondent for season 2, replacing Alison Haislip.
The changes aren't unexpected. The plum premiere date clearly shows that the network is banking on The Voice's continued success, and the show's creative team is adapting to a new challenge. "It's a privelege to follow the Super Bowl. It's really important to us," said Burnett, who added that the show's "iconic" red chairs have become so popular they've had to make extras.
The coaches have raised their standards. They're fully cognizant of the level of talent that's out there after being wowed by the likes of Javier Colon in season one. Now they're out to find better, even if they have to improve their game as well.
"I think that we all feel like we need to step up," said Levine. "We want to continue to meet the expectations that the show has established - really developing talent, because it's become such a launch pad for musicians and artists and singers. That's an exciting prospect. We're passionate about it. I think this process is going to require more from us. Now it's this huge thing and with all these massive opportunities, we all feel as if it's a moment that we need to seize and go for."
"We know the game now. We are extra-competitive. It's an intense competition this year," added Aguilera. "The bar has been raised very high. I think we know each other's gameplay and we're not going to let the talent get out of our hands. We're all fighting for that number-one spot."