Brittany's 'The Voice' Blog: Team Adam vs. Team Cee Lo!
Here's the latest on and around NBC's The Voice: Team Adam went head-to-head with Team Cee Lo, and I have my thoughts plus the artists share theirs post-show!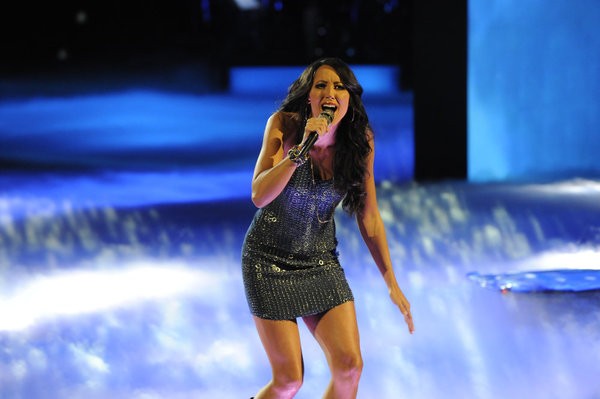 It was another entertaining night on The Voice on Monday, but perhaps even moreso because again, putting Team Cee Lo against...well, any of the other three teams really shows how distinct Cee Lo's ideas are. While Team Adam stuck with fairly simple setups (perhaps the most production came with the giant airplane wing that Karla Davis got to sing on), Team Red Zone had guitar players on stilts for Jamar Rogers and a whole Egyptian setup for Erin Martin. Whether the huge productions worked or not is a matter of personal preference.
Much like last week, the people you might have expected to blow the doors off didn't always roar, and the ones you might not have figured out surprised a bit. The biggest surprise to me was Karla, who handled the rap portion of B.O.B's "Airplanes" as well as she handled the portion previously sung by Hayley Williams of Paramore. The one that was the most entertaining was Jamar's rocking rendition of Lenny Kravitz's "Are You Gonna Go My Way," though I don't think it needed the stilt-walkers, because he was having more than enough fun to fill that room.
I also personally want to tip my hat to the two guys named Tony - Tony Vincent and Tony Lucca - who performed two songs I have long loved in ways that I felt did them justice. Both Tony Vincent's version of Tears For Fears' "Everybody Wants To Rule The World" and Tony Lucca's take on "In Your Eyes" had me singing along from my studio seat. I respect them for being able to lend their voices to memorable music while preserving what I enjoyed about each piece.
After the performances, I caught up with the artists on the red carpet. (Bonus points if you spotted Team Adam's Nathan Parrett and Team Cee Lo's Justin Hopkins, who came back to support their colleagues tonight.) Here's what I learned from them.
The song selections were a mix of artists' choices and coaches' suggestions.
"I never would have thought of that song ever," said Juliet Simms after her performance of "Roxanne" by The Police. "That's Cee Lo fully. That's why it just goes to show I picked the right coach."
"It was in the middle," said Katrina Parker. "It was on my list. It was kind of a wild card. I liked it. [Adam] challenged me, and I'm so glad he did."
"Cee Lo sold the song to me," said Jamar, while Karla's pick was her suggestion and Kim Yarbrough told me that she and Adam went through several choices, at least one of which was rejected by producers, before settling on Adele's "Roling In The Deep."
However, all that staging was not necessarily up to the artists.
"We didn't have a lot of creative input in what went on behind us," confided Tony Vincent. "We actually had choreographers and lighting designers. They're very experienced, very talented individuals." He was pleased with his production, which saw him tower over the stage and command a robot army.
Added Cheesa of her super-bright wardrobe, "It was the stylist. She's like, 'Trust me on this!' And it looks great. I love it."
"I would love to have the fancy stuff and the pyrotechnics, but they decided to do pared-down this time," said Kim. "Not like I can't do that, because I grew up doing musical theater, but sometimes it adds and sometimes it takes away. It depends."
Regarding those stilt-walkers, Jamar was a little concerned: "I just kept thinking, 'Please don't hit them. That would ruin everything!' Those girls are so dope."