Brittany's 'The Voice' Blog: Press Tour Scoop!
Here's the latest on and around NBC's The Voice: plenty of season 2 scoop emerged at the Television Critics Association press tour!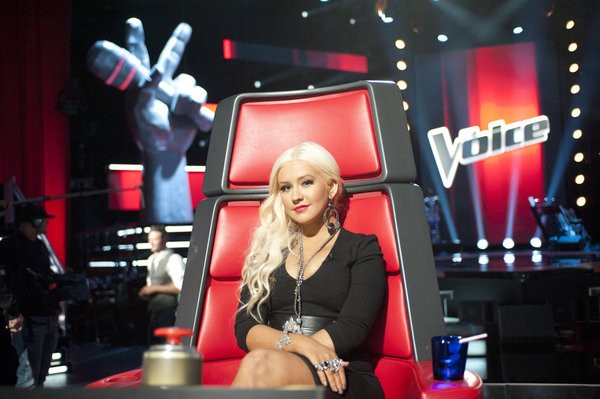 Musician coaches Adam Levine, Blake Shelton, Cee Lo Green and Christina Aguilera, along with host Carson Daly, social media correspondent Christina Milian, and producer Mark Burnett, spoke to the press Friday night during a panel at NBC's January 2012 TCA presentation. They had plenty to say about season two, what's happened since season one, and even the coaches' Twitter habits.
"Season one, people didn't know what to make of The Voice," said Carson. "Working musicians, people who never would've stood in line for any other show, sought us out for season two. The semi-pro out here realized this avenue was very, very legitimate."
And Adam is more than all right with The Voice permitting experienced artists to compete. "I think part of the harsh reality of the industry is that people do have other chances that don't pan out," he said, using season one winner Javier Colon as an example. "I love the fact that people are getting second, third, fourth chances to do this because that's how it is. I want to see this person get another shot if they're talented. I think it's a good thing."
We learned a little bit more about season two, as NBC formally announced that each coach will have not one but two advisors this time around (probably due to the shift from 8 to 12 artists per team). Adam will rely on Alanis Morrissette and Robin Thicke.
Blake has enlisted wife Miranda Lambert, who performed on last season's finale, and Kelly Clarkson. (It was also announced Friday that Miranda would make her acting debut in an upcoming, so far unscheduled episode of Law & Order: Special Victims Unit.)
Cee Lo's advisors are Ne-Yo and Kenneth "Babyface" Edmonds, and Christina has Lionel Richie and Jewel. It's an intriguing lineup of collaborators for sure!
Journalists got a preview of the coaches' medley that will begin season two; I'm sworn to secrecy as to specifics, but I can say that you don't want to miss the first few minutes on February 5!
Read on for more quotes from the tour...