Brittany's 'The Voice' Blog: On Tour With...Dia Frampton!
Here's the latest on and around NBC's The Voice: Dia Frampton rocks Los Angeles, plus meet Team Adam's Nathan Parrett and Katrina Parker!
A reminder: if you missed any of last night's battle round action, you can read my recap, and don't miss my interview with Jewel on mentoring Team Christina.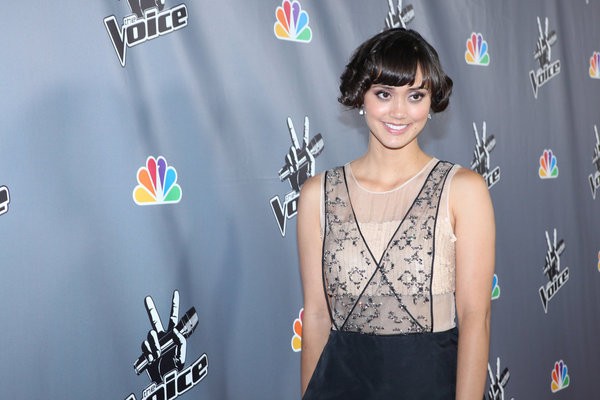 Dia Frampton may not have won The Voice, but she's found plenty of success after the show. She released her album Red last year and joined her coach, Blake Shelton, on his "Well Lit and Amplified" Tour this spring.
But just because she hit the national stage on the show doesn't mean she's become a different person. Dia is still working with her sister Meg, with whom she formed (what else?) Meg & Dia, and still making sure to support her fans just as much as they support her, be it responding to them on social media or taking time out for meet and greets, or even dealing with a difficult schedule.
Faced with the choice of staying with Blake for a rescheduled date in Reno or heading to Los Angeles solo, Dia chose to head to LA, even though it meant having to do an acoustic show (as her equipment was packed and on its way to Blake's next tour date), because she knew that many fans had waited awhile or even flown out to see her and she didn't want to disappoint them. But she didn't leave without promising to make it up to those waiting for her in Reno! If only every artist was that considerate of their fans.
But that's who Dia is: one of the genuine people in music, someone I'm glad to call a friend.
I caught up with Dia during a solo stop at the historic Troubadour in Los Angeles to learn more about how her life has progressed post-series.
For those who might not have been following closely, what have you been up to? What's a day in your life like now?
My album came out in December, and in January we just started rehearsing, touring, playing as many shows as possible. That's all I plan to do this next year.

I have a weird routine. I wake up around eleven, and then I go in and get lunch and it's usually one o'clock. From two to four I'm usually doing some kind of press. At four there's soundcheck and I go talk to radio stations, At seven, we play, and then [there's] a meet and greet. And [then it's] back to Blake's show, and I usually watch him for as long as possible. I'll go back and hang out with everybody. I'm usually in bed around two and I go to bed around three [in the morning].
Are you happy with the new album?

I'm really happy with how Red came out. That was really important to me, to be a part of the album as much as possible. With a lot of reality TV artists, I feel like the album goes into this machine of big producers, and I didn't want that to happen to me. I worked really hard to write with people that I knew and really respected. I wanted to make something unique and special to me.
Which is something important to note: even though you've been on TV now, you haven't drastically changed. You're still the Dia Frampton that your fans loved before the show.
I feel very much the same person, but different in some ways. I kind of treat the stage differently. I'm not saying that people have to change themselves, but I view it now as, you're getting dressed up for the crowd. I feel like if they paid for their ticket, they deserve to have me care, which I do.
That personal contact means so much. Just little things [like] to somebody who said "I lost my ticket," and I'll put them on the guest list because I'll be seeing that Tweet. I've gotten my song on the radio in the Philippines because of Twitter. It's been really, really awesome.
And though it might be just your name on the album, your sister Meg is still a huge part of your music. I know you mentioned she co-wrote songs on Red with you and she's also in your band.
She's on the tour bus right next to me.
When we talked after the show, you said something really interesting: that had you known what The Voice would become, you might not have auditioned. Is it safe to say now that you're happy you did?
I'm very, very happy that I did The Voice. You should always be looking out for different outlets to get your music out there. One of the big reasons I didn't do reality TV in the beginning was, I've been the person from 17 years old, we were touring and playing anywhere that would take us. I like people to kind of discover me, because I feel like those people stay with you longer.
But your Voice cohorts have stayed with you as well.
Vicci [Martinez] came out to the Seattle show. Javier came out as well. Xenia came out to Bakersfield.
What do you think has set the show apart for it to catch on like it did?
The cool thing about The Voice was you have a lot of creativity to do what you want. They really let you do what you want to do. I think that's why it appeals to people now. I've had people come up to me and say, "I'm not a crazy belter, but you gave me a reason to try out," and that's really cool.
Is there anything you learned from this whole experience that you want to pass on to those who are just now going through it? Or to the fans?
There's been some people saying things about other artists, like Charlotte Sometimes, she's awesome and I've been tweeting with her. I know she was getting a little bit of grief for already quote-unquote 'being famous,' which is frustrating to me. The music industry is really hard. Unless you're a humongous superstar, the rest is all kind of lost in the wind, and people don't see that.
What famous is to some people is not what it is to others. A year ago, after being signed to Warner Brothers and being dropped, I feel like if someone were to come into [her previous job] Crumbs Cupcakes and have me serve them, they wouldn't be like, "You're famous, you don't deserve to be on The Voice." It's this weird perception of musicians that's very strange to me.
Do you have specific ambitions going forward now that you have more doors opened to you than you did before?
Watching Blake play arena tours has been really inspiring, which is kind of funny, because I never thought I could fill up an arena. Watching him perform has been really incredible.
His full production has kind of spoiled me. I think sometimes people make the mistake that if there's a lot of production, the talent is lacking. Watching Blake, the talent level is awesome from him to everyone in his band, and the production value is high, so it makes the whole show amazing. It has this awesome vibe that I just love.
My thanks to Dia for taking the time for this interview! You can pick up Dia's album Red for just $5 right now on Amazon MP3 (use this link), check her out on her remaining dates with Blake Shelton (see his website), and follow her on Twitter (@DiaFramps). Voice fans, don't forget to support your season 1 artists!
Read on to meet two from season 2...