Brittany's 'The Voice' Blog: On Tour With Beverly McClellan
Here's the latest on and around NBC's The Voice: finalist Beverly McClellan takes San Diego, a review of Casey Weston's new album, and a busy holiday season for your artists!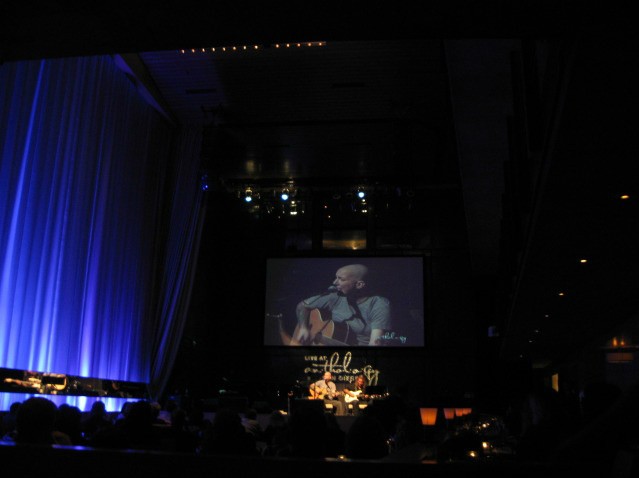 The day after Thanksgiving, Team Christina's Beverly McClellan arrived in San Diego to play a one-night showcase at the city's notable Anthology music venue, and graciously invited me along for the evening.
Located in the Little Italy neighborhood of downtown San Diego, Anthology has previously played host to significant names in the jazz world, including Oleta Adams, Brian Culbertson, and Boney James. The club has an intimate audience of only 300 seats. In other words, it was the perfect kind of place for Beverly to play - one where she could connect with the room.
That's Beverly's biggest strength as an artist. Yes, she has a remarkably powerful voice - not unlike her coach, Christina Aguilera - but talent is empty without substance behind it. She remarked during her set that her goal was to write music that people could relate to and connect with, and she has certainly done that, having become one of the Voice artists I am asked most about. Not to slight her musical talent, but I sometimes wonder if that popularity is due in equal parts to the music and also who she is as an individual: one of the most giving people I've ever had the pleasure of knowing.
Sitting with Beverly in the green room at Anthology, it was obvious that her Voice success hadn't changed her one bit, except to provide her with a bigger stage. She was still the same woman who had been playing music for twenty years, without even a touch of ego. We sat across from each other and it was as if we'd never parted ways five months earlier (yes, it's been that long already since the Voice finale!). When I admitted how surprised I was that she and the other artists from season one are still good friends of mine, she shrugged it off with a smile, telling me, "If anyone treats you any different, then you know they weren't really your friends."
In short order, Beverly's become a very close friend of mine. That makes it all the more impressive to watch her, because I know just how much heart and soul she puts into everything she does. It's clear that music is not just what she does, but who she is. Even though I come from a different genre of music than what she plays, I've already learned so much about being a musician from spending time in her company.
She was playing that night with Josh Sklair, who contributed to her record Fear Nothing and worked with Etta James for two decades. Knowing that the legendary Ms. James is one of Beverly's favorite artists, I can only imagine this was pretty fantastic for her - probably as inspiring as I'd feel if James Valentine from Maroon 5 suddenly wanted to jam with me. It was an intriguing and successful combination, as they played their way through almost all of Fear Nothing and a few songs that didn't make it onto the record to a warm reception. I had members of Anthology staff stopping me to tell me how much they liked her.
It was an unpredictable set for Beverly, who broke strings on two guitars, hit her head on the piano, and had earlier gotten herself locked in a stairwell. Other artists might have thrown up their hands in frustration, but not her. Rather than get ruffled, she handled each foible with a laugh and a smile, self-deprecating to the very end.
That's a credit to her personality, not just her music. I'd have paid just to sit there and listen to her talk for an hour. She was engaging with Josh, with the audience (amused that the 'supper club' crowd wasn't a little more rowdy), and even with the sound guy, whom she pulled on stage near the end of her set. She would tell the audience the stories behind or thoughts about each song along the way. And she was funny, too: I spit my soda when she quipped that she'd seen a lot of the world...if you count watching National Geographic.
At the end of that eventful evening, she still had time and energy to spare for her fans. Even though the club was well past closing and she had an early flight to catch, she stayed past midnight to sign CD's and take pictures with anyone who asked - having real conversations with everyone, too, instead of the all-too-usual cattle call one can face with many artist meet and greets these days. As much as I have come to like her sound, I love her for being one hundred percent genuine.
When it comes to Beverly McClellan, I can sum it all up thusly: come for the music. Stay for one of my favorite personalities in music.
If you want to catch Beverly live and are in Southern California, you have one more chance: she'll be playing at The Mint in Los Angeles this Saturday, December 3. You can purchase your tickets here.
Read on to take a look at Casey Weston's new album and what Adam Levine and Maroon 5 are up to...