Brittany's 'The Voice' Blog: Old Arguments & New Merchandise
Here's the latest on and around NBC's The Voice: Adam Levine sparks muttering (again), NBC rolls out new swag for you to take home, and the coaches are keeping busy...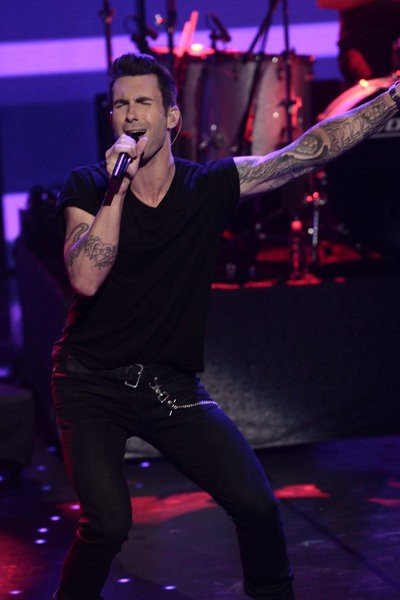 At the beginning of The Voice's season, Levine ran afoul of American Idol judge Randy Jackson when he declared that the people not selected for The Voice "could win American Idol." Now more of his comments are being seen as shots against the FOX mainstay.
In a candid and thoughtful interview with Out Magazine, Levine frankly admits that he disagrees with Idol's approach to the sexuality of its contestants. "What's always pissed me off about Idol is wanting to mask that, for that to go unspoken," he says. "C'mon. You can't be publicly gay? At this point? On a singing competition? Give me a break. You can't hide basic components of these people's lives. The fact that The Voice didn't have any qualms about being completely open about it is a great thing."
(The Voice had two openly gay contestants - Team Christina's Beverly McClellan and Team Cee Lo's Vicci Martinez - who had advanced to the finals, as well as an openly gay semifinalist, Team Cee Lo's Nakia Reynoso.)
The quote was quickly picked up in the press, and many outlets ran with it. The Hollywood Reporter ran a headline that used the phrase "Adam Levine Slams American Idol."
What wasn't circulated were Levine's words just two paragraphs earlier, where the singer speaks of his respect for the competing show. "I can't fuck with American Idol. It's a cultural institution," he also says. "On The Voice, we just care about a different list of things. It's for a different type of person, I guess."
Now Levine has taken to Twitter to dismiss the would-be controversy. He tweeted yesterday that "They are of course taking my comments out of proportion once again. And, like always, I stand behind every word I said 100 percent."
You can read the full text of Levine's interview on the magazine's website.
The Voice Merchandise Is Here!
NBC is making sure you're properly armed with Voice merchandise for the February arrival of season two. Their online storefront now features a limited selection of products, all of which bear the show's "spirit fingers with microphone" logo and the "I want you" phrase that appears on the bottom of the coaches' spinning chairs. Here's a glance at what the ladies' T-shirt looks like.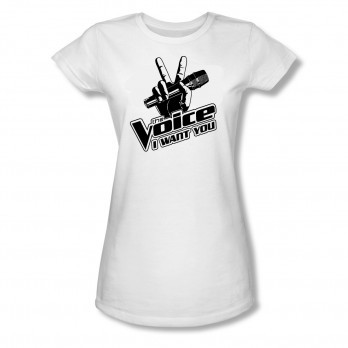 The shirt will cost you $25, and comes in white with black print for the women, and black with white print for men. You can also pick up a red iPhone case ($15) and a black water bottle ($12). All are currently in stock on their website. Stay tuned, because NBC might have more Voice merch on the way.
News & Notes
Getting back to the music, Levine and Maroon 5 will be in Nashville, TN tonight as part of their summer tour with Train - and Team Adam semifinalist Casey Weston has posted on her Facebook page that she'll be in attendance.
Those attending tomorrow night's show in Indianapolis should know that due to the Indiana State Fair stage collapse, the concert has been moved to the Canseco Fieldhouse. Tickets for the previous venue will be honored at the new one. All proceeds from that concert will go to victims of the State Fair tragedy.
Levine also popped up on VH1 recently as the network premiered the video for "Stereo Hearts," his recent collaboration with Gym Class Heroes. If you missed it, you can catch the video here.
Blake Shelton will perform in Washington tomorrow night as part of his own summer tour in support of his recent album, "Red River Blue." You can read my review of that album here.
Both Christina Aguilera and Cee Lo Green will participate in the Michael Jackson tribute concert to be held in Wales. Aguilera was added to the lineup last week.
The Voice was also named Breakout Show at the recent Teen Choice Awards.
Season two of The Voice arrives in February after the Super Bowl on NBC.