Brittany's 'The Voice' Blog: New Albums & 'SNL' Videos!
Here's the latest on and around NBC's The Voice: do you know that your favorite artists from the show are putting out new albums? Plus Saturday Night Live - with the first Season 2 promo!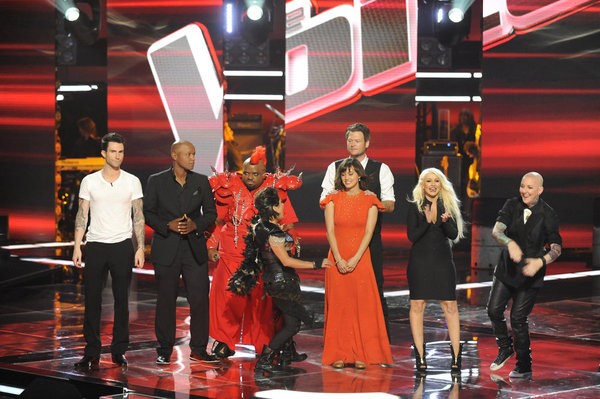 No surprise here, but many of the talented musicians from season one have gone back to the studio and are bringing new music your way now that you've had a chance to discover them. Here's a handy guide to the new releases in your future.
You can pre-order any of the albums by clicking on their titles below.
Javier Colon
Previous albums Javier and Left of Center re-release on November 15. They're both currently under $10 if you pre-order them using these provided links.
The following week, November 22, drops his new release Come Through For You. Starting today, you can download the first single (featuring Natasha Bedingfield, who's also collaborated with Javier's coach Adam Levine) via iTunes.
Javier will be touring in support of the new album for the remainder of the year. Here's the tour schedule (sorry, still only East Coast dates announced).
Dia Frampton
Dia's new album Red arrives on December 6. She will also be the opening act for coach Blake Shelton on his "Well Lit and Amplified Tour." Here's that tour schedule.
Vicci Martinez
Is currently working on a new album. No Amazon pre-order link is available yet, but you might want to check out the Vicci Martinez Live DVD from 2006, which is one of the better music DVD's I've ever seen.
Beverly McClellan
Fear Nothing is the title of Beverly's new CD which arrives on November 21.
Xenia
Is also working on a new album. No Amazon pre-order link is available yet, but you can take a gander at Jon McLaughlin's Forever If Ever disc, where she joins him on the duet "Maybe It's Over."
Stay tuned for more information on all these albums and more as I get it - and of course reviews of the new releases as they arrive!
One down note: I've been informed that Nakia has cancelled his November 30 appearance at The Hotel Cafe in Los Angeles in order to focus in recording a new album of his own.
It's a light week for news, but did you happen to catch Maroon 5 as the musical guest on Saturday Night Live this past weekend? If not, never fear, because I have those clips for you below. The band performed "Moves Like Jagger" as well as "Stereo Hearts" with Gym Class Heroes' Travie McCoy.
Here's "Stereo Hearts" with Travie McCoy.
The band wasn't just there to play music, however. Here's a sketch in which Adam Levine is attacked by a hawk. Clearly, he didn't miss his calling as a stand-up comic.
And in this sketch about the Greek debt crisis, Adam has a brief cameo as Yanni. Including the hair.
The same episode also saw a parody of a talk show with Cee Lo Green:
Apparently, it was a Voice kind of week at SNL. NBC also chose Saturday night to air their first promo spot for season two. If you missed it, here it is:
Until next time...