Brittany's 'The Voice' Blog: More Season 2 Artists Speak Out!
Here's the latest on and around NBC's The Voice: meet more of Season 2's new singers (and hear what Tje Austin thinks of them), plus see the homes of coaches Adam Levine and Christina Aguilera, and new Dia Frampton video!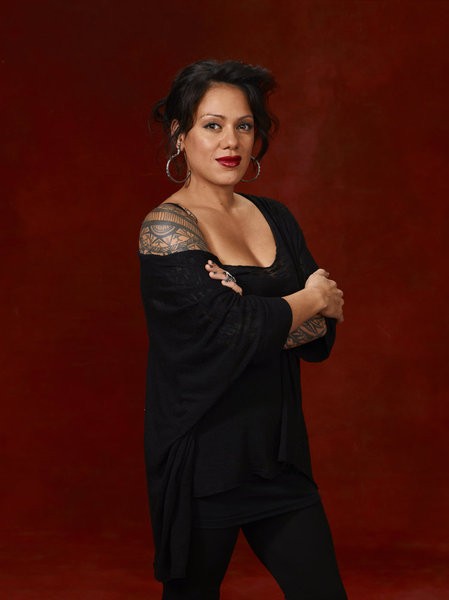 We're almost done with the blind auditions (that's right, it'll be five weeks of 'em - and if you missed any of last night's action you can read the recap here). Want to meet the newest members of your favorite team? Here's some of the best quotes from my recent chats with all the new artists.
Not only can the coaches not see you during auditions, but you can't see their initial reactions either. So now that the show's aired, what's it like to see how the coaches were reacting to your audition?
Jordis Unga (Team Blake, pictured): It was absolutely bizarre actually. I think everybody would agree with me in that, the stress levels during those blind auditions...I was totally zoned out. I don't remember. I don't remember what the judges said to me. So, it was really fun to actually see what happened and the responses were amazing. It's overwhelming and exciting and, I don't really know what else to say beyond that, incredible.
Katrina, can you tell us what it was like to have your blind audition invite hand-delivered to you by Carson Daly?
Katrina Parker (Team Adam): I wouldn't say coherent went through my mind. It was a complete shock. I was giddy first of all, because obviously at that point I realized what he was there for. And beyond that I was just in shock. And then when my coworkers came around the corner and everyone was clapping it was just a ridiculous moment. I don't think I'm ever going to have one quite like that again.
Now that the show has aired and the national audience has heard you, what's some of the feedback that you're getting from the Internet?
James Massone (Team Cee Lo): It's kind of overwhelming. It's a great feeling. I'm getting a lot of love right now and with love it comes with haters. The love is what I'm really taking in and I'm trying to soak everything in right now and it's kind of like, it's not really real right now to me. I've got to pinch myself a couple of times. But, everything's amazing. All the compliments are amazing. That's all I can say about that.
Pip, you were one of the artists who had your pick of which coach you wanted to work with. Can you tell us what made you choose Adam?
Pip (Team Adam): Honestly, in the end he sold himself the best. He really knew what he wanted to do with me and knew where he could take me. And he also critiqued me, which I really liked. None of the other judges did do that. So I think that was probably the main selling point, that he could give me constructive criticism.
Geoff, what made you go with Christina?
Geoff McBride (Team Christina): I remember Cee Lo saying that he was looking for a powerful female singer. I wasn't aware of who had gone on, but I knew that if I walked on the stage and I wasn't exactly what he wanted then I wouldn't have the opportunity. I was shocked that he turned around [for me]. But I chose Christina simply because she turned around from the beginning. She was there till the end. And that's what I really based my decision on.
Do any of you feel that having a coach or coaches turn around impacted your performance at all?
Brian Fuente (Team Blake): When Blake turned around I almost felt numb. It was like, "Okay, this just happened." You know, I went out there and it felt so amazing to be on the stage first of all, but when that happened it was just like, "Okay, wow! I'm on this show. This is the real deal and this is the coolest feeling I've ever had." The smile on Blake's face was just so great, and [it was] just cool to be part of the whole experience.
Chris, you had a very unique arrangement of Bruno Mars' "Grenade." Can you talk me through how that came about and what made you choose Adam as your coach?
Chris Cauley (Team Adam): That actually was my idea as far as the arrangement and to be honest, I went into it wanting to do it just acoustic because I didn't want to trust anybody else with the arrangement. But the Voice band, as you can hear every week, is the best band in the business. They just took it to a whole another level. I would be nothing without those guys. And it's unfortunate that they don't step out more because I owe them, you know, all the credit their way.

As far as picking Adam, I actually went into it hoping he would turn around. Four, five days before [my] blind audition I actually had a dream that I was hanging out in Adam's house at his pool. I don't even know if he has a pool. But we were just kicking it, you know, having a few drinks listening to the radio. I was like okay, Adam turns around, you know, that's a sign. I got to go with him.
You've heard it from their lips, now check this out: Team Cee Lo's Tje Austin is giving us his opinion of last night's blind auditions. Read on to find out what he thought...