Brittany's 'The Voice' Blog: Meet Season 2's First Battling Artists!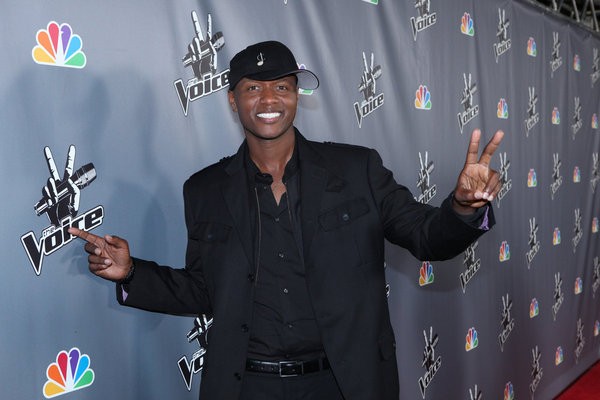 The number-one Voice-related question I get asked is, "What happened to Javier?"
The Voice's season one champion has been a lot busier than you think. He went into the studio and recorded his first album for Universal Republic, Come Through For You, while making plenty of TV appearances and releasing a Christmas EP. Now, he's out on tour in support of the album. As he visited San Diego last week, I sat down with him and asked him to catch us up on his exploits.
"Since the show, I went into the studio to work on my new album that came out in November," he explained before his sold-out show at San Diego's premier live music venue Anthology, where Beverly McClellan also played in November. "During that process, I was doing a lot of fun things. I got to sing with Stevie Wonder and Michael McDonald and Darius Rucker at this amazing event, I performed at Rockefeller Center for the Christmas tree lighting. Now I'm on tour with my band, basically going out to thank all the people that watched the show and voted, and build a fan base. I believe in the old school approach of trying to build fans one at a time."
That includes being on his Twitter account almost every day, interacting with anyone who wants to say hello, and staying after his show to talk and take pictures with his fans. Winning The Voice has definitely not gone to Javier's head: he's still the same humble, approachable, family-oriented musician that we fell in love with a year ago.
In his eyes, the show has been every bit the career platform that it promised to be. "It's been a huge, huge boost," he told me. "If I look back on where I was a year ago, I'm definitely moving in the right direction. I like to push myself to be the best that I can be and to grow as much as I possibly can and that's what this is about. It's about growth and just trying to move forward. I'm happy that we're making progress. Progress is definitely being made. I'm in a much better place now than I was a year ago by a landslide, but that doesn't mean I'm done. I'm not going to stop until I try to get every person on this planet to hear some of my music."
Two of the pieces he loves most are from Come Through For You. "One of my favorite songs on this new album is a song called 'OK, Here's The Truth,'" he said. "It tells a story. I like to storytell. I don't think it's done enough in regular pop music, and I think it should be something that any genre of music can do. A song called 'Echo' talks about my struggle of going off to do what I love and leaving my family behind in the process. That's one that's near and dear to me."
During season one, Javier spoke with me about wanting greater creative control on his albums, and he feels that with The Voice, he's been able to achieve that, as well as a level of success that he is happy with, no matter what the numbers or critics might say.
"I am very happy with how the album came out. There was definitely some give and take between the record label and me. That's part of the process. You have to have some folks that keep you in check and give you some constructive criticism. We came up with what I think is a really great album," he said, reiterating that he considers his success to be judged "on progress. I judge it by looking back and seeing where I was to where I am now. I've been to San Diego once as an opener for someone else. It wasn't my show. I couldn't draw this many people to come and see me and now I can."
Still, he's not going to settle any time soon: "I'm not set for the rest of my life, so I have a lot of work to do. I want to make sure that I secure [his family's] future and use this opportunity to the best of my ability."
Judging by his performance Thursday night, there's no doubt that he's meeting that expectation. Though it was very clear from the show that Javier had vocal talent, his set Thursday night may have surprised people as it fully displayed his versatility. Unlike many artists who stick to their current album and maybe a few hits, Javier played new material, older material, covered songs from Michael Jackson, Peter Gabriel and Bonnie Raitt, and even did a spot-on rendition of a song performed by Ernie and Aaron Neville on Sesame Street.
Through it all, he was constantly engaging the audience, whether it was getting them to sing, talking lovingly about his family, or just cracking up the room with self-deprecating quips. Not only does he have that real talent but he also has a very genuine personality. The show was a great reflection of everything he's musically capable of and also let the audience get to connect with him as an individual. I sang along, I laughed and I even cried. Shows like this are what we go to concerts for: to not only hear the artists, but to share an experience, a moment, a feeling with them.
Javier has three more stops on his current tour: tomorrow in Seattle, Thursday in Spokane, and March 13th in Fargo, ND. For information on those dates and for future tour updates, visit his official website.
And last but not least, turn the page for your Voice calendar for the week...