Brittany's 'The Voice' Blog: Meet Season 2's First Battling Artists!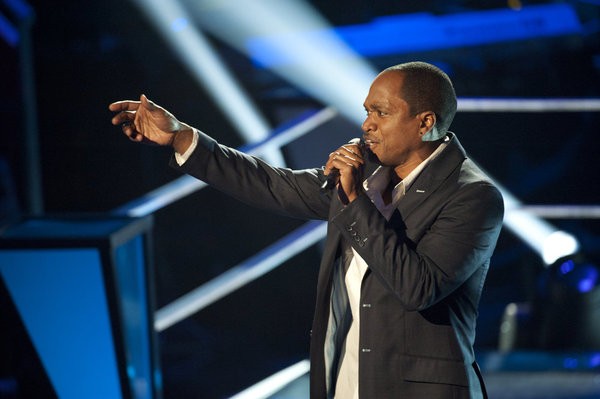 Jesse Campbell
Team Christina / Twitter: @singjessesing
Jesse Campbell was the first season two artist to get all four coaches to turn their chairs for him with his memorable rendition of "A Song For You." It was an impressive feat, moreso if you knew that he doesn't necessarily obsess like others might in that position. "I pretty much like to fly off the cuff and just go with the flow," he told me. "Not really too much preparation other than vocally. I just let it come out naturally."
He's incredibly reflective when it comes to his experience on The Voice, grateful for the benefits but not too focused on whatever the end of the line might be. He's just happy to be here. "It has been like a dream come true," he said. "I'm one who believes that we are always dreaming. I liken this whole experience to an amusement park, because I love amusement parks. Every challenge or thing we're given to do, there's infinite possibilities, new experiences. Every moment here, it's another experience that begets experience. It's only going to lead to bigger and better things."
What has he learned from his time in the competition? Look no further than the battle rounds for his most treasured lesson. "Lionel Richie and Christina gave me the best advice as it relates to singing with someone," he explained. "I've sung solo most of my career. I learned to basically do what you do. Don't overdo it. Trust in your talent, and when you finish your part, then gracefully hand it off to the next person, even if it's a competition, because you're still selling the song together." There's no doubt that he and Anthony Evans did a fantastic job of that. (Too bad we aren't able to download it.)
Jesse also embraces the warm environment behind the scenes, saying, "It's a family environment, no doubt about it, from the contestants all the way up to the top producers. They care about your well-being. They do what they can. Everyone is really genuinely concerned and caring for one another. It's a wonderful situation. We even have performers here that were a part of other reality singing shows, and they talk about how The Voice is by far the best of all of them."
His favorite fellow artist is Lindsey Pavao. "I really like Lindsey as a person and as an artist. There are a lot of great singers but I really, really enjoy Lindsey."
He hasn't set specific future goals for himself, not wanting to take away from what he's enjoying in the here and now. "I look forward to the future but my goal is to enjoy the moment," he told me. His long-term goals are "to use what I've been given to inspire people. I plan on maximizing every moment."
He's encouraged people to try out for the upcoming third season via his Twitter feed, so I asked him if he had any specific advice to anyone who might consider it. His advice was simple but true: "Be yourself. Don't try to be anybody else. Do your best, and in doing your best, it may or may not be what they are looking for, but in who you are, that's what's makes the difference. Just don't be attached to the outcome."
A single father to an eleven-year-old, he's also got advice for those who might be in a similar situation. "I love being a dad, and I love singing, but it really just got to a place where I had to do something for me," he said. "I really encourage parents to take time out for themselves, however you can do it." Now he's on his way to potential stardom, with the love and support of his daughter all the way.
Download Jesse's solo version of "If I Ain't Got You."
Read on for an interview with season 1 champ Javier Colon as I sat down with him before his recent tour stop in San Diego!