Brittany's 'The Voice' Blog: Live Show Recap & Interviews!
Here's the latest on and around NBC's The Voice: my blog goes live with a recap of and interviews from the first live show of season two!
For the next six weeks, it's all about the live shows. Last night, Team Christina Aguilera and Team (Recent CMA Award Winner) Blake Shelton took the new and improved stage at Warner Bros. to sing for their survival, and by the time you read this you'll have just hours to vote before three artists from each team will be sent packing. (Voting closes at 10 AM EST; vote now!)
On to the recap...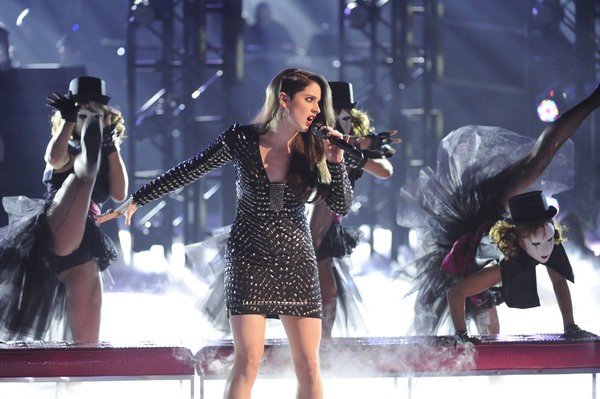 The first live show had everything: some truly great performances, some average ones, and one disappointing stumble.
Let's talk about the great ones first, and there were a few. I had high expectations for Chris Mann, and his version of "Bridge Over Troubled Water" should continue to prove to the Voice audience that he's more than just "the opera guy." I also appreciated how, compared to some of the other performances, his was one of the least flashy.
Lindsey Pavao likewise sounded fantastic performing the much-talked-about Gotye track "Someone I Used To Know," but as someone with a lifelong dislike of clowns, I'll admit I was listening but not always watching. That was something I noticed through the night: this season, there seems to be a bigger emphasis on production, whether it was Lindsey's mimes, the dance troupe that backed Moses Stone, or the lasers...lots and lots of lasers. Let's hope the show doesn't get too far away from its titular voices.
Speaking of Moses, I'm not a Kanye West fan or a listener of hip-hop, but I loved that in the face of the critiques he's received since his battle round from fans and the coaches alike, he still went out and did Moses. He did not change who he was, even as Blake still wondered if his style of music had a place in the competition. As Adam said, Moses proved in battles that he's also a great singer, so I hope he comes back next week and continues to showcase his incredible versatility - the thing that now matters most as each artist must appeal to as much of the public as possible.
Another artist I was very impressed with was Ashley de la Rosa. Like Adam, I found my opinion of her completely changed with her performance. I hardly got to see her blind audition, and found her battle round lacking, but Ashley showed tonight why she belongs in the competition with her confident, entertaining rendition of an Alanis Morissette tune. As Adam said, while she's still very young, that didn't show up in her performance and it made me left wanting to see what else she can do. The question will be is that enough to get the votes of an audience who've had more opportunities to hear the other members of her team?