Brittany's 'The Voice' Blog: Keeping Up With The Ladies!
Here's the latest on and around NBC's The Voice: Dia Frampton's new single arrives, and we're one week away from Beverly McClellan, Casey Weston, and Javier Colon's new albums!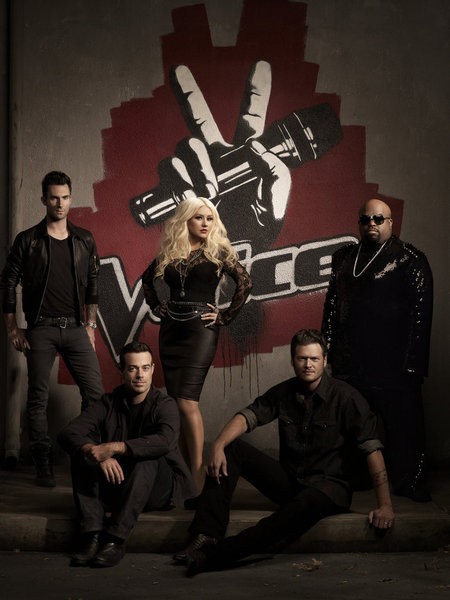 That's right, right now you can head to iTunes and purchase Dia's new single, "The Broken Ones." It's the first cut off her album Red, which arrives on December 6. It is a fantastic listen - it's amazing to see how far Dia has come since that first blind audition, isn't it? Not just incredible talent, but sincerity and poise...she's going to go a whole lot farther!
As an added bonus, the video for "The Broken Ones" was also released today. Here it is for your viewing pleasure:
A few of the Voice ladies are busy. Next Tuesday, Beverly's new CD Fear Nothing will be released. On Wednesday, she'll be having her record release party at J's Bar in Ft. Lauderdale, FL. For more information, call the venue at 954-581-8400.
Casey Weston will be in Florida herself this Thursday - on Marco Island as part of the "Keys for a Cause" event put on by their chapter of the American Cancer Society. Here's more info on that event. Her CD also drops at the same time as Beverly's. The self-titled Casey Weston can still be pre-ordered via Amazon and iTunes.
Today also saw Javier's previous two albums, Javier and Left of Center, re-released for Voice fans to discover. I had a chance to listen to both discs, and while they don't sound exactly like the Javier we all fell in love with (these are the albums he released with Capitol Records, when he said he "thought they were trying to pigeonhole me into just a straight, strict R&B genre") but I still enjoyed them, and I think other fans will, too. Whatever else factored in, Javier's heart is still very much present in the music, and that to me makes the albums a worthwhile addition to any Voice fan's collection.
Javier's new album, Come Through For You, arrives on the same day as Beverly's and Casey's - next Tuesday. I'll have reviews of both his and Beverly's new discs for you in next week's blog!
While you're waiting, you can check out a new Javier interview and performance at WalMart Soundcheck (which also did two such outings with Maroon 5 back in the day, the first of which is available on DVD).
His teammate, Rebecca Loebe, is also working on a new album - and she needs your help to do it! "I am going to begin recording my third full-length studio album in January," she writes. "I am seeking to pay for this process by offering gifts and prizes to people who believe in what I do, rather than giving creative interest to a record label or corporate sponsor." It's a noble goal for any musician - to learn more and find out how you can help, visit Rebecca's website. I certainly wish her all the best.
On the coaches' front, congrats to Blake Shelton and wife Miranda Lambert for their wins at the Country Music Awards this week. Miranda continues her press tour for her recent album Four The Record - she'll be the musical guest on tomorrow's Jimmy Kimmel Live.
And Gym Class Heroes' new CD The Papercut Chronicles II, which includes "Stereo Hearts" - the track featuring Adam Levine - is also in stores today.
If you missed Christina Aguilera's two appearances on VH1's Pop Up Video, they've been rerun recently. (That leaves Shelton as the only one who hasn't shown up...yet.) Here's the video for Ricky Martin's "Nobody Wants To Be Lonely," which Christina appeared in back in 2001:
What about season 2, you ask?
NBC released its midseason schedule yesterday. Confirming what we've already known, The Voice officially returns Sunday, February 5 with a one-hour episode after the Super Bowl (approximately 10-11 PM ET/PT).
But be aware of the show's new day and time: Season 2 will air Mondays from 8-10 PM ET/PT starting February 6. This is a change from last season's Tuesday/Wednesday schedule.
And that stunning picture above - featuring our four musician coaches and host Carson Daly - is the first promotional photo for season 2!
Season 2 battle rounds are scheduled to tape just before Christmas - December 21 and 22. You can be part of the studio audience for those shows by requesting tickets through this website.
Get ready...