Brittany's 'The Voice' Blog: Interviews With Monday Night's Artists!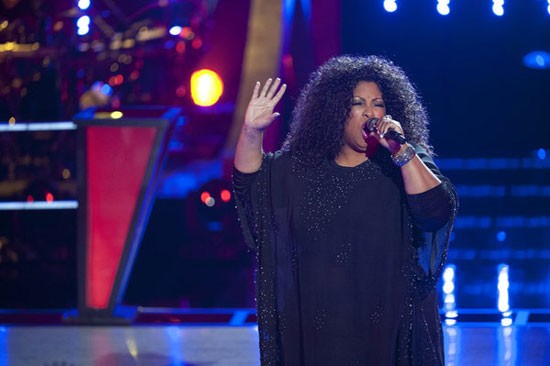 Kim Yarbrough
Team Adam / Twitter: @kimyarbrough
If I was asked to talk about people from this season whom I enjoy not just as artists, but as people, Kim Yarbrough would be near the top of that list. Yes, mention is always made of how she is one of the oldest performers in the competition, but who cares? Kim is what we mean when we throw out that phrase "age is just a number."
For one, she's obviously talented to still be in the competition, after going up against Whitney Myer, who got all four coaches to turn for her in blind auditions. It was a pairing that surprised everyone, but Kim's experience helped her edge out Whitney to gain a spot in the live shows. It's hard to believe that she's tried out for other shows and never gotten a callback.
For two, Kim is just a great person to be around. She comes to the table not only with that experience, but with such a positive outlook, especially when you factor in everything she's been through. She knows who she is and what she stands for, and has such a wonderful energy about her. Thank heaven that Adam Levine hit his button and got this lady on his team.
"I've never been through a process like this," Kim told me. "This has been the most amazing, humane process of any audition I've ever done. We're treated like superstars from the very beginning, and I'm like, who does that? I'm left speechless by the whole thing."
"It's been great being on Adam's team," she confided, "because he really has a strategy for everything that he does. He doesn't just have a strategy for winning The Voice. This is his M.O. In this industry, nothing is really a coincidence. No one's an overnight success. Every bit of it is planned. You really have to set yourself up for success, and he does that. It's refreshing to see that somebody's not going to lie to you and say, 'I just happened up here.'"
Kim knows that first-hand, and as such, the newfound attention she's received from being on the show is something she appreciates. "It's very validating and very cool to know that people are watching your journey. It makes me know that this is transcending my little life. It's really about a much bigger picture."
Describing herself as someone who likes to "live in the moment," she's vastly enjoying her experience on The Voice. "The most fun is getting to know the other artists and people on my team, and just being on that damn stage. Being on that stage in front of the entire world. There's no describing it. It's the most exhilarating feeling in the world. I truthfully feel like I've already won because getting on that stage, performing for these four superstars and an audience of people on a hit TV show, you can't ask for more than that!"
So what kind of music would you find on Kim's playlist or in her car? "You would find a lot of Michael Jackson. You would find a copy of every recording that man ever did," she told me. "You would find a lot of Jill Scott. I have all of her albums. You would find a lot of classical music. And you'd also find some rap. But mostly, you'd find Michael Jackson. And I do have to say, Songs About Jane is my favorite Maroon 5 album, and 'Moves Like Jagger' is my favorite song of the moment."
In that case, Kim obviously fits perfectly working with the front man of Maroon 5, and I'm certainly thrilled to have her representing my team.