Brittany's 'The Voice' Blog: Interviews With Monday Night's Artists!
Here's the latest on and around NBC's The Voice: hear what Juliet Simms, Kim Yarbrough and Lee Koch had to say before their battle round performances!
If you missed any of last night's battles, you can read my recap here.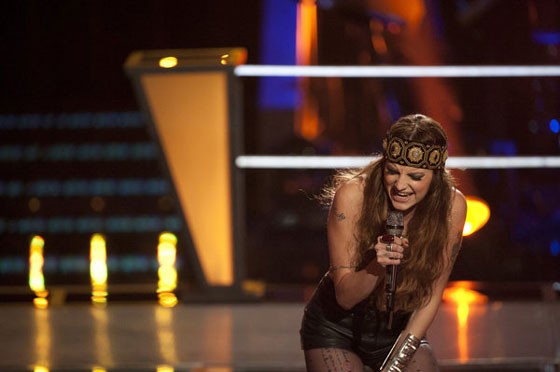 Juliet Simms
Team Cee Lo / Twitter: @JulietSimmsALL
Don't let appearances fool you: Team Red Zone's rocker Juliet Simms is surprisingly sweet and outgoing. She is more likely to make you laugh with how funny and approachable she is.
"This is all I've ever done my entire life. This is my huge passion," she told me. That passion came through in her blind audition version of 'Oh! Darling,' which had coach Adam Levine singing along with her. Although Adam and Christina fought over her, she elected to choose Cee Lo as her coach. Some people have asked her why she didn't choose Adam, since he's so good-looking. "That's not why you choose a coach!" she explained with a laugh.
"I was up there for like twenty minutes," she elaborated, "and Cee Lo, there was something telling me to go with him. He just pressed all the right buttons," pun not intended.
Cee Lo's huge persona didn't deter Juliet whatsoever. "He is a huge, larger than life figure, but that's what makes him such a great coach. It's like he knows everything. He's just got so much knowledge. That translates well into teaching people," she said, as we joked that she could call him up to answer unrelated questions. "Can you pair feathers and sparkles together? He would be able to answer that," she quipped.
You can also add her to the list of people who weren't sure about reality TV until they experienced what The Voice is and what it stands for.
"I'm not gonna lie, when I first got presented with the idea, I was very hesitant, until I watched season one and it was just so different from anything I've ever seen," she told me. "You're getting to go and show America who you are as an artist. You might go home but you're still part of that team and part of something that's so awesome."
"They take people who don't fit the mold. You don't have to have some crazy voice. You have to just be yourself," she continued. In Juliet's eyes, The Voice remains a unique experience among reality shows: "I don't want to name any names, but I was watching a show the other day, and where's the class? It just rubbed me the wrong way."
Thankfully, Juliet found the show that was right for her, and after she outsung Sarah Golden this week, we'll see her at the live shows next month. Will she be The Voice? She doesn't know, but she's certainly got her eyes on the prize.
"I'm mainly focused on winning," she told me. "And stealing Cee Lo's cat. The cat's frickin' awesome."
Look out, Purrfect!