Brittany's 'The Voice' Blog: Interviews From The Final Battles!
Here's the latest on and around NBC's The Voice: I talk with Moses Stone, Naia Kete, Orlando Napier, Justin Hopkins and Tony Vincent so you can get to know them beyond their battles!
Last night's final round of battles featured some of the most interesting yet. Before they aired, I had a chance to sit down with several of the performing artists. Here's what they had to say.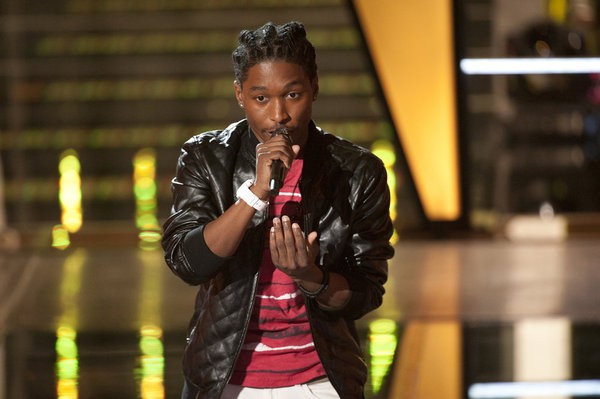 Moses Stone
Team Christina / Twitter: @IAmMosesStone
I wouldn't know hip-hop if it came up and smacked me in the back of the head. But you don't have to know the game to respect the player. Moses Stone is making history as The Voice's first MC, and with good reason. He knows he's unique among artists and he plans to take full advantage of the distinction.
"What I really want to gain from this show is just showing the diversity that the show can bring. Just pushing the boundaries with the genres," he told me. "I knew that the show was based on artists. Being a true artist myself I just was going to come in there and try something different. I was like, 'Let's do it. Let's bring the hip-hop genre to the forefront and try to knock some more barriers down.' It's pretty much the same as singing because it's all about the tone, and that's what really makes you stand out, from the Bob Marleys to the Bob Dylans."
Moses was another artist whose blind audition was largely trimmed for time constraints, and while he admitted that he'd have liked people to see the whole thing, he wasn't upset. "I couldn't really ask for a better setup, the way they did me. To hear Christina actually say I give 'The Voice; a new meaning, that was all I needed." He even saw the reduced airtime as a potential advantage. "They haven't seen that much of you, so people want to know, what am I going to do? How am I going to compete?"
Now we know. As proven by his collaboration with country duo The Line, Moses can sing as well as rap, and he can do it on a classic rock song. "I learned just not to hold anything back," he said of the experience. "Christina definitely told me, be more confident and sing it from your heart. It's stepping out of your comfort zone and trying new things. That's what it's really about. It's about pushing the boundaries and that's what artists do."
Of the overall experience, he said, "It's been really good. It's definitely a family atmosphere. We're all cheering each other on to see each other do great things."
His favorites amongst his colleagues? "I would definitely say I love Jesse [Campbell]'s voice. Chris Mann is a great artist. I love Lindsey [Pavao]. I love her in general just for being different. I think my whole team is really talented. I think my whole team has something diverse. But I also enjoy everybody on everyone else's team as well."
When he's not singing, perhaps befitting his thinking-outside-the-box attitude, Moses has a diverse amount of other interests, including painting, clothes and going to the beach. But he admits that most of his life is taken up by music. He recently released a new single called "My Moment," which you can download by clicking the link at the end of this interview.
As far as future aspirations, Moses said that his goal with The Voice is "just [to] make the most of it. At the end of the day, there's the TV show and the real world. You have a career beyond The Voice. I want to make sure I show people that I'm a true artist, and they'll fall in love with me."
Whether he wins or loses, whether you know his genre or not, there's something to appreciate in Moses bringing to The Voice a genre that's never been done before, and opening that door for someone else different in season three and beyond. He's definitely left a mark, no matter the results.
Download Moses' solo version of "Satisfaction," check out his new single "My Moment," and watch his battle round performance below: