Brittany's 'The Voice' Blog: EP's, VMA's and...Snapple?!
Here's the latest on and around NBC's The Voice: Curtis Grimes drops a new EP, Adam Levine talks frankly about the MTV Video Music Awards, and some chat about beverages...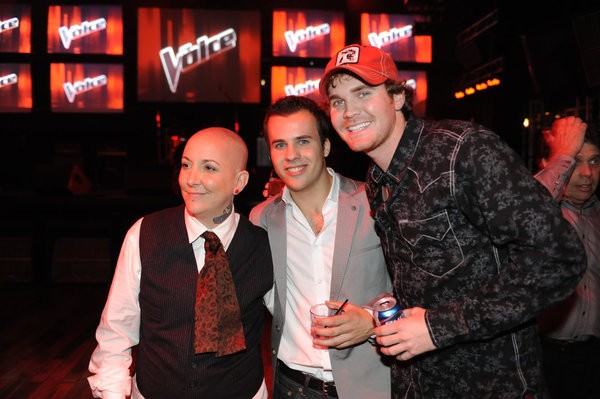 Team Cee Lo's country singer Curtis Grimes - at the far right in this picture from the show's June wrap party - has just released a new seven-song EP entitled Doin' My Time, and so far it's been met with some pretty great user reviews on iTunes. You can download the EP for $6.93 there by using this link.
Season one winner Javier Colon is still writing for his upcoming album, tentatively scheduled for a November release date. According to his official website, that's the same month he'll visit EJ Thomas Hall in Akron, Ohio. Earlier this week, he tweeted about a laugh-worthy experience he had in Maine. "Hanging in Maine this weekend," he wrote on August 26. "Went to grocery store & heard these kids fighting about how I looked like Javier Colon but I couldn't be. Ha!"
Meanwhile, coach Adam Levine is at it again. Not long after his comments about American Idol sparked a furor, now his opinion of the MTV Video Music Awards has caused another discussion.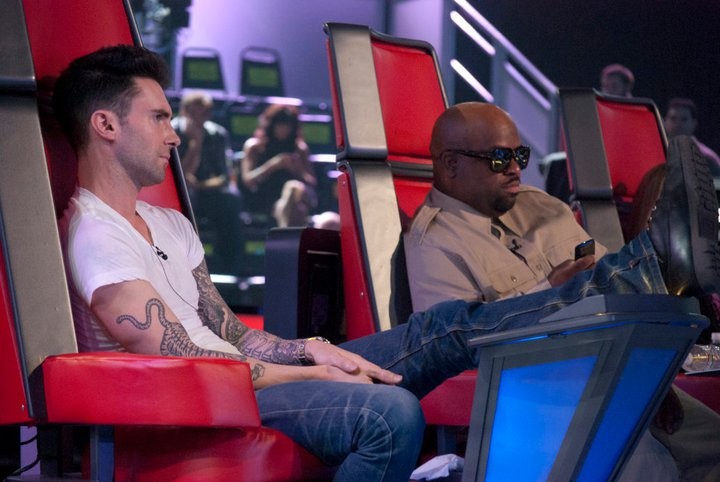 "The VMA's. One day a year when MTV pretends to still care about music. I'm drawing a line in the sand. F--k you VMA's," he tweeted. His comments later made the Hollywood Reporter, Los Angeles Times and Sirius Radio, among others.
"I really don't know what the f--k he's talking about," said Patrick Karney of the Black Keys on the VMA's red carpet, when asked by THR. He added that he'd "rather watch Jersey Shore than the latest Britney Spears video."
Yet in the Times, Busta Rhymes said the three-time Grammy winner was right: "It ain't what they used to be as far as supporting the music, you know what I'm sayin'? But at the end of the day, you still gotta come out and make sure that you are being acknowledged properly...So I salute Adam Levine from Maroon 5 for shedding a light on that. It's real spit."
To be fair, Levine only said what many of us have thought previously; I direct you to this page at popular site GraphJam, which boasts quite a few user submissions with the same opinion. But how much does MTV really play music anymore? I took a look at the network's listed schedule for today to find out.
From 6 AM this morning to 5 AM Wednesday, MTV is showing four hours of Cribs, five half-hour episodes of Awkward, two reruns of That 70's Show, three hours of Teen Mom, and a half hour special called Seventeen Magazine's Pretty Amazing Contest. That makes for eleven hours of non-music in twenty-three hours of programming, or 47% of MTV's airtime.
That's also on a day when the network is reairing the VMA's three times. If we remove the VMA reruns, the figure rises to 64.7%.
Yet no doubt MTV is looking at other numbers: the huge ratings delivered by the likes of Teen Mom and Jersey Shore. Sunday night, VMA coverage and Jersey Shore were the three most-watched programs on cable TV. Even a new True Blood, with a healthy 5.31 million eyeballs, scored 2.72 million viewers less than Jersey Shore (8.03). TV is not just an art but a business, and giving the apparent majority what they want is part of the latter.
Levine also appeared Sunday night on History Channel's Top Gear as the celebrity guest. You can read my review of the episode here. If you missed the episode, you can view it in its entirety on the History website. (Note that Levine's segment doesn't start until about the final twenty minutes.)
In other Maroon 5 news, the band and Train raised approximately $500,000 to benefit the victims of the Indiana State Fair with their previously mentioned benefit concert in Indianapolis.
On August 24, they were also confirmed to play the Rock In Rio festival in Rio de Janeiro in October 1st, replacing Jay-Z, who backed out citing "personal problems" according to tour organizers.
And then there was Snapple.
The band has partnered with the beverage brand to release "Tea Will Be Loved," a new flavor that hits stores tomorrow, September 1. The press release describes it as "a five-fruit mash-up of the best stuff on Earth, with each band mate choosing their own flavor to add to the tea: pomegranate, orange, blackberry, raspberry and hibiscus."
As part of the union, Snapple and Maroon 5 are donating $250,000 to Feeding America.
Season two's talent search arrives in Los Angeles this morning. Stay tuned for an upcoming blog from the auditions!