Brittany's 'The Voice' Blog: Dia Frampton's 'Red' Arrives!
Grammy nominations were revealed this past week, and the four musician coaches of
The Voice
split nine noms between them.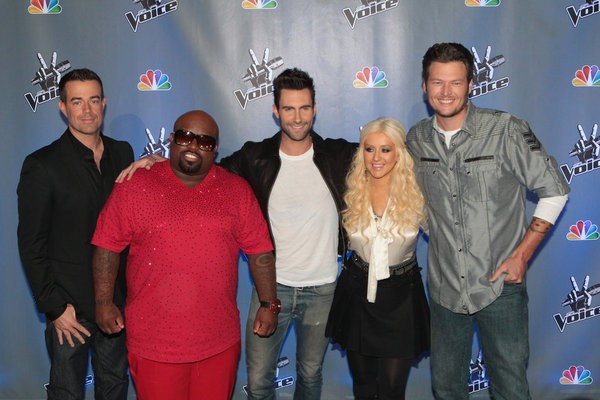 Adam Levine, Maroon 5 and Christina Aguilera scored a nomination for "Best Pop Group/Duo Performance" for (what else?) their hit single "Moves Like Jagger."
Christina's flick Burlesque scored a mention for "Best Compilation Soundtrack."
Blake Shelton's "Honey Bee" earned him a nod for "Best Country Solo Performance." His second single "God Gave Me You" also earned a Grammy nom for songwriter Dave Barnes in the "Best Country Song" category. Both tracks were off his Red River Blue album, which is up for "Best Country Album."
Cee Lo Green nabbed one for "Best Traditional R&B Performance" for "Fool For You," his collaboration with Melanie Fiona. The track was also nominated for "Best R&B Song."
The Grammys will air February 12 on CBS.
In other award-related news, Blake also picked up two American Country Awards on Monday night, both for his video for "Who Are You When I'm Not Looking." It was named the top music video by a male country artist and music video of the year.
Congratulations to all our coaches for their awards recognition!
This week it was also announced that Cee Lo will partner with producer Kannon "Caviar" Cross (who's worked with the likes of Macy Gray and T.I.) on his upcoming new solo album. In a press release, Cross stated, "I've known Cee Lo for a long time. His music is unique and he has so much talent. The way he connects with these beats is like nothing I've ever seen before." Stay tuned next week for an interview with Cross about the upcoming record!
On the next page, find your Voice calendar for this week...