Brittany's 'The Voice' Blog: Dia Frampton's 'Red' Arrives!
Saturday night, Los Angeles music venue The Mint played host to a
Voice
reunion of sorts, as several season one artists turned out to see Beverly McClellan take the stage.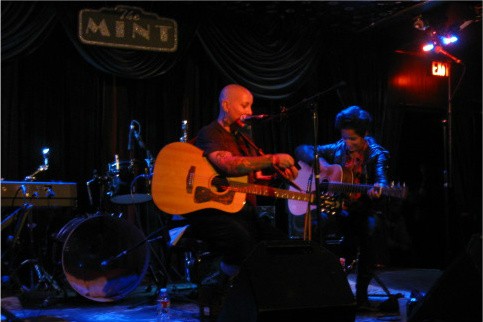 As mentioned in last week's blog, Beverly has been gracing the West Coast recently in support of her album release. In the crowd for her set at The Mint were the likes of Team Christina's Lily Elise, Team Blake's Tyler Robinson, and Team Cee Lo's Kelsey Rey and Vicci Martinez.
The latter was cajoled to join Beverly on stage for a rendition of Dolly Parton's "Jolene," one of the songs she nailed during her time on the show. It was the first time the two had ever performed that song together. Afterward Vicci let an interesting fact slip: that it was Beverly who suggested she perform "Jolene" in the first place! I'm sure I'm not alone in saying, thanks for that, Beverly.
The evening was a sentimental one as Beverly repeatedly expressed her gratitude toward her fellow artists; she revealed that the song "Come To Me" on Fear Nothing was written for her Voice family. She played well past her allotted time and into the morning without ever losing energy - and no one minded the overrun.
After the show, Vicci confirmed to me that her new album is definitely on its way. As always, stay tuned for more information on future releases from all The Voice's artists.
Read on for the coaches' successful week, plus your calendar of upcoming Voice-related events...