Brittany's 'The Voice' Blog: Catching Up With...Vicci Martinez
Here's the latest on and around NBC's The Voice: I shine the spotlight on rocker Vicci Martinez, the semifinalist from Team Cee Lo and favorite of Javier Colon's kids.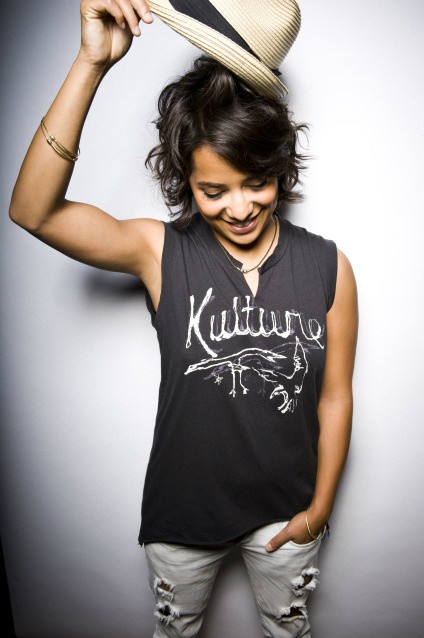 Vicci's personality struck a chord with her coach and the fans, and season one champ Javier told Jay Leno that his two daughters loved her. It was easy to see why, as she brought a fire to every song that she performed through the season. Giving a roaring rendition of Adele's "Rolling In The Deep" in blind auditions, she edged out Niki Dawson in a battle round duet of Pink's "F--king Perfect," then steamrolled her way through Dolly Parton's "Jolene," Florence and the Machine's "Dog Days Are Over," and a notorious duet with Cee Lo Green of Pat Benatar's "Love Is A Battlefield."
What I appreciated most about Vicci was her confidence. With every song she did, and every interview we did, it was clear that she was comfortable in her own skin in a way that most of us only wish that we could be. One of the highlights of my Voice experience came during the Los Angeles tour date, when she spotted me in the crowd and pointed me out. She always made me feel not only like she was proud of herself, but that it was okay for me to be myself. Her inner strength comes through in all her music.
Just before going into the studio to work on her next album, Vicci talked with me about the recent Voice tour and future plans.
You can also check out Vicci's available catalog of music on iTunes.
You finished the show and then went directly into the Voice tour, now you're in the studio - have you actually had any time to catch your breath?
I feel like the last week has been a little bit more of a break. I was doing a lot of traveling and stuff and when I did have time off, I was making up gigs that I had to cancel because of the show and the tour. I feel like I've kind of done a little more of L.A. I've had some writing sessions but I've had a few days to just kind of experience my surroundings, because I'm going to be living here for awhile.
I enjoyed the opening night of the tour in Los Angeles. How was the rest of the tour?
It was really quick, it was fun. The shows were really entertaining. I didn't expect the energy from the fans. We were in such a bubble that I didn't even know people watched the show. I was just like, "There's a lot of people here." I really just drink in every moment, try to make everything a party.
How much can you say about what you're recording now? What's the plan going forward for you?
It was Dia [Frampton], me and Javier that got signed [and] they want the records out before they start the next [season]. I haven't even recorded one song yet for the album. All I've done has been writing and demo'ing. Now they're just picking out the singles.
With auditions for season two just starting in Los Angeles, I wanted to ask about those. How was your audition experience in season one?
It was great. I went in there kind of uneasy about the whole show.  It's like a stupid ego thing that maybe every artist has, I want to work for where I want to get to. I'd been working for ten years. So I was still in that mindset. I could feel the energy of the people in the casting crew. I could feel the sincerity.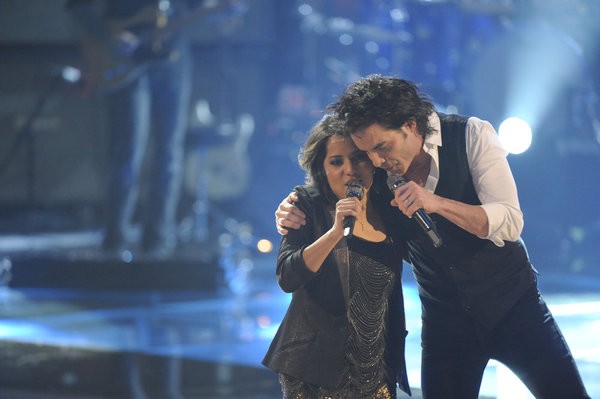 How far did you think that you would really go? It seemed like everyone had Javier installed as the early winner, but his kids were also huge fans of yours.
I had a couple people that I thought were gonna go. I was a big fan of Javier's and I was a fan of Bev's [Beverly McClellan], too. As a musician and a singer, she can do it with her eyes shut. She is music and it's really beautiful to watch. Javier has that quality as well.
With me, I was like, "I hope somebody turns around," and then like every show it was, "If I don't make it, it's okay, but I hope I do." When I found out I was a finalist it was just a party the whole week for me.
You worked with some wonderful people in your coaches, fellow contestants, and the crew - anyone special that you want to recognize?
My roommate was Emily Valentine. I'm really stoked that I got to meet her because she's one of my best friends and a big support now that I'm living in L.A. It's really great to have people that care about you, that you care about.
It was a great experience for everyone. We still keep in touch. We're all pretty busy but we still let each other know that we love each other. The show's about being genuine. I was so surprised, too; I didn't think it was going to be like that. A lot of these shows want drama. Even if you were so good, if you were kind of like that bad seed in the garden, you got rid of yourself. The coaches didn't want that. Nobody wanted that.
How did you adjust to all the media attention once it became clear how big the show was going to be?
I guess we didn't really have time. I've dealt with [the media] like in Seattle, [but] the show kind of prepared us without us even knowing it, and then the more we did interviews, we got used to it. Nobody even knew that it was going to be this big of a hit. It was the best experience of my life.
What was your favorite moment or part of the process of being on television?
I really enjoy when I did the Florence and the Machine song ["Dog Days Are Over"] because it was like, I am a drummer, I got to do my thing. It was the most natural thing I'd ever done. It was just fun running around that stage with a mohawk and drums. I never thought I'd do anything like that.
In retrospect, is there anything about the whole experience of the show that you would have done differently?
Nope. I'm a firm believer that everything happens as it should. And it all happened as it should. I'm happy every day, I'm happy with the show turned out and opportunities that have opened up.
My thanks to Vicci Martinez for this interview! For more from Vicci, you can follow her on Twitter [@VicciMartinez) or visit her official website or Facebook.
In other news...
Vicci's coach, Cee Lo Green, voices a hot tub that "starts singing and stirring up trouble," according to the network, on the season premiere of animated comedy American Dad, this Sunday at 9:30 PM ET/PT on FOX.
Cee Lo was jamming with Vicci's teammate Nakia at the Austin City Limits Festival this weekend. Check out Nakia's Tumblr for a great pic from the event. If you missed it, here's my catch-up interview with Nakia.
Also on TV, coach Adam Levine heads with Maroon 5 to The Ellen Degeneres Show tomorrow afternoon, where they'll perform and he'll be interviewed. Check your local listings for specific time and channel. The band's tour resumes on the 22nd in Oklahoma City.
A remix of the band's #1 hit "Moves Like Jagger," which made its debut during week nine of The Voice and included the vocals of coach Christina Aguilera, will bow on iTunes and radio on October 4. The remix will feature rapper Mac Miller.
Blake Shelton is still on tour as well, arriving in New Jersey on the 23rd.
Javier will be popping up on NBC's new series The Playboy Club, which debuted last night, portraying iconic musician Ray Charles and performing the song "Let The Good Times Roll." His episode is scheduled to be the sixth of the season.
Until next time...