Brittany's 'The Voice' Blog: Catching Up With...Rebecca Loebe
Here's the latest on and around NBC's The Voice: we shine the spotlight on folk singer Rebecca Loebe from Team Adam, who's not just a talented singer, but a true down to earth individual, who keeps in touch with herself and her fans no matter where music takes her.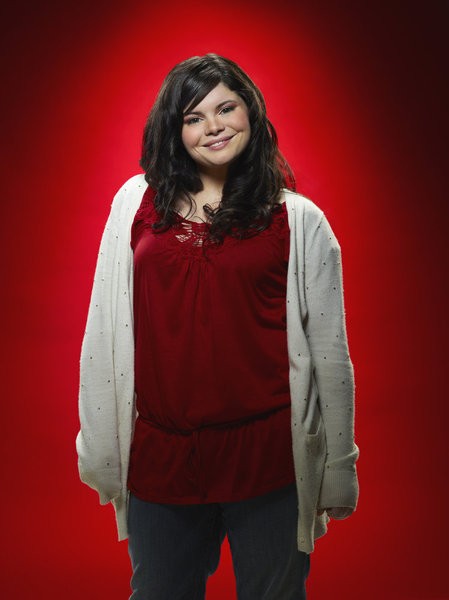 Rebecca won over coach Adam Levine with her haunting rendition of Nirvana's "Come As You Are," and in the battle rounds, she teamed with medical student Devon Barley to deliver a fantastic version of Radiohead's "Creep." Though her journey on the show ended there, her career in music is still moving full speed ahead. Recently, I caught up with Rebecca to talk to her about working with the Grammy Award-winning front man of Maroon 5, the experience of performing for a national audience, and what she's been doing since.
You can also check out Rebecca's available catalog of music on iTunes.
So, first things first: how have you been since the show ended? What have you been up to?
I spent the whole summer touring, back to what I was doing before I got involved in The Voice. It was a really fun tour. I played a few shows out in California, I played shows in Texas, which is where I moved to. I've got a batch of new songs, and I'm hoping to record a new album sometime in the near future, [but it's] not in the immediate plans.
I've launched a new website [http://www.rebeccaloebe.net] where I release one new full length live bootleg album digitally every month to pay-what-you-can subscribers. I call it "an experiment in folk sustainability." It's basically a way for me to try to make my income as a traveling musician a bit more consistent. It's also a great way to hear my newer songs that haven't been recorded on studio albums yet.
How much do you think the show has changed how people see you? Has it made you more popular?
Absolutely. There's been a lot of exposure from the show - people who were interested enough to look me up. They buy the CD's and come out to the gigs. I'm very active on social media, update my own Facebook, try to respond to all Twitter comments.
Since auditions for season two just ended, let's start your Voice story there. How did you decide to audition, and what was it like for you?
Someone in the casting office had heard my CD at one point. I wouldn't have known it was happening if they hadn't emailed me, honestly. I don't really pay attention to stuff like that. I went, although I wasn't particularly convinced that I was going to be on the show even if I had the opportunity, because I had a busy schedule. I didn't think they'd pick me because I'm a folk singer, but I also felt even if they did, I wouldn't be available. So I felt very relaxed.
I really love the people that work on the casting team. I don't envy them their jobs. I went and sat in on the New York auditions for awhile. It's intense.
I've been told there were four or five rounds of callbacks before blind auditions?
For us, there was a callback in Austin, where I auditioned, and then there was a callback in Los Angeles, and that was the whole process.  I sang a Katy Perry song [at the first callback]. I had just learned it like six hours before, so as I was going through it I was making stuff up. There was so much that we didn't know. At the time, I thought that not knowing was making it more stressful.
You gave a fantastic blind audition on the show - the only non-semifinalist to end up on the season 1 album. So what was going through your head then?
It was terrifying. It was completely scary. I'd been preparing for that since I got to Los Angeles; there was a lot of build-up to that moment. It was the scariest thing I've ever done and I have jumped out of an airplane. I was standing on stage shaking. I really appreciate whoever put me on that CD; I was really flattered.
I'd be remiss if I didn't ask you about Adam Levine. He's an interesting guy, and he definitely doesn't fall into that stereotype of being the difficult rock star.

He's a really nice guy. Really charismatic and smart and on point. Generally, you achieve a certain amount of success by being fun and easy to work with.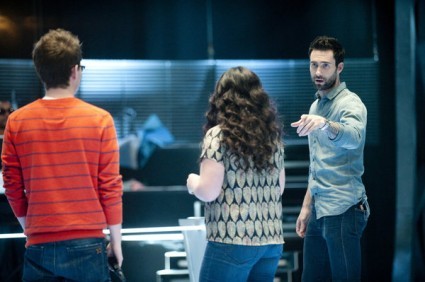 When he picked Radiohead's "Creep" for your battle song, a lot of people went, "Well, that's different." What was your reaction?
It's kind of funny. Originally, Devon and I were given another song - the Cyndi Lauper song "True Colors." We sang through it with Adam and we were kind of struggling. Adam's like, "I have complete confidence in you guys, it's great," and then we leave. Five minutes later we go back in there and Adam says, "Actually, how do you feel about doing another song?" So they gave us "Creep." I've loved that song for a long time.
That battle really could have gone either way. Adam said some really nice things to you after the fact. It seemed like you went out on a high.
I would have much rather gone out like that than rather have gone out in the next round and not be voted on by America. That did not look like fun for people who were in the top 16 but not the top 8. [In the battle rounds] most people felt bad about having to sing against someone else. We were all calm and mature.
Plus, you got Adam so flustered that he swore on national TV.
That was pretty fun; I liked the bleeping.
Have you given any thought to how far you might have gone had you won that round? How closely did you follow the rest of the show?
No, I feel like it happened exactly the way it was supposed to. Every moment could go in any direction; there are so many variables.
I was really happy for Javier [Colon]. I would've been happy with any of the top four, because they're such good people, but I really like Javier. I love his voice.  He's super-talented but he's also super-nice.
Behind the scenes, you were a part of an amazing group of people. So what was the whole ride like for you personally? What did you take away from it all?
What I took away most - that was really surprising - was that it gave me more comfort in my own skin and with my existing music career. I've felt really comfortable on stage. It reaffirms that this is what I love to do and what I want to spend my whole life doing.
My thanks to Rebecca Loebe for this interview! Follow her on Twitter (@rebeccaloebe) and check out her official website for more information.
In other news...
Team Blake's Xenia Martinez duets with Jon McLaughlin on the song "Maybe It's Over" which can be found on his new album Forever If Ever.
Her coach, Blake Shelton, continues to tour on the East Coast and South through early October. He also covered the title track for the remake of Footloose, and you can hear that song in its entirety at THR.
Team Christina semifinalist Frenchie Davis has a few Los Angeles dates booked: she'll be mistress of ceremonies at the Ford Theatre's "Leading Men of Broadway" event this Friday, September 16 at 8:30, and will play the Conga Room on September 29.
Adam Levine and Maroon 5 appeared on the NFL Kickoff Show prior to the season-opening Packers/Saints football game in Green Bay, Wisconsin. You can check out their performance of "Moves Like Jagger" on YouTube, while they also performed "This Love" and "Wake Up Call."
Levine also made history when the band's collaboration with Christina Aguilera, "Moves Like Jagger," topped the Billboard Hot 100. With "Stereo Hearts," the song he recorded with Gym Class Heroes, sitting at No. 10 on the same list, Levine became the first artist in the Hot 100's 53-year history to appear as both a solo artist and part of a group simultaneously.
Cee Lo Green lends his voice to FOX's American Dad for its season premiere, September 25 at 9:30 PM ET/PT. E! Online also reports the "Forget You" singer will be popping up on NBC's Parenthood.
Until next week...