Brittany's 'The Voice' Blog: Catching Up With...Dia Frampton!
Here's the latest on and around NBC's The Voice: Dia Frampton drops by, reviews of Javier Colon and Beverly McClellan's new albums, and the AMAs!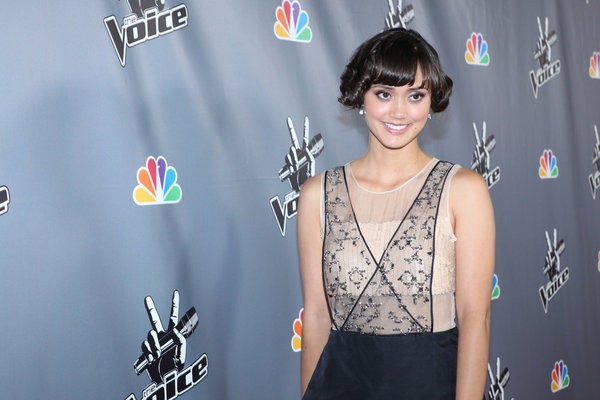 I start this week catching up with season 1 runner-up and Team Blake finalist Dia Frampton, whose new album Red will hit stores two weeks from today, on December 6. Dia was kind enough to chat with me about The Voice and how her life has been post-show.
How much did things change for her after The Voice? "A lot," she confided, adding that she started "right after [the finale], literally the next day, to write songs and record, because I was hoping to make an album, which I did." That change didn't extend to everyday life, though, as she said people don't necessarily recognize her more. "Sometimes a little bit, but as far as that goes, it's pretty much the same."
One senses she wouldn't want it any other way. This is the woman who told me on the Voice red carpet that if she'd known how big the show was going to be, she might never have auditioned. It wasn't her forte. She was just an earnest, down-to-earth girl wanting to make her music, and now she was thrust into the national spotlight.
"It was a whole different experience to be on television," she said. "It was the most high-pressure, high-stress environment to perform in. I was afraid I'd forget the words, I'd miss a note, or I'd trip and fall. I'd never played under those circumstances. It was also a very positive one. I think it really helped me in a lot of different ways. I learned how to perform in front of cameras and [her coach] Blake [Shelton] was there every step of the way. I just had to up my game."
There's no question that she did just that; we were priveleged to see Dia grow as an artist before our eyes, from someone who only had two chairs turn for her in blind auditions to someone who came very close to winning the whole thing. Her version of Kanye West's "Heartless" was called the best performance in the history of The Voice on the night she debuted it, and deservedly so.
Dia wasn't concerned with winning or losing, though. On the night of the finale, rather than bemoan her close defeat, she spoke to me about how glad she was for Javier, because she knew his victory meant he could pursue his dream without having to worry about financially supporting his family. Looking back on the show five months later, she still thinks beyond the competition.
"As far as the show goes, the duet I did with Miranda Lambert at the end was really special," she said. "I think about the time off-camera, hanging out with all the artists. Just getting lunch with them - little things like that were really fun. I made some really good friends and I learned from them. Being around people that were better than me made me better."
She took what she'd learned and poured it into the making of Red, which was a different experience than the albums she released with her sister as one-half of the band Meg & Dia.
"We were wanting an early December release. They wanted the record to come out before season 2 [of The Voice] started," she explained. "I'm used to having months and months, or sometimes years, to take my time. I'm always quality over quantity. This time, I was just writing as much as possible. I ended up with about 40-50 songs. I wrote with a lot of different people and worked with a lot of different producers."
That didn't mean she left her sister behind: "I worked with my sister. We wrote like eight songs for the album, and decided seven of them sucked, but one of them made it through," she added, laughing. That song is called 'Hearts Out To Dry,' which is one of her two favorites on Red. The other is 'Trapeze,' which she says "lyrically, is really special to me."
The album is just the beginning for her. In addition to releasing Red, Dia is joining Blake Shelton on his Well Lit and Amplified Tour from the end of this year into early 2012. Her Voice coach has stayed in her corner even after the end of the show. "Blake actually asked me if I wanted to do the tour," she revealed. "I'm excited to be able to watch him every night. He's such a great performer and his band, they're all incredible musicians. It'll be great to watch them and learn from them."
It's another testament to how humble a person Dia is. She hasn't let her sudden breakthrough go to her head. Asked what her career goals are, she talked about what she can still learn from other musicians.
"I'm excited to start touring again. I'd just like to tour with as many great bands as possible," she enthused. "I'd like to go worldwide. That's a really big, big dream. I know that The Voice aired in a lot of different countries; I've got people on my Facebook page from [countries like] Singapore [and] Australia, and it just made me want to be able to tour in all these different places."
It's a goal that's within reach for this talented and classy artist; what's sure to be a long and successful career is off to a solid start.
To find out where and when Dia and Blake will be touring, visit Blake's tour schedule. For more from Dia herself, be sure to follow her on Twitter and Facebook. You can also pre-order Red using this link.
Read on for reviews of Javier Colon and Beverly McClellan's new albums...