Brittany's 'The Voice' Blog: Catch Up Before Season 2!
Here's the latest on and around NBC's The Voice: now that season 2 has started taping, are you caught up with what's been happening since the end of season 1?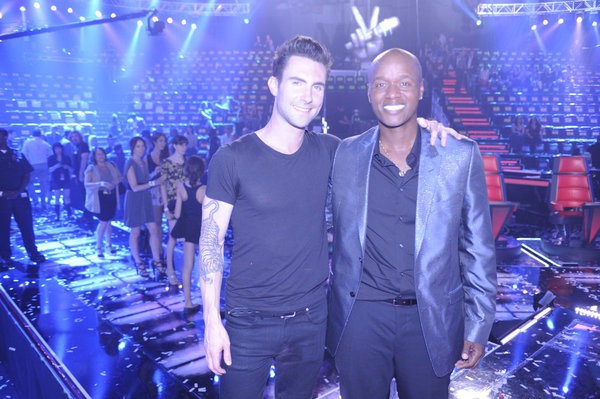 On June 28, Team Adam's Javier Colon was named "The Voice." Here's our profile of season one's winner. Since then, Javier has been busy recording his new (as yet untitled) album, which will arrive in stores on November 21. You can read my interview with him from the day after his victory.
In support of that album, Javier will embark on a tour which begins November 27 in Boston and ends December 18 in Orlando. See the rest of his tour dates here. Unfortunately, there are currently no scheduled tour dates listed for the West Coast; emails to Javier's manager inquiring about West Coast stops were not returned.
During our recent interview, Team Cee Lo's Vicci Martinez revealed that she and Team Blake's Dia Frampton were also signed to record deals, and that the label would like their albums out before season 2 of The Voice begins (February 5). Vicci has been recording in Los Angeles, while Dia has posted photos from a video shoot on her Twitter account. She'll also be opening for her coach, Blake Shelton, on his "Well Lit and Amplified Tour." Visit Blake's website for tour dates.
Many other Voice artists are working on new material following their success on the show. Both Beverly McClellan and Xenia have tweeted about upcoming albums, and Xenia performed a duet with Jon McLaughlin entitled "Maybe It's Over" on his new album Forever If Ever.
Team Adam's Tim Mahoney released a new single appropriately titled "Hey Adam Levine." You can read my follow-up interviews with Beverly and with Tim.
You can also check out what Team Cee Lo's Nakia and Team Adam's Casey Desmond, Jeff Jenkins, Rebecca Loebe and Casey Weston have been up to since the end of the series.
The top eight artists reconnected immediately after the end of the show for a successful live tour and later an album of season one highlights was also released.
The coaches were also busy in the offseason: Shelton released a new album and toured in support of it, while recording the title track for the remake of Footloose.
Levine's band Maroon 5 toured over the summer with Train, while Levine made headlines for his off-stage remarks on a number of subjects including the MTV Video Music Awards. He also made music history when both the Maroon 5 single "Moves Like Jagger" (which debuted on The Voice in June) and "Stereo Hearts," his collaboration with Gym Class Heroes, simultaneously appeared on the Billboard charts - the first time any artist has charted in the top as both a soloist and a group.
Cee Lo Green has appeared on FOX's American Dad and NBC's Parenthood. Christina Aguilera performed at the Michael Jackson memorial concert wiith Green and was nominated for an ALMA award.
Season 2 auditions were held in August. Here's my report from the Los Angeles auditions.
That brings us to the beginning of season 2. The show is currently taping in advance of a February 5 premiere date on NBC. You can request tickets to one of the remaining blind audition tapings here.
Until next time...