Brittany's TCA 2011 Blog: 'Sons of Anarchy,' 'American Horror Story,' 'Rescue Me' And 'Always Sunny'
After spending some time with FOX, my TCA (Television Critics Association) blog comes to an end with a look at sister network FX, which brought to Beverly Hills four returning series and a new one. Not to mention one big moment that I may unfortunately never be able to get out of my brain.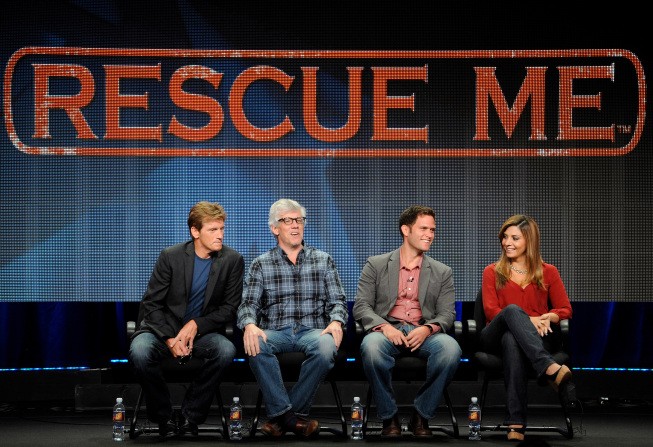 Executive Session
Last time we talked about FX, I mentioned that I have a great deal of respect for network president John Landgraf. I was certainly happy to hear the announcement Saturday morning that Landgraf, who's been with FX for more than seven years, had renewed his contract for three more. He's the rare network exec that I actually enjoy listening to, because it's clear he hasn't lost touch with the rank and file. "I had a strong ambition to take what I had learned as an executive producer and bring that to basic cable," he explained, and I really admire that.
This time, he had plenty of announcements to make. Wilfred was renewed for season two, Louie for a thirteen-episode season three, and It's Always Sunny In Philadelphia for seasons eight and nine - with an option for a tenth. Plus, in conjunction with Rogers Media, FX Canada launches north of the border in early November.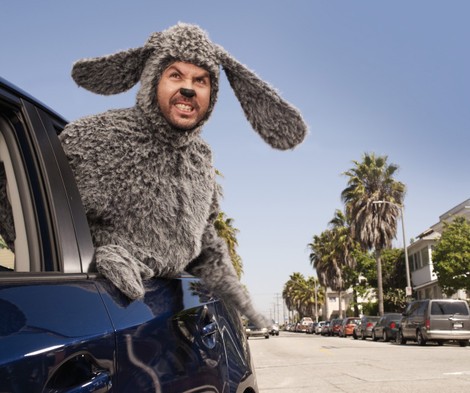 He added that one of my favorite series, Justified, saw not only four major Emmy nominations but a 14% jump in its ratings in its second season. Meanwhile, Archer will return for its third season in January 2012, but fans will get an early taste when three episodes air this fall after the first three of Always Sunny.
Asked if he was concerned about the network's apparent reputation as male-oriented (one that I didn't think existed until that question was posed), Landgraf pointed out that they had taken home the Golden Globe for Best Actress in a Drama three years running - most recently with Katey Sagal for Sons of Anarchy, and the two years prior with Glenn Close for Damages. He did acknowledge that with the departure of Damages, the network doesn't have a female-led original. "We've tried, and we'd like to keep trying [for] shows with a singular female lead in them."
He added that FX has a 48% female audience. "There are some women who like this kind of programming," he said. You can include me in that number for sure.
Season four of the drama picks up fourteen months after the end of season three, with the members of SAMCRO just being released from prison. They'll get back to Charming only to discover that there's a new sheriff and a new mayor, the latter of whom is looking to "scapegoat" the gang by claiming they're responsible for everything that's wrong with the city.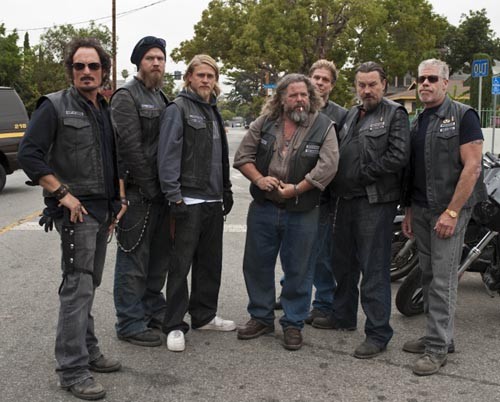 If that sounds like a lot, it's not even the core of the new season. "There's a lot of internal struggle this season," said Katey Sagal. "We bring [problems] on ourselves, as opposed to external things," echoed her costar Mark Boone Junior.
And that's the point, according to series creator Kurt Sutter. "It's all about using those external things to torque up the stuff that's going on in here," he explained. "You have all the character stuff and the emotionality going on."
The season will include guest appearances by Rockmond Dunbar (Terriers, The Chicago Code), Danny Trejo (Con Air), and David Hasselhoff.
Behind the scenes, Paris Barclay (In Treatment), who's directed episodes of the show going back to its first season, has come aboard as a directing producer. He's excited to be there, saying that the three great living television writers today are Aaron Sorkin, David Milch and Sutter. It was a very nice compliment, which is exactly how Sagal described her Golden Globe win.
You might not immediately recall it, but the guys that are responsible for Glee are the same ones who brought you FX's unflinching and controversial Nip/Tuck. Now Brad Murphy and Ryan Falchuk are back with a new, and similarly disturbing, series about a family that moves into a haunted house in Los Angeles.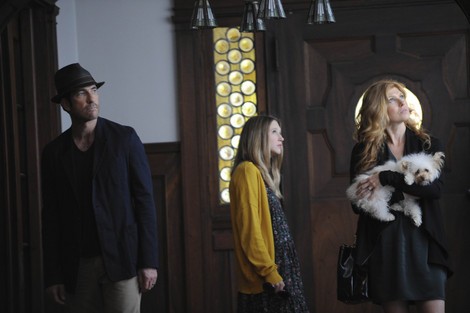 It's in a different vein for sure, and it may even have a different approach. Earlier in the morning, John Landgraf told the room that the show had a "serialized mystery" that may involve both the present and past, should it be renewed past season one.
And if that is the case, the cast may or may not depart after the season - similar to an initial idea that was bandied about with 24 after its first year.
While the first episode has "eight cliffhangers" according to Murphy, he insists that issues will get resolved in time, including why the Harmon family stays in the house despite all the freaky happenings therein. "We had an obligation to the audience in the next two scripts to explain things. By the third episode, all of those big mysteries are settled and I think the audience can just be along for the ride."
The potentially rotating cast currently includes Jessica Lange (making her TV debut), Dylan McDermott (The Practice, Big Shots) and Emmy nominee Connie Britton, who admitted that she is "literally afraid of horror movies. I should not be here," she added, to laughter from the crowd.
Her TV husband had the opposite opinion. "I loved how strange, and weird, and creepy it was," he said. And it certainly is, including actresses Frances Conroy and Alexandra Breckinridge splitting the role of the Harmons' housekeeper Moira - because one turns into the other and vice versa.
However, that wasn't the scariest thing I saw all day, believe it or not.
Remember when I said earlier that there are always surprises? Well, the Rescue Me panel had a big one: executive producer Peter Tolan dropping his pants on stage. The presentation pretty much embodied the series, in that it was hilariously funny, but there were also some poignant notes.
Talking about the acclaimed series coming to its conclusion just before the tenth anniversary of September 11, executive producer/star Denis Leary shared the story of losing his cousin, also a firefighter, in the line of duty in 1999. There wasn't a sound in the room as he talked about what it was like when the tenth anniversary of that loss arrived. "Ending [the series] right at the tenth anniversary of 9/11 would be the perfect world," he said. "There would be a natural feeling of summing up."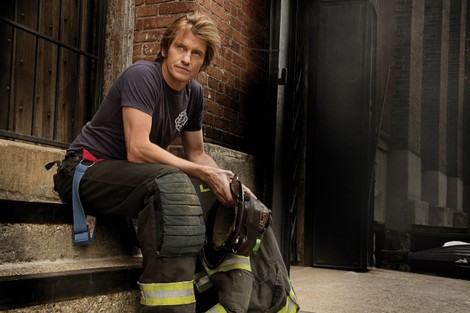 "I've always felt that the show just kept the idea of what happened on 9/11 alive," agreed Tolan, referring to the idea that it put a spotlight on the pain and problems that came out of the national tragedy, instead of just that one date. "I felt like that was a positive ancillary effect."
They knew their ending "in the late fifth or sixth season" according to Tolan. "There were some aborted attempts. We always had rather grim prognostications for Tommy Gavin, but you don't want to bring people along on a journey that long and say he's not going to survive. It's just a very negative message."
In the end, they elected for a more hopeful conclusion, which fit with the fact that, as Leary explained, some members of the real FDNY look at 9/11 as "the single greatest rescue effort in the history of the fire service," choosing to focus on not on the losses, but on how many more people they were able to keep from adding to that death toll.
With the serious stuff aside, things quickly turned to laughter. Numerous jokes about people not wearing pants led Tolan to drop his and show the entire room his underwear. It's an image I'm still recovering from.
Leary, who's currently working on the new Spider-Man flick, laughed about how he's sometimes mistaken for previous Green Goblin Willem Dafoe, with costar Steven Pasquale adding that it's happened while they're shooting Rescue Me. He added that he'd love to see his character Sean Garrity "form a complete sentence, maybe."
And Callie Thorne admitted that while she loves her new USA series Necessary Roughness, she does miss not being able to do some of the crazy things that her Rescue Me character Sheila has done.
If any one quote summed up Rescue Me's sense of humor, it was a biting one-liner from Tolan. "You wanna put tragedy in perspective," he quipped, "there's 9/11 and then there's the fact that you all have had to watch everything on television."
Touche, Mr. Tolan.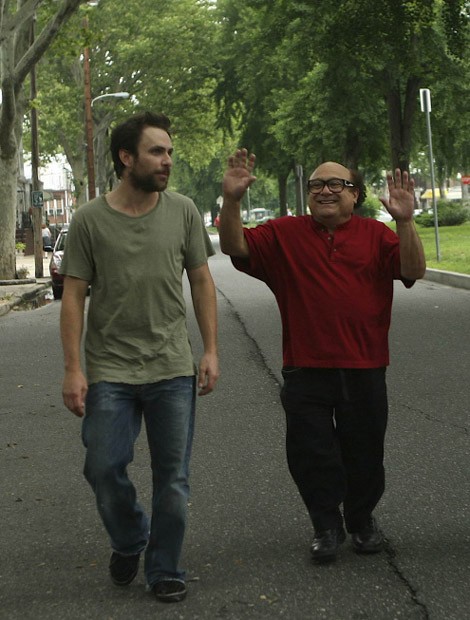 It's Always Sunny In Philadelphia
Fresh off it being announced that they would return for seasons eight and nine, we sat down with the cast of It's Always Sunny In Philadelphia. It's easy to see why the show is so popular - the first thing we got a glimpse at was a series of hilarious promos in which it openly mocked those feel-good ABC Family commercials. And, as it turns out, those were FX's idea!
In fact, the three creator-producer-stars - Rob McElhenney, Charlie Day and Glenn Howerton - took time out to praise the network for their support of the show. They discussed how appreciative they were of being able to make the show that they wanted, without being forced to work alongside a more senior showrunner.
In turn, co-star Danny DeVito turned around and praised the trio, talking about how he enjoyed that their triple roles meant the writers were "on the floor with you" and that he could consult them whenever he needed to. He even compared it to his experience on the classic series Taxi.
The show has "stayed somewhat underground" despite having been on the air for a long time, according to Charlie Day, who added that he felt it also benefits from Comedy Central reruns. Howerton echoed that statement, saying how proud he was of the rewatch value. "There are people who watch the reruns even though they have the DVDs [and] they've seen the show twice."
What's the secret to a cult hit? Howerton likened it to that of a stand-up comic, saying that if a comedian can get up without a set and make people laugh, there should be no reason why you can't just put a few people in a room and do the same thing. That's exactly what they did with their $200 budget...and now they're being publicly credited by a network president for helping to launch an entire comedy model.
What do you do when your TV show centers around a fantasy football league...and there's no football? Such was the dilemma for the creators of FX's The League.
According to executive producer Jeff Schaffer, there was a Plan B if the NFL lockout had continued, but they were still hoping for the best. The network was fine with the creative team pushing back its start dates waiting for the lockout to end. In fact, some of the footage we were shown had been shot literally the night before.
"We discovered we could write the show without football," added executive producer Jackie Schaffer.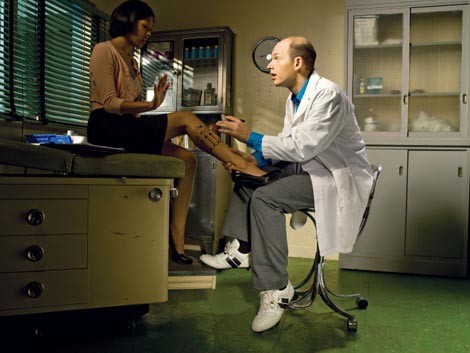 In the eyes of the husband-and-wife creative team, it's not so much about the game itself as it is about fantasy football as a social hub and outlet for life. The fake game allows people to take out their aggressions harmlessly on their loved ones. "If you did to a stranger what you did to your friends [in fantasy football], you'd be in jail," Jeff explained.
"It's fantastic. It's disturbing," added Jackie. "Someone sent me a picture of their kid, in the hospital, with the middle name Ruxin."
So what's in store for the new season?
There will be appearances by a few NFL players, including a hilarious musical moment based on the classic Super Bowl Shuffle (entitled, appropriately, "The Shiva Bowl Shuffle"). ESPN analyst Matthew Berry also turns up in the third episode.
"These guys are going to make such a mess of it this year," said Jeff Schaffer, "you'll wonder how they could ever be friends."
Meanwhile, Nick Kroll was wondering what was in the the giant snack bowls on the tables and went down to procure one from the audience, proceeding to pass it across the panel.
It was also revealed that the panelists have their own fantasy football league - "The League Behind The League" - and that the women are the champions! Cast member Katie Aselton won the first season, and Jackie Schaffer won season two, much to the chagrin of her husband.
As a female sports fan, I couldn't help but enjoy that one.
And on that note, that concludes this year's TCA blog! I'll see you in January for more quotes and factoids from the network sessions.