Brittany's TCA 2011 Blog: 'New Girl,' 'X Factor,' The Future Of 'Breaking In'
It's been seven months since the last Television Critics Association presentation - so now it's time for new buzz. I returned to the front row to catch up with the happenings at FOX and sister network FX. In this first part of my TCA blog, we meet New Girl and The X Factor, the FOX executive session sheds some light on House, Fringe and the Glee spinoff rumors, and I try not to faint.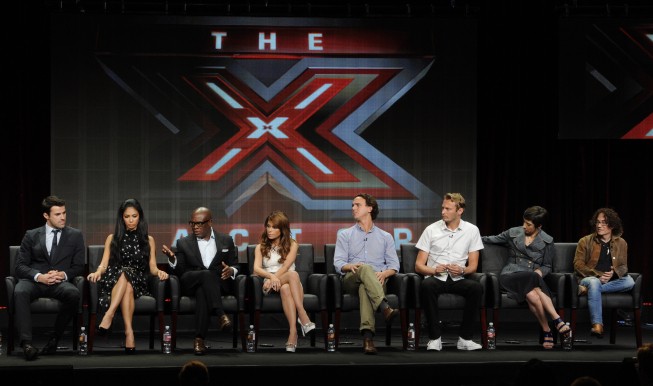 There's always a surprise or two at these events, and mine happened right off the bat. FOX hosted a breakfast themed around its trio of Gordon Ramsay cooking shows (Hell's Kitchen, Kitchen Nightmares and MasterChef), which included an appearance by Chef Ramsay himself!
As you know from my recent interview, I'm a huge fan of his, so floored doesn't even begin to describe how I felt when I met him. I've said it before and I'll say it again: his on-screen image might be scary, but Chef Ramsay himself is a wonderful person. Ironically, we talked while there was a styrofoam cutout of him sitting on the table next to me, glaring at everyone.
But enough about the decor, on to the shows!
I said in my previous TCA blog that I wanted to see FOX bring some stronger comedies to the table, and they led off with a comedy: New Girl, starring Zooey Deschanel as Jess, who moves into an apartment occupied by a trio of close-knit guys (played by Lamorne Morris, Max Greenfield, and Jake Johnson). Cast and producers (trivia tidbit: including Jake Kasdan, who will now be known to me as "the guy directing that show Adam Levine is producing") were happy to talk up the new laugher.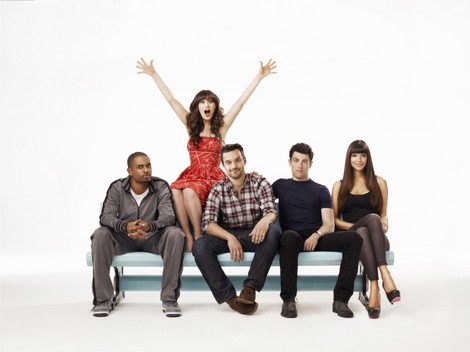 The show was not written for Deschanel, according to creator Liz Meriwether, but it certainly has the actress's stamp on it now. "This was a perfect match of character and actress. We really didn't do a lot of finessing with the character," she said. "It's such a gift. She's able to play the comedy and the scene underneath, which is rare. This character is so out there; we really were trying for a different type of female character."
'Different' includes the fact that the actress - who wrote and recorded the show's theme song - will break into song on occasion. And that Greenfield's character Schmidt was referred to as a 'douchebag' at least a half-dozen times. (He even has the 'douchebag' equivalent of a swear jar.)
There are some things about New Girl that aren't so different, though. With one female lead and three male leads, it's no surprise that the show would write in some sexual tension. We'll definitely see that in the future according to Meriweather. "We do kind of want to explore that. I love those sort of storylines. I think that we're going to go there in the future for sure. I'm looking forward to that."
Asked if she was ready to be locked into a series like her sister Emily is with FOX's Bones, Zooey was enthusiastic about the idea. "Reading the pilot script, I was laughing out loud, having such a good time. This opportunity became really appealing to me because the material's so great. The thought of doing it for a long time is actually really exciting to me."
The faux pas of the morning came when a reporter asked her if Emily had given her any tips on "dealing with the idiocy of FOX."
Deschanel's perfectly deadpan response: "They're not here, are they?"
New Girl premieres September 20 at 9 PM ET/PT.
I'm sure you had no idea The X Factor was coming to FOX, right?
I kid, but the panel for FOX's already very hyped competition series proved to be a pleasant surprise. I'm an unabashed cynic when it comes to any reality show not named The Voice, but the pitch for X Factor had even me curious. The network is clearly throwing all its weight behind this one - in addition to the heavy promotional campaign, they brought just about everyone to the presentation. Host Steve Jones, judges Nicole Scherzinger, L.A. Reid and Paula Abdul, and producers were all on hand.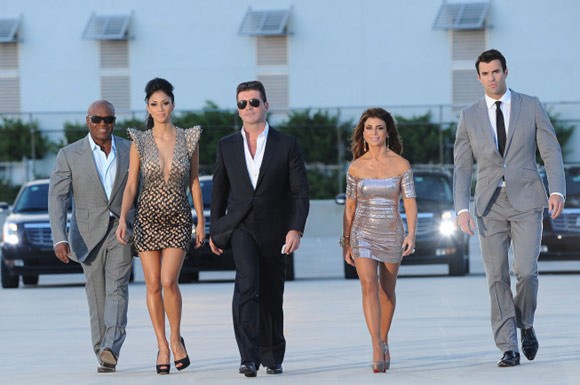 Executive producer and judge Simon Cowell dropped in via satellite and unsurprisingly, basically took over the whole shebang. He was adamant that X Factor will be different from the glut of existing reality-competition shows, starting with a willingness to get ugly. "We're going to show the good bits, the bad bits and the ugly bits, and there are a lot of ugly bits," he said. "The contestants are mean to us and we can be harsh back to them. It's important when you make reality TV it's as real as possible. You're seeing a process that half the time, I'm not even aware of. I was quite traumatized after the auditions. There's this one kid, he absolutely chewed me apart, but I like that."
Cowell was quizzed on the Cheryl Cole debacle that took over entertainment headlines for what seemed like weeks if not months, and was willing to explain what exactly happened that led to Cole's departure from the program. "It wasn't just me," he said, refuting accusations that Cole's ouster had been solely his idea. "There were a few of us who made a decision. You have to make hard decisions, public decisions. We felt – and I probably got this wrong and I'll admit it – that Cheryl would be more comfortable doing the UK show than the American show. I thought Cheryl returning back to the UK would have been good for the show over there, good for her."
He also dismissed the rumor that it had something to do with Abdul: "If it was a question of not getting on with Paula, then I wouldn't be on the show."
Whatever behind-the-scenes drama may or may not have existed, it's clear that X Factor is ambitious. Cowell announced that the winner will be guaranteed a cool five million dollars in cash, plus their own Pepsi commercial (Pepsi is one of the show's major sponsors).
And the judges were optimistic about what they've found while making what FOX exec Mike Darnell referred to as a "performance-oriented, variety-driven" new series. "Undiscovered talent sometimes supercedes the talent that is out there today," said Abdul.
The elephant in the room was how they think it will stand up to shows like The Voice and American Idol, with which it shares many of the same producers (not unlike America's Got Talent, another Cowell production). "The Voice came along this year and did a good job," complimented Cowell, who summed that issue up well. "You've got to accept the fact that there's going to be competitive shows. It's the people that benefit from this because there are going to be better-made shows."
The X Factor begins with two two-hour installments on September 21-22 from 8-10 PM ET/PT, before settling into its regular hours of Wednesdays, 8-10 PM/PT and Thursdays, 8-9 PM ET/PT.
Executive Session
FOX exec Kevin Reilly took to the stage and one of his early remarks was that not much had changed over the last seven months: "You can get out your transcripts from last session and pretty much reprint those," he joked with reporters.
Yet the Q&A was pretty much the same as it was in January, with many questions being about the future of FOX's existing tentpole shows. Reilly said that he "can't confirm" this will be the final year for House, as that issue will be addressed "later in the fall."
Likewise, the idea of a Glee spinoff is also on hold until a later time. "We collectively decided let's revisit that in the back half of the year. The worst thing you could say about Glee sometimes is too much of a good thing," he remarked (the show has already spawned an upcoming 3D movie and a concert tour).
Fringe came up again and still has the network's support. "We were cheering the Friday night victory for Fringe," Reilly said. "If Fringe can do exactly what it did last year, we're going to be very, very happy with it. You can support creative shows that deserve to be on the air," he added. (I can hear all the fans of The Chicago Code muttering at that last remark.)
One of the shows that got the axe with Code was Breaking In, which was then rumored to be making a comeback only to see that buzz die off. Reilly didn't seem too optimistic about the show's return Friday, though he said it still might happen. "We're planning to go to a four-comedy block in the spring. As part of that four-comedy block, it has a shot. We've not ordered anything right now."
He did, however, believe America's Most Wanted would return...just not necessarily with FOX, which bounced the weekly series from its schedule in favor of repeats to drive eyeballs to other shows. "The cost of the show moved into a loss situation over the last couple of years," Reilly explained about FOX's decision to order only special installments. "John [Walsh] is talking to other networks about keeping the [weekly] show going. I anticipate it will happen."
Something that's not coming back? The controversial Million Dollar Money Drop, which "is dead."
I am definitely coming back. Stay tuned for the next part of my blog, where we revisit Terra Nova, get introduced to I Hate My Teenage Daughter and Allen Gregory, and learn how Mark Burnett plans to make the Emmys a little brighter...