Brittany's TCA 2011 Blog: FX - 'Louie,' 'Wilfred' & 'Justified'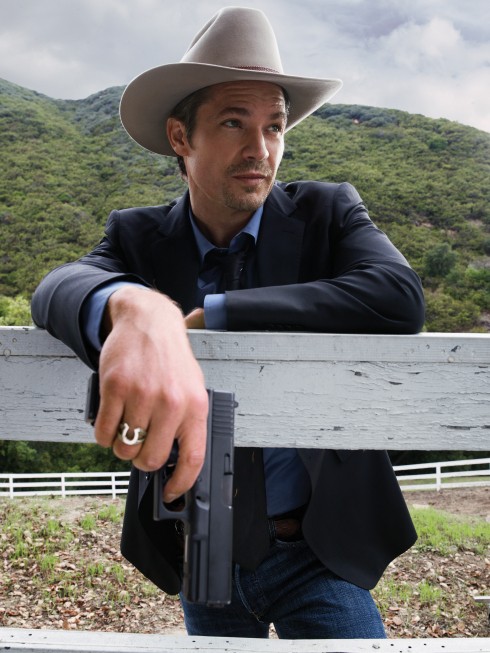 The last day of the TCA (Television Critics Association) Winter/Spring 2011 press tour was the one I'd had circled on my calendar, because it was all about FX. I have really fallen in love with this network and the people behind it over the past year. They gave me the highlight of my trip: a panel devoted to one of my all-time favorite series (Justified), putting me in the same room with one of my all-time favorite actors (Timothy Olyphant). I'll geek out about that later, though. First, let's talk about what else the cable net has up its sleeve...
Executive Session
I gained an enormous amount of respect for FX president John Landgraf after how he handled the cancellation of Terriers. To me, his being willing to sit down with critics following the decision and answer their questions showed a lot about his character and in turn, the character of the network itself. Of that classy move, Landgraf cited an obligation to the Terriers audience: "They deserved as clear an explanation as I could give them as to why it wasn't [moving forward]. I don't know why networks haven't done that before. Most programming executives are fundamentally too insecure and too defensive." I have to agree with him; I wish that more execs would be so considerate of the audiences who keep their networks alive. At the least, I have even more respect for the network, knowing that its president is a stand-up guy.
From mourning Terriers, it was a quick jump to discussing Lights Out, FX's new drama which premiered with even lower numbers than the dearly departed. Several people in the blogosphere are already throwing the word "cancellation" around after one episode. Never fear, said Landgraf, telling us the network intends to run all 13 episodes as planned at least. He also reminded us to keep things in perspective, telling us there were "52 original series premiering in January and February…it's obviously an intensely crowded field. So think about the competitive environment. On the night that we premiered, The Game on BET gave an absolutely historic number [7.7 million viewers]. Notwithstanding that, I think [Lights Out's] a really good show, and I can't tell you what's going to happen over the next twelve weeks."
As someone who covers The Game and who is a fan, I had to smile at the fact that Landgraf had taken notice. I smiled more when he said he thought the show's ratings might give AMC's numbers for The Walking Dead competition. Thanks for the high praise, John!
I dare to say FX itself might be the premiere cable destination for original series. He pointed out that the network has had six critically acclaimed series (Justified, Lights Out, Rescue Me, Sons of Anarchy, Terriers and Archer) and four of those were ratings successes. A third season of The League is just about a sure thing, and Rescue Me will start its last season in the summer and end on September 6, 2011 - an appropriate date for the show's swan song.
They're also working on bringing one of my favorite comic books, Powers, to series. Landgraf said he was "really excited about" the adaptation of Brian Michael Bendis' work, currently being steered by Chic Eglee (he who infamously left The Walking Dead). "We've had some real creative breakthroughs. That project has a lot of momentum right now."
For all the tidbits about the network's programming, though, the most important things Landgraf had to say were his astute observations about the business and FX's role in it. "You can put a slower-paced show on HBO and people are going to give it four, five, six shots," he said, referring to how paying for premium cable makes viewers want to get their money's worth. "That's probably not the case with FX. I think we face a unique competitive challenge."
Not only that, but the failure of Terriers reminded him that as much as network bosses and critics love something, love isn't always enough. Sad, but true. Near session's end, he said, "There's always been a disconnect between audience taste and critical acclaim. In those rare circumstances where [critics] have near unanimity, I think you guys can move the needle, but you disagree with each other most of the time." The audience is looking for "something different, not [necessarily] something good, and that question of providing something different is just devilishly hard, especially if you want to make something good. We just have to raise our game."
Amen to that.
Louie
Comic Louis C.K. - the star, creator, executive producer, writer, director and editor of the eponymous comedy series - approached his one-on-one with the TCA critics with a charming bluntness: "Hello. What can I do for you?"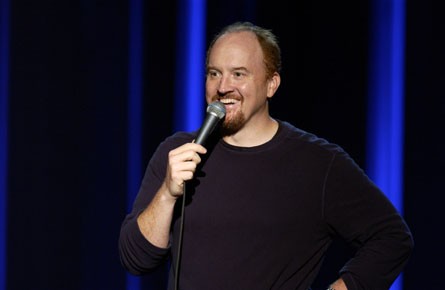 As it turns out, there's pretty much nothing he can't do. Raiding his life for anything and everything worth putting on television, he admits that even he doesn't know where one stops and the other starts. "I had the money sitting there, so I just started shooting things. It just came together organically," he explained. "It gets a little weird because we'll shoot a scene of me hanging out with these guys and the next night I'll go and do the exact same thing with the same people."
That self-deprecating attitude on the show is very much authentic. At one point, he referred to himself as a "semi-interesting comedian" and later told us that "there's no such thing as an important stand-up comedian." I can think of a few who didn't get that memo.
As much as he's willing to poke fun at himself, Louis C.K. is devoted to his show and to putting out a quality product. His edict for the show? "Only showing something worth seeing. There's never a moment where something great isn't happening. Every minute should be fun or awful or something," he explained, adding that Pamela Adlon (Californication), who is also a producer on the series and worked with him on his previous show, will make appearances for "a few episodes" in the upcoming season.
That said, playing himself does start to get a little annoying. "I get really, really sick of my own face. I start to hate the sound of my voice," he admitted.
But perhaps the show was best explained by an interaction between Louis and the FX network executive who closed the panel by inviting us all to visit the show's New York set. "They're invited to the set?" he said, looking with surprise at the exec.
"Is there a set?" the executive responded.
Touche.
Wilfred
FX's latest comedy series is described by star Elijah Wood as "a man who befriends a dog who he sees as a man in a dog suit that smokes pot."
There have been comparisons to Fight Club...and to the James Stewart classic Harvey.
It's a good thing that the FX slogan is "there is no box," because if there was, this wouldn't be anywhere near it.
Wilfred is adapted from an Australian series, which in itself began as a short film in 2002. It has the benefit of the man behind all that, Jason Gann, not just being involved in the American version but also playing the title role of the far-from-behaved man in a dog suit. One of the other executive producers, David Zuckerman - whose credits include American Dad and Family Guy, to further give you an idea of what you can expect - said the series has a "feeling of surreality" to it.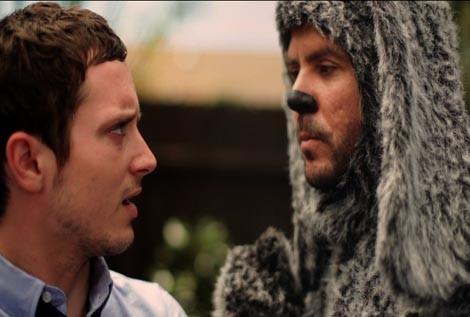 He's not kidding. Wilfred focuses on Ryan (Wood), a guy who really hates his life. He's got an overbearing sister (Dorian Brown) whose attitude is that no one's really happy, and he can't even get his suicide note right - he has four drafts of it on his computer. Then one day his neighbor (Fiona Gubelmann) asks him to watch her dog, Wilfred. Except Ryan doesn't see a canine; he sees a man. From there, the shenanigans begin, while Wilfred tries to drag Ryan out of the sad state he's consigned himself to.
Ironically, both Jason and Fiona told us they're not dog people - they have cats at home.
Wilfred arrives Thursdays at 10 PM this summer with thirteen episodes.
Justified
...
I'm sorry, that was my heart stopping when I laid eyes on Timothy Olyphant. The Justified star is one of the very rare people who makes me turn into a fangirl at the very mention of his name, let alone being maybe ten feet away from him. I apologize in advance for the less-than-stoic tone of this segment. At one point we made eye contact and I got chills.
That's because not only is he handsome, but he's one of the best actors I've ever had the pleasure of reviewing every week.
That's only one reason why I named Justified my favorite series of 2010. The show which Elmore Leonard calls "better than I could have written it" and which I still maintain was robbed of Emmy nominations returns February 9 at 10 PM with 13 more episodes. This time, the series is focusing on two main themes: an exploration of feud culture in Kentucky (through the tumultuous relationship between the Givens family and the Bennett clan, led by new guest star Margo Martindale), and the idea of second chances.
Olyphant's Raylan Givens is back in fine form, still the toughest guy in the proverbial room. His second chance comes in the form of continuing his affair with ex-wife Winona (Natalie Zea), who says she's "still married" to the man she left him for, yet that doesn't stop her - or Raylan for that matter. No idea what that means for Raylan's relationship with Ava Crowder (Joelle Carter). If you've read my weekly recaps, you'll know I find the love triangle to be Justified's weakest part, so I'll be interested to see if Winona and Raylan make a serious, mature attempt to reconcile. If it's done properly - and by that I mean not them sleeping together without consequences or character growth - it could allow for some fascinating material.
The star has also picked up a producer credit this season, but it's not a vanity plate; executive producer Graham Yost says, "Tim's very involved in things."
This season, Raylan will tangle with Mags Bennett, the wicked matriarch of the Bennett clan (played by Martindale). The character is based on a real-life woman who would stop at nothing to help her family and their drug empire. "She would pay for kids to go to law school so her family would have lawyers," Yost explained. Mags has three sons, including Dickie (Jeremy Davies), whom Raylan left permanently injured after a brawl in their youth. Between the Bennetts and the Crowders, I wonder if there's a family in Harlan County that Raylan doesn't have a bad history with. The guy is kind of infamous, and it seems never in a good way.
Thankfully, the show doesn't ditch the Crowders either. Last season's adversary, Boyd Crowder (Walton Goggins), is back as well and he has just as much of a journey to go on, following the slaughter of his followers and a confrontation with his father Bo (M.C. Gainey), after which Boyd helped save Ava's life. "He believes in nothing. It's absolute chaos." Goggins says of Boyd, adding that he wasn't interested in perpetuating any cultural sterotypes with his character. "I wanted him to be the smartest guy in the room."
No doubt, it was that attitude that helped him return to the show after he was supposed to die in the pilot episode, although Yost joked that happened because "Walton gave me money."
The relationship between Raylan and his boss Art Mullen (the underrated Nick Searcy) was described as an important part of the new season as well. Searcy summed up his role perfectly: "I'm in charge except for the stuff that [Raylan] does that I don't know about, which there seems to be a lot of."
Perhaps the greatest thing that can be said about Justified is that it inspired Elmore Leonard to bring Raylan Givens back to print. A new novel is tentatively targeted for January 2012 - right around the time we might be seeing season three of this amazing series. Maybe by that time, Olyphant and Goggins will finally have picked up the awards they deserve.
Speaking of dreaming, the highlight of my weekend came after the panel. I'm checking my phone messages and Tim Olyphant walks right by me. I'm embarrassed to admit that I was too nervous to go over and introduce myself. I told you that man reduces me to fangirl status.
That's a wrap from the Winter TCA session! Check back with me throughout the year as I'll blog wherever Starpulse sends me next.