Brittany's TCA 2011 Blog: FOX - 'Chicago Code,' 'American Idol,' 'Terra Nova,' & More
FOX had its Television Critics Association presentation Tuesday, and from my front-row (literally) seat, I confirmed what I felt has been the case for awhile: while the network has consistently strong dramas, it still needs to find some reliable comedies - at least when it comes to ones that aren't animated.
Here's how the day played out: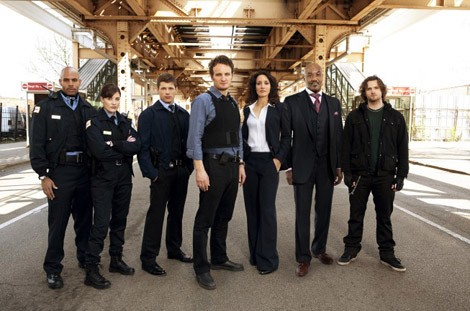 The Chicago Code
The highlight of my day was easily the presentation for Shawn Ryan's new drama, The Chicago Code (premiering February 7). Given Ryan's pedigree as the creator of The Shield, The Unit and the recently axed Terriers, the buzz - and the expectations - for this series are fairly high. However, Ryan cautioned us that the series is more than a cop show. The Northern Illinois native said the series will act as an "intersection" for other concepts such as community and politics (not unlike The Wire, methinks). The show's retitling (it was originally called Ride-Along) reflects the wider focus on topics beyond law enforcement.
For example, the series' antagonist, Alderman Ronin Gibbons (Delroy Lindo), is not a cookie-cutter villain. Of his character, Lindo said he "did not see this person as a bad person," explaining that his character "cares about his community" rather than simply being a selfish man in a position of power.
Much of the attention Tuesday was devoted to actress Jennifer Beals and her character, Teresa Colvin, Chicago's first female Superintendent of Police. Ryan told the audience that he wanted to use the perspective of a female character, while Beals acknowledged the "dichotomy" of the city of Chicago and discussed how there is a similar divide in Teresa's makeup. According to the actress, Colvin will strive to find the "balance between feminine and masculine leadership" heading an overwhelmingly male police force, knowing that "there's no template" for her to follow in doing her job.
Assisting them both is real-life Chicago cop John Folino, the show's technical advisor, who goes above and beyond the call of duty when it comes to his role in the production. Folino spent time in the writers' room, and provided the show 140 actual officers to use as extras and in some speaking roles.
While Ryan "doesn't mind network rules" that mean we'll be seeing a different kind of show than The Shield, he also noted that the FX series does have its lasting impact: he confessed he'd feel more comfortable if he were pulled over by a member of the Chicago police department rather than the LAPD.
Shawn Ryan's enthusiasm and passion for his latest series really came through on this panel - I didn't think I could be more excited about this show, but seeing his grand picture, I can't wait for February. Tune back in as I review each episode of The Chicago Code.
Now on to a show I've never seen...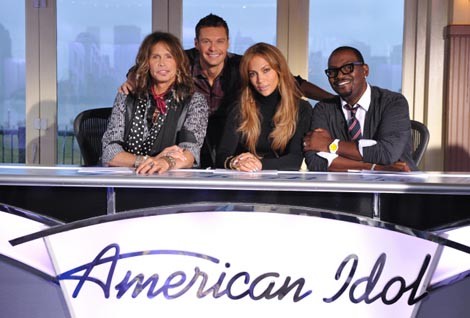 American Idol
A good ninety percent of the attention for this panel was devoted to the reality series' two new judges, Steven Tyler and Jennifer Lopez. The pair's arrival is just one of many changes in the tenth season of Idol that led returning producer Nigel Lythgoe to say, "It's an entirely new show." Adds executive producer Ken Warwick of the new additions: "Their credibility is different," no doubt because both are still performing artists themselves.
In fact, by the tone of the discussion, we may be seeing a kinder, gentler Idol with the departure of longterm judge Simon Cowell (who's now working on an American version of his series The X Factor, also for FOX). Lopez, a longtime fan of the series and self-admitted "backseat judge," emphasized that "We're there to help the kids." Lythgoe concurs: "The kids go in there with confidence and pride in themselves. We're not just there to cut their legs out from under them."
"It's not just singing. It's about character as well," adds Tyler, who admits that he saw The Back-Up Plan on a flight and was "so moved" by the film that it made him more interested in joining Lopez on the judging panel.
For those disillusioned with the contest (one reporter pointed out that the last three winners have been "white guys with guitars"), lone returning judge Randy Jackson says the failure of later Idols to reach the success of their predecessors may have something to do with how the competitors themselves approached the show. "The mistake people make is they think if they win or are in the top five, they're guaranteed [success]." Lopez and Seacrest echoed that the key success is having a hit record - regardless of how one places in the competition.
In fact, one sentiment repeated by all the producers on the panel is that they have nothing to do with the results at any point - it's America that votes. In other words (mine, not theirs), we're the ones who decide who moves on and ultimately, who wins, so it's really not fair to complain about the results.
Idol returns with a two-night premiere on January 19 (8-10 PM) and 20 (8-9 PM).
Executive Session
Network chairman Kevin Reilly and president Peter Rice sat down with the critics before lunch, and were questioned about some of the network's early missteps as well as the fates of several existing series.
The biggest shocker for FOX this season was undoubtedly the swift and severe failure of Lone Star, the series which many critics called the best newcomer, but that almost no one watched. Reflecting on it, Rice referred to the drama as "an excellent show; not enough people showed up to watch it. That doesn't mean we don't respect the people that made it." Reilly says the series' failure doesn't change FOX's plans to support ambitious shows in the future. He said the show had six more episodes filmed at the time of its cancellation and said "they may very well play," while noting that he's not sure how well they'd perform given the weak ratings of the initial run.
Another failure was Running Wilde, which Reilly confirmed as cancelled today (along with The Good Guys) though no formal statement was made (and it seems none will be). Responding to creator Mitch Hurwitz's criticism of the network's role in the series, he acknowledged that he "was involved probably more than I want to be." With the comedy's demise, he referred to the FOX Tuesday as "one half hour away from a successful night" with the placement of Glee and Raising Hope, of which he says that they "haven't yet hit the ratings it's on its path to hit." Hope received a second-season pickup this morning.
When asked about Fringe's moving to Fridays from Thursdays, both men were quick to dispel the outcry that it is a death sentence for the show and seemed to be urging us all to relax. Reilly encouraged that we "not write the eulogy prematurely; [Friday's] not a free night for us." He suggested that moving Fringe to Fridays may not do much harm to the series at all, stating that half its existing audience watches the series on DVR even in its current Thursday night slot.
On to the rest of the pack. Should we read anything into Lie To Me not receiving a back-nine order for season three? No. The decision not to order episodes was purely "a needs thing" and Reilly acknowledged that the show delivers a consistent audience, though surprisingly no mention was made of its recent People's Choice Award win.
There may also be hope for Human Target. Reilly says the show "did find itself" with a "pretty good vision" from original showrunner Jonathan Steinberg and guidance from new boss Matt Miller. He included Target among what he said were a number of shows that, while not necessarily breaking into the "next level" of ratings, were still performing solidly in the network's eyes.
Network staples House and Bones seem safe bets. The network says it anticipates that both shows will return; though there are "negotiations to be had" regarding both of them, Reilly told us that "we want them back."
Bob's Burgers
Not much to say here, as FOX held this session for its new Sunday comedy during a deliciously (pun intended) hilarious themed lunch with a first-rate burger bar. (There was no "Child Molester" burger, but there was a "Manic Depressive" and a "Sacrificial Ham" among the ones listed on the 'Burger of the Day' boards at each table.) I was somewhat distracted by the food.
However, I did learn from series creator Loren Bouchard that the Vancouver-done animation is intentionally trying to fit in with the rest of the network's "Animation Domination" block, and that he's never done and would never do a series without H. Jon Benjamin (Bob), with whom he's worked since Home Movies.
Also? When he was working on King of the Hill, producer Jim Dauterive wrote a pilot for a Monsignor Martinez spin-off with Mike Judge. I would have watched that!
Terra Nova
The most important thing we learned from FOX's panel about its ambitious new sci-fi series is not to believe everything you read. The panelists took the time to dispel several reports about various aspects of the series' production. Both they and the FOX executives told us that there was not any cost overrun in the show's budget. Neither was there a higher-than-average turnover in their writers' room. Brannon Braga corrected those reports as well, saying that while several left for other projects due to the delay in starting production, there was only "one actual change" among the scribes.
Did you know the original script was co-written by Craig Silverstein, who is now the brains behind Nikita? He and co-writer Kelly Marcel are credited as two of the twelve executive producers on the project.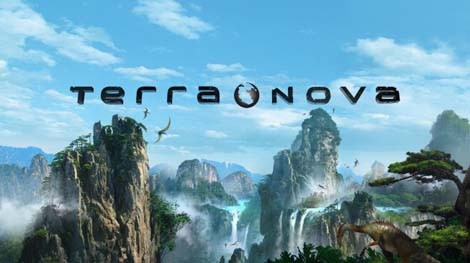 Corrections aside, there's time and effort behind the project commensurate to its huge size. Producer Rene Echevarria called it "an enormous amount of research and planning," while Braga said they've been working with Dr. Jack Horner, the paleontologist who also advised on Jurassic Park. Speaking of things Spielberg, Braga calls the legend "very involved" while producer Alex Graves adds, "he's watching and he wants to make sure it lives up to that name."
Despite the series' huge scope - a group of people from the 2100's travels back to prehistoric times in an attempt to "restart" Earth and save the human race - the creative team stressed that the series is more of an emotional show, with the Shannon family (led by Life on Mars' Jason O'Mara and Mistresses' Shelley Conn) at its core. After all, Braga says, "Earth can only be saved if people restore themselves." Sounds deep.
What about the inherent time paradox in going back to one's own past? Says actor Stephen Lang (Avatar), who plays Nathaniel Taylor: there are "multiple interpretations of time...so the past doesn't necessarily change the future."
Terra Nova's thirteen-episode run is currently scheduled to begin with a preview in May and a premiere in the fall.
Traffic Light & Breaking In
The roomful of critics got decidedly smaller by the time FOX capped the presentation with looks at its two new comedies, Traffic Light (premiering February 8 at 9:30) and Breaking In (April 26, also at 9:30). It seemed many just weren't interested in either show, and after seeing the previews, I can somewhat understand why. Nothing I saw piqued my curiosity.
The opening talking point for the strangely named Traffic Light - which is not about traffic but the misadventures of six people in various stages of relationships and is based on an Israeli series (similar to HBO's In Treatment) - was how its male cast is tall (Nelson Franklin is 6'5", David Denman is 6'4", and Kris Marshall is 6'2"). At one point during the slow session, executive producer Bob Foster broke up the silence by self-deprecatingly critiquing his own wardrobe.
How is Traffic Light different from the other new romantic comedies like Perfect Couples and Happy Endings? Or really, any romantic comedy about young people we've seen over and over again? While saying that they haven't seen the other projects, Foster explains that his goal was to "make it real" with a show "designed from the beginning to encourage improv."
Yet, when star Denman tells us that "sitting in traffic on the phone" is a "major component" of the show, it's hard to get too excited.
Following that, the final show of the day was Breaking In, a half-hour "workplace comedy" set at a security firm hired to - you guessed it - break into places to expose security flaws. Think The Office meets Leverage with the guy from Reaper. It's Christian Slater's third recent stab at series television (after My Own Worst Enemy for NBC and The Forgotten with ABC), but he didn't seem at all bothered by his 0-for-2 track record thus far.
Joining Slater in the cast are Odette Yustman, Reaper star Bret Harrison, and Glory Road's Alphonso McAuley. Yustman admits that she feels she has to try harder to be seen as funny because of her looks, but that she has "a passion" for the comedic genre. Asked about a love interest, she mentioned her character's boyfriend is played by Smallville's Michael Rosenbaum, but there was a pretty big hint that he may have competition from Harrison's character.
Is it a heist series? Is it a comedy? Well, it was described by one of the producers as an "office comedy with these eccentric characters." Only time will tell if that combination actually works, but the clips shown at TCA don't leave me particularly excited.
Tune back in this weekend for my dish on CBS, CW, Showtime, and FX!