Brittany's TCA 2011 Blog: CBS, Showtime & CW - From 'Chaos' To 'Kick-Ass'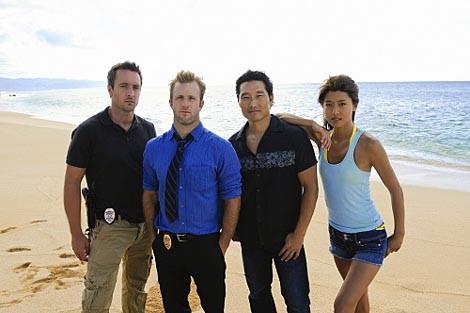 After spending time getting to know FOX on Tuesday, I handled three networks a few days later. Friday at the TCAs (Television Critics Association) was devoted to CBS and its two sister networks, Showtime and The CW. All three brought their midseason shows, as well as executive sessions and a CW panel devoted to the "kick-ass" women of their various series. Here's the dish from the Eye and beyond:
CBS Executive Session
CBS President of Entertainment Nina Tassler was on the hot seat Friday morning. She was quizzed on CBS' emphasis on legal and procedural shows- what with three CSI's, two NCIS's, and two Criminal Minds on the schedule. Tassler was unconcerned about the network being pigeonholed. The genres, she said, were "story engines" that simply provided a springboard for good content. "[The audience is] coming back for the characters."
It reminded me of something Michael Cudlitz said in our interview about the appeal of crime dramas: "It allows you to have a set of characters that you love, and you can put them in a completely different situation with high emotional stakes every week. That limits you to a very specific set [of criteria]." It makes sense to me that there are so many crime, legal and medical shows because those genres best service that criteria. Of coujrse, I'm sure it doesn't hurt that I was nearly an Assistant District Attorney, either.
Speaking of medical shows, when asked about the net's lack of success in that genre, Tassler replied, "We do medical pilots every year." I still miss Three Rivers. I really do.
Then again, if Three Rivers was still on, Alex O'Loughlin wouldn't have been available to lead CBS' hugely successful revamp of Hawaii Five-O. Many people expected CBS to announce the show's second season pickup at TCA, but when specifically asked about it, Tassler responded, "No, not yet." You can't get any clearer than that. It's in direct contradiction to a recent Hollywood Reporter article, which had said the network had picked up all five of its new fall shows for second seasons. Sorry, THR, but I'm taking the word of the network president over you.
Tassler was also asked why CSI: New York and CSI: Miami are still on the air, what with the original probably coming to an end in the near future and the spinoffs themselves showing their age. She told us "they'll stay on as long as they're competitive." Personally, I don't know how we got to nine seasons of CSI: Miami in the first place, but that's just me.
She closed the session by addressing the Criminal Minds cast shakeup that led to the departure of AJ Cook and the possible departure of Paget Brewster. Many have asked whether or not it was a money issue, with Cook being let go and the series subsequently hiring Rachel Nichols. Tassler responded that she "wouldn't say it was just budget reasons. One of the factors was that we were developing a spinoff (Criminal Minds: Suspect Behavior) and that did give us an opportunity to reflect."
That quote certainly won't sit well with the segment of Criminal Minds fans who've written off Suspect Behavior already because of the whole debacle. Unfortunately, what's done with that franchise is done, and there doesn't seem to be much regret at the top.
Chaos
Eric Close deserves an office at CBS. This is his fourth series for the network (behind The Magnificent Seven, Now and Again, and Without A Trace). After that long, the man should have his own office space, or at least a coffee mug with his name on it.
Close is part of the ensemble for Chaos, a CIA-set "comedic drama" about a special team of agents who are almost as much trouble as the missions they accept. New guy Rick Martinez (a very earnest-looking Freddy Rodriguez) joins the team led by Close's slightly smug Michael Dorset. When I say "slightly," I mean that Trace's Martin Fitzgerald would have hit him with something heavy. Rick ends up working alongside a group of quirky characters played by James Murray, Tim Blake Nelson, Carmen Ejogo, and Christina Cole. Kurtwood Smith (That 70's Show) is their boss, and yes, I kept expecting his character to say something like, "The reason bad things happen to you? is because you're a dumbass." Alas, he does not.
Creator and executive producer Tom Spezialy describes the show as a "relentlessly fun...not intended to be a dark view" of the "bureaucracy" of the CIA. "In reality they have very little [technology] in challenging and compromising positions. There is no way to prepare for the job they do." Despite the laughs, however, these are characters that "take life and human existence seriously."
If you're still not convinced, know that CBS used Green Day's "American Idiot" for the show's clip reel. That pretty much sums up the tone and spirit of Chaos, which premieres April 1 at 8 PM ET/PT. This is one of the ones I'll keep an eye on for you this season as well.
Mad Love
CBS made a smart move FOX did not: schedule the session for their formulaic relationship comedy between two strong dramas, therefore decreasing the chance that disinterested critics would leave entirely.
Still, about the only thing that held my interest for Mad Love (opening February 21) was that one of the stars is Judy Greer, who also lends her voice to FX's Archer. Beyond that, even creator Matt Tarses describes the show as "a traditional romantic comedy," which, as was pointed out yesterday with Traffic Light, we've seen a thousand times over, particularly this season with the introduction of those two shows and NBC's Perfect Couples and Love Bites.
Mad Love focuses on two couples: one played by Jason Biggs and Sarah Chalke (Scrubs) who are ridiculously in love, and the other being his best friend (Tyler Labine, man enough to make a Sons of Tucson reference) and her roommate (Greer) who hate each other...but of course, not for long. "The couples are moving towards the center," said Tarses, referring to how they start on opposite ends of the love-hate spectrum, while admitting that he has his own "love-hate relationship with romantic comedies."
I'll give this cast credit - this was an actually fairly amusing session, partically when compared to the panel for Traffic Light. Still, it didn't make me forget that they were asking me to swallow an unremarkable entry into a tired genre from the guy who was responsible for screwing up the adaptations of Worst Week of My Life and Teachers. Thanks, but no thanks.
The Good Wife
Creator-executive producers Robert and Michelle King joined series star Julianna Margulies for a refresher session regarding America's favorite not-quite-legal drama. In fact, it's the only broadcast TV series to be up for Best Drama at tonight's Golden Globes.
With three lawyers on the writing staff, plus a technical advisor, The Good Wife certainly takes its legal issues seriously, but the Kings had to remind us that this is still television. With only forty-two minutes to tell the story of each case, Robert King referred to the managing of realism and drama as a "balancing act" and admitted that getting it technically right isn't always paramount: "It's TV. It's always about putting characters in extreme circumstances." He said the show plays in the "grey areas of the legal profession. You never have to have the definitive answer."
Still, the show promises to give us some answers, namely in that hotly contested election. The winner has been "decided for awhile...it will happen probably closer to now than the end of the year," he said. "So much of it is about how it impacts Eli (Alan Cumming) and Alicia (Margulies)...how Peter's (Chris Noth) win or loss affects Alicia. A win returns him to a world she left behind happily."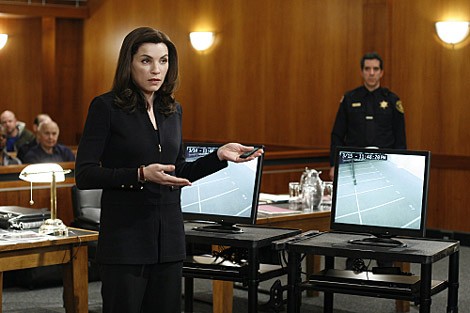 The other constant question for fans is the ongoing love triangle between Alicia, Peter and Will (Josh Charles), especially now that Alicia has heard that missing voicemail from Will declaring his feelings for her. Obviously, with Will now sleeping with Tammy (Elizabeth Reaser) and keeping in mind the title of the show, don't expect Alicia to make a decision anytime soon. She's still discovering new things about both men. "At a certain point, you're going to see some darkness in both (Will and Peter)," said Robert King. His wife concurred, adding, "Hopefully with everyone there is that duality."
Then there's Kalinda, played so well by the award-winning Archie Panjabi (Life on Mars). Of her mystique, Robert King said she "has to be slightly operative. We're not trying to tease. By the end of the year, you're going to find something about Kalinda that willl make a lot more sense."
Even Margulies is in the dark. "I've been doing this long enough not to assume anything," she admitted, "and then be pleasantly surprised."
On that high note, it was time to cede the stage to premium cable.
Showtime Executive Session
I like David Nevins, Showtime's new President of Entertainment. I kind of have to - this is the man who served as a producer on 24, and who helped develop The West Wing and Third Watch while he was at NBC, so he's responsible for many lost years of my life. This is a man I think I'd enjoy working with. As much as I like him, he loves his new job, telling the critics that he felt "the sky's the limit right now" for Showtime.
Nevins announced a fifth season for Californication Friday afternoon. Of Dexter, which was already renewed for its sixth season, he said "there's a lot of life left," adding that he felt it was "not a plot-driven show," rather, said life and appeal are in its characters, rather than wondering when the Miami Metro police are going to catch on to Dexter Morgan. The network is also bringing back Green Room with Paul Provenza, which reminds me of Jon Favreau's IFC chat show Dinner For Five, only with comics.
The network also rolled out a reality show centered around the San Francisco Giants baseball team (causing this San Diego Padres fan to cringe a little out of loyalty), and is proceeding with Homeland, the series led by Damian Lewis (Life) and Claire Danes produced by Howard Gordon. Of the latter, Nevins told us he's "very excited" for it, referring to it as "a true psychological thriller."
Nevins is hoping that Showtime will "have a broader palate" of shows, and unlike some other execs, isn't looking to appeal to a specific demographic in his idea of the network brand. "It's about taking people to places they don't usually go; it's ever-evolving," he told us, adding that his experiences as a producer have been key to his success as an executive. "I learned how things really get made. Being a producer teaches you [that] you have to go out and make things happen."
He's certainly well on his way.
The Borgias
Please stop calling Showtime's The Borgias a sequel to its wildly successful The Tudors. According to Borgias star Jeremy Irons, the new shows are alike "as much as Hamlet as the same as MacBeth."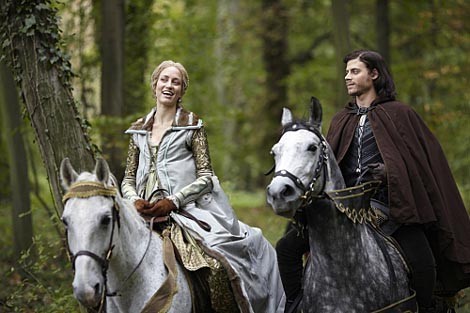 Billed by Showtime as "the original crime family," the series depicts the titular family as Rodrigo Borgia (Irons) "builds an empire through the corruption of the Catholic Church and orchestrates a relentless reign of power and flamboyant cruelty" once he begins Pope Alexander the Sixth. The same qualities are seen in his children as Juan (David Oakes) becomes head of the papal armies and Cesare (Francois Arnaud) is made a Cardinal, while Rodrigo plots to marry off daughter Lucrezia (Holliday Grainger) as a means of further improving the family's political position. Sex, violence, and chaos abounds.
"The series is about power and God and how they interact," creator, writer, director (of the first two episodes) and executive producer Neil Jordan said. Co-star Colm Feore added that it's a "very difficult problem. Maybe they don't work together."
Yet with all the sin, debauchery and cruelty perpetuated by the Borgias, are they going to repel some viewers who find them too objectionable? It's possible, but no one seemed particularly bothered. Asked that question, Irons replied, "It's for us to judge them, and wonder how much has changed [since then]." He added that the fact that people are afraid of skeletons in closets may have something to do with 'why we have such boring people as leaders" - because they don't want their misdeeds inevitably exposed by their candidacy.
On top of that, The Borgias faces another hurdle. With religion involved, controversy sometimes follows. Jordan doesn't expect a backlash, however, saying that "these events are so well-documented and [Rodrigo] did try and protect the institution [of the Catholic Church]. I don't think the Church will be unhappy." Yet there's only so far history can take the fictional Borgias. Asked how much research the actors did, Fiore said that it doesn't matter as much as we might think, since "you're only going to be doing the bit selected for the story." Arnaud concurred: "It's not about history so much anymore as it is about what we're telling you." In other words (mine, not theirs), die-hard history buffs should expect some dramatic license.
If there's one thing in common between The Borgias and The Tudors, it's that once again there's no shortage of salacious content, with plenty of nudity and implied sex acts in the clip reel alone. However, unlike how it became a marketing point for The Tudors, it "just happened to be part of the story" of The Borgias, Jordan said. Yet that's where the similarities end.
The show arrives with nine one-hour episodes on April 3.
Shameless
Shameless pulled in a strong debut, stated to be the "biggest drama series debut in seven years" for Showtime, so everyone on the panel was understandably excited. I found myself turned off by the show and didn't hear much that changed my mind.
Producer John Wells (ER, The West Wing, Third Watch) says that how the Gallagher family supports themselves will be explained as the series progresses, and the show will also address the parentage of the youngest child. In that episode, everyone will have a theory about the baby, but it remains to be seen whose will actually be correct. However, according to series star Emmy Rossum, the important part isn't so much what the situation with the baby is, but the fact that it doesn't matter to the rest of the Gallagher clan. It's that sense of family and community that the show is trying to convey.
While that's certainly respectable, there's no getting away from the more questionable and in certain cases, frankly reprehensible behavior that they engage in. The word "outrageous" was invoked frequently throughout the session, and even the panelists were conscious that they were getting away with a lot.
"No one wants to look at that kind of dysfunction," admitted Paul Abbott, creator of the original British series and a producer on the American version, making my point for me. I might be in the minority, but at least I'm not the only one with that sentiment.

Californication
As much as I couldn't muster up any feelings for Shameless, I admitted in my advance review that I honestly detested Californication, which star and producer David Duchovny described aptly as "wish fulfillment." I wondered if it wasn't just me while one reporter near the back of the room asked the first four or five questions. Even the panelists took notice, but it didn't dampen their spirits any.
"I'm riding this to the bitter end," said creator Tom Kapinos, who said he has "no regrets" about the show's explicit content. That attitude extends to the characters themselves; when asked about the reaction of Hank's family members to his behavior, Duchovny added that "I don't think there's any kind of moral outrage in our show. That's just not the world that we're dealing with."
Beyond the content of this fantasy world, there wasn't much given in the way of development for other people. Charlie (Even Handler) hopes to reconcile with Pam (Pamela Adlon), and Becca just moves from one corner to another. According to Madeleine Zima, Hank's daughter "never becomes her own person" in season four; she "moves from the shadow of her parents into the shadow of her peers."
It was clear from this session that I'm never going to warm up to the show, because the character of Hank Moody is always going to be someone I don't care for, at least according to Duchovny. He doesn't believe in the idea of a character changing over the course of a season, citing a "pact with the audience" to deliver them the same series. "He is who he is in every situation."
That seems to be working for him. As I mentioned earlier, the series was renewed for a fifth season Friday.
Episodes
The most promising of the three Showtime series in my batch of reviews was Episodes, the BBC co-production mocking the Hollywood development process. Creators David Crane and Jeffrey Klarik insisted that everything that happens in the show has happened to either them or friends of theirs; I'm not so sure about that, but I'm willing to bet most of it isn't far from the truth.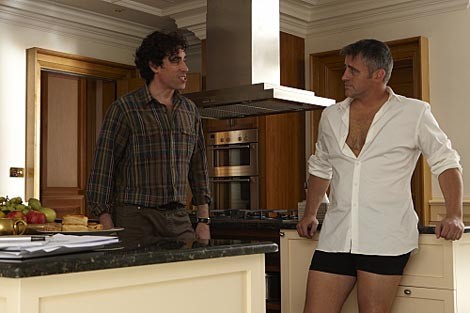 As for Matt LeBlanc, the much-hyped big name amongst the cast, he said he was "very flattered to be the punchline in a good joke," but there are no plans to bring in any of his former Friends or Joey castmates to add to said joke. In fact, casting LeBlanc was what made the creators want to do this series. Klarik said if they hadn't landed him, they would have done a different show entirely.
Still, it's not all bad in Hollywood. "Most of the people you work with in real life, they're not stupid people," said Crane. The experience of Episodes, he called "remarkably supportive and hands-off."
There are even some perks: actress Kathleen Rose Perkins called playing a network executive "really hard but fun" as she got to look at the business from the side of the people who'd been rejecting her for years.
CW Executive Session
The CW's executive session was the briefest, and not really much of one. Instead, prez Dawn Ostroff read a prepared statement that included a line about a "more personable and emotional" Nikita. Yes, it seems The CW is still adamant about lightening up the spy show.
Shedding For The Wedding
The panel regarding CW's new reality series, Shedding For The Wedding, was more remarkable for the issues it provoked than the show itself. You could call the series Biggest Loser: Wedding Edition, down to the fact that it has the same producer, Dave Broome. Yet the ensuing discussion was surprisingly eye-opening.
Broome talked about his hatred for the E! plastic surgery series Bridalplasty, saying, "I despise Bridalplasty. I would never make a show like that." It's a sentiment that was shared by many critics when that show premiered. I think someone actually applauded him when he said that.
He and host Sara Rue discussed the series, where nine couples compete in challenges to lose weight and gain pieces of their perfect theme weddings, talking about how body image affects people and what motivated them to do such a series. Certainly, Sara knows this, as she has struggled with her weight publicly, and is currently a Jenny Craig spokeswoman. Although I'm not a reality show person, I understood what was being discussed in terms of people's body image and self-esteem. It's not just the weight that can be a problem: Broome revealed that a lesbian couple was nearly cast, but dropped from the show because one of the partners had not yet come out and was afraid of a backlash if she did.
I certainly don't blame her, as we got first-hand proof that people do still put too much emphasis on looks. After all this positive talk, one critic was brazen enough to ask Sara Rue to tell us her current weight. The actress didn't dignify that with an answer.
"Kick-Ass" Women of CW
The final session of the day featured female leads from the major CW series discussing their shows, roles, and thoughts on women in television. Aly Michalka (Hellcats), Candice Accola and Nina Dobrev (The Vampire Diaries), Maggie Q and Lyndsy Fonseca (Nikita), and Erica Durance (Smallville) were in attendance.
Neither Candice nor Nina knew when they joined Vampire Diaries that they would play vampires. In fact, even the question of what it's like to play both Elena and Katherine momentarily confused Nina, who joked that the dual role meant that she's "slowly becoming schizophrenic."
Polled for their favorite female role models, Nina cited Angelina Jolie as the title character in Lara Croft: Tomb Raider. Erica preferred Lucy Lawless in Xena: Warrior Princess, while Maggie picked a staple: Lynda Carter in the 1970's Wonder Woman series. Erica made a point to thank the stunt people who work with all of them to make them who we see on television every week, which I found particularly touching since I doubt many fans of these shows can name those stunt coordinators and performers who work so hard to create these action scenes we know and love.
The actresses were asked what makes a "kick-ass" woman in their eyes. "It takes heart and a lot of time and energy," said Maggie. Aly said confidence was the prime attribute, adding the title was "a cool responsibility. To be a good example, that's an awesome opportunity."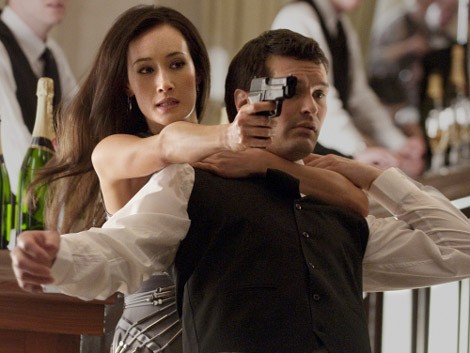 This panel also provided one of my better experiences of the weekend. At the afterparty, after months of covering the show, I finally met a cast member from Nikita. Lyndsy Fonseca was both incredibly sweet and gracious enough to take a picture with me. It made my night, so Lyndsy, if you're reading this: thank you.
I've saved the best for last - my final TCA 2011 blog covers FX!