Brittany's TCA 2011 Blog: 'Allen Gregory,' 'I Hate My Teenage Daughter,' 'Terra Nova,' The Emmys
Following our earlier peeks at New Girl and The X Factor, it's time to talk about two new FOX comedies and one show we've been hearing about for what seems like forever. FOX's TCA (Television Critics Association) presentation continued with looks at Allen Gregory, I Hate My Teenage Daughter, Terra Nova, and the network's upcoming presentation of the Primetime Emmy Awards.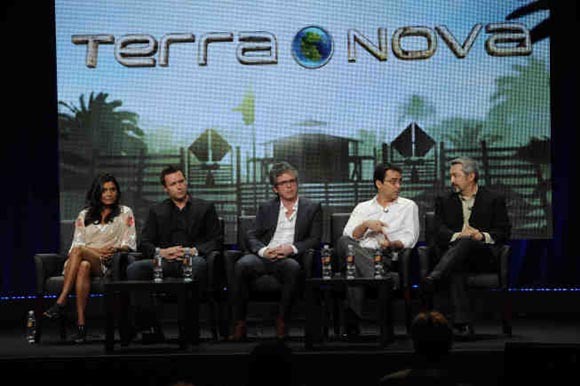 It was a case of deja vu: once again, FOX used a themed lunch to show us a new Sunday animated comedy. Last year, it was Bob's Burgers. This year, it was Allen Gregory. It's always struck me as a bit strange to do so, mostly because it means balancing paying attention to the panel with trying to eat a multi-course meal. This time, it was also a bit of a tease to put bottles of wine at every table, but not allow us to open them.
Yet that's the world of Allen Gregory de Longpre, a spoiled seven-year-old who's never heard the word "no" from his two fathers and claims to have written "genre-shattering novels." The producers, including star Jonah Hill, said that it'll be kept vague how much of the tyke's boasting is true and how much is hot air.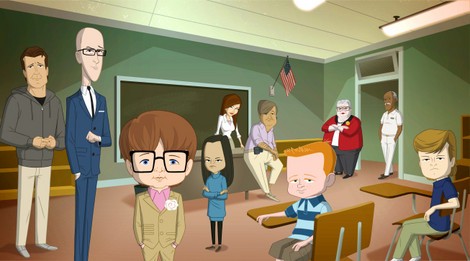 The show's core concept is that Allen is sent to a garden-variety elementary school and predictably sticks out like a square peg in a round hole, as he tries to bring alcohol for his lunch and develops a romantic interest in the elderly principal, among other things. (The latter caused some uncomfortable laughter in the room.) While he's getting into trouble, we'll also meet his bickering fathers Richard and Jeremy, as well as his adopted Cambodian sister Julie and best friend Patrick. Yes, it's an eclectic bunch.
As a result, the plots are a bit weird, too. The put-upon Jeremy (voiced by Nat Faxon) will go in search of a job, leading him to be hired as a maid...in his own house. In other episode, Allen Gregory tracks down the surrogate who carried him (guest voice Elizabeth Banks), and not understanding what a surrogate is, tries to get her back together with Richard (voiced by French Stewart)...even though they were never together in the first place. And unable to say "no" to his son, Richard actually tries to date her, with disastrous results.
Though the show seems a bit outlandish, there's an underlying love for animation. Hill is a longtime fan of The Simpsons whose childhood dream was to live in Springfield, and now he has a series that will air right after The Simpsons.
And randomly, the show sports two of the executive producers from FOX's Terra Nova. Small world.
Allen Gregory premieres on October 30 at 8:30 ET/PT.
FOX's third new comedy to featured at TCA - following New Girl and Allen Gregory - is the fairly rote I Hate My Teenage Daughter. This is pretty standard comedy fare, down to the laugh track. Its premise that two best friends, Annie (Jaime Pressly, My Name Is Earl) and Nikki (Tony Award winner Katie Finneran), have tried to give their daughters everything they didn't have...resulting in the kids becoming a pair of spoiled teenagers that their mothers can't always handle.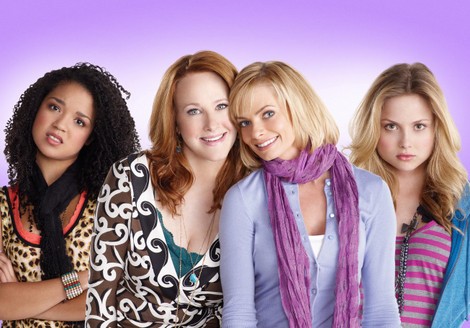 The show also stars Kristi Lauren and Aisha Dee (who, continuing the 'small world' trend, shot a two-episode role in Terra Nova) as daughters Sophie and Mackenzie. Eric Sheffer Stevens plays Annie's ex Matt, with Desperate Housewives star Kevin Rahm as Matt's more stable brother Jack, on whom Annie has a crush. Chad L. Coleman rounds out the cast as Nikki's ex Gary.
Executive producers/writers Ellen Kreamer and Sherry Bilsing-Graham, as well as pilot director Andy Ackerman, all hail from The New Adventures of Old Christine, so if you liked that show, you might find something here worth checking out. Asked to describe the idea of the series, Kreamer brought up the feelings of entitlement and self-centered attitudes that can come without discipline. "What happens to these people who think they're better than everyone else?" she asked. It's a question the series will attempt to answer.
I Hate My Teenage Daughter starts on November 23, 2011 at 9:30 PM ET/PT.
At the last TCA session in January, we got a first look at the sci-fi epic Terra Nova, which was supposed to preview in May. That never materialized, but the show came back again, this time to prepare us for a September kickoff.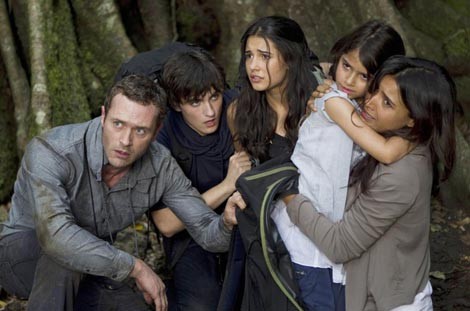 Due to production in Australia, a much smaller panel (stars Shelley Conn and Jason O'Mara, and three producers, Brannon Braga, Rene Echevarria and 24's Jon Cassar) was made available to catch us up on the time-travel, chomping-dinosaur saga. Yes, there are dinosaurs. In fact, you could visit the "experience" in the parking lot and be "devoured by a dinosaur" yourself.
The producers didn't shy away from the fact that they're part of a massive, much-hyped, equally much-delayed project. "It's had its challenges," admitted Echevarria. "We feel like we've wrangled it. Production got a lot easier when this guy arrived in Australia," he added, referring to Cassar.
A huge hurdle - and asset - has been the heavy amount of technology necessary. "A lot of effects houses that were approached said 'It can't be done,' continued Echevarria, while Braga added that people have created "new technologies to make [the show] possible," including "digital set extensions" and motion capture for the dinosaurs, using people in costumes.
How do the actors handle the green screen work? "I get a second take, which is always useful when I blow the first one," joked O'Mara, who added that he and his fellow castmates look to costar Stephen Lang for tips, since Lang also starred in James Cameron's Avatar.
For all that's going on with the show, including a "splinter group" of rebels and a "future conspiracy" hinted at by Echevarria, Cassar wants to keep the show's focus on the characters. He looks at Terra Nova and his tenure steering 24 in the same way. "At the core of 24, at the end of the day, it was really about Jack [Bauer] and his family," he said. "I'm looking at this the same way. If we don't get Jim Shannon and his family right, we don't have a show."
With twelve executive producers, at least two versions of the pilot, and months of waiting, let's hope that they have a show that delivers in the ratings - or FOX might be calling this one a spectacular failure.
Terra Nova now arrives with a two-hour event September 26 at 8 PM ET/PT, before moving into its regular time period on October 3 at 8 PM ET/PT.
The 63rd Primetime Emmy Awards
FOX closed out the night with a glimpse at the upcoming Primetime Emmy Awards, bringing us host Jane Lynch, executive producer Mark Burnett and National Academy of Television Arts & Sciences chairman John Shaffner to discuss plans for TV's awards show.
"I do awards shows because it's a fun live experience. You can plan for some of it, and some of it just happens," said Burnett, who knows something about that, being that he's the man behind reality hits like The Voice and Survivor, as well as other shows like the MTV Movie Awards, which he took live last year. "Jane was my first and only choice [to host]," he added.
It was easy to see why; Lynch's deadpan wit was on display. Talking about previous awards shows, she conceded that some didn't work - "You think, 'There's like forty writers and couldn't one of them have come up with one funny joke?'" - but was quick to add that "I thought Jimmy Fallon was absolutely wonderful last year. We're definitely brainstorming." Burnett revealed that Lynch has been spending time in the writers' room, far from a passive host.
Burnett earned some laughs when he said that he felt the ceremony's 'In Memoriam' sequence didn't have to be "a downer" - but qualified that by quickly adding he saw it as more of a celebration of people's work left behind, rather than just a somber marker of their passing.
Asked about how many categories have repeat nominees for multiple years, Shaffner defended the Academy. "People's work...sustains and I think we have to recognize that," he argued. "We've reached a fairly good level where we keep some of the people we need to continue recognizing."
The Emmys are live on September 18, with a pre-show at 4 PM PT/7 PM ET, before the telecast at 5 PM PT/8 PM ET.
Stay tuned as my TCA blog concludes with a look at FOX's sister network FX, including Sons of Anarchy, Rescue Me and reinventing the comedy model...