Britney Spears' Vegas Residency Kicks Off With Fake Singing, Fake Abs & A Wardrobe Malfunction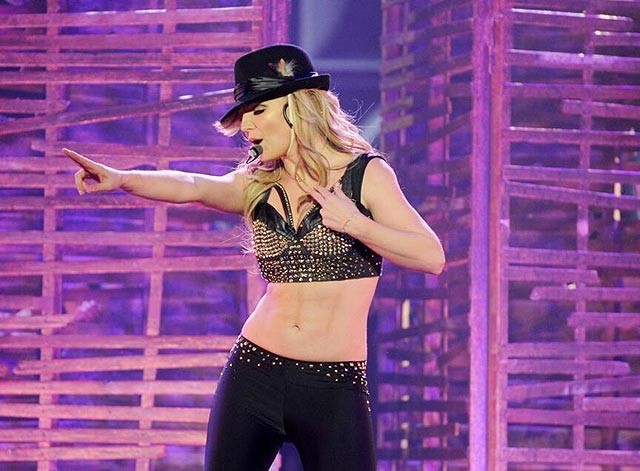 Britney Spears may be faking more than just her singing during her Las Vegas performances.

The singer posted a photo to her Twitter page following the first of show of her New Year's run, revealing that she's got a six-pack of abs. But on closer inspection it appears that she had a little help from her makeup artists.

"Wow… perfect audience for the 1st #PieceOfMe show! That was AMAZING! I (heart) you Vegas!!!" she wrote.
Britney's abs look as though they've been spray-tanned to make her look like she's in even better shape than she already is.

But the pop superstar's abs aren't the only thing she's been (allegedly) faking during her live performances.
While the dancing is real, some of her singing isn't -- despite manager Larry Rudolph maintaining that there wouldn't be any lip-syncing going on.

"There might be some numbers where she's full out dancing with a (vocal) track underneath her," Rudolph said, "but there won't be any lip-syncing across the board."

Several critics, like Billboard's Keith Caulfield, have claimed that Britney's initial few shows at the Planet Hollywood Resort and Casino have involved a "vast majority" of lip-syncing.

Adding to allegations of fake singing and fake abs, Britney almost suffered from a major wardrobe malfunction when her dress came undone in the back and nearly fell off of her, exposing everything. But she never skipped a beat and continued on as a backup dancer came to her rescue and fixed her dress.


SLIDESHOW 165 SLIDESHOW