Britney Spears' Two Sons Make Cameos In Her Latest Video, 'Ooh La La,' From 'The Smurfs 2'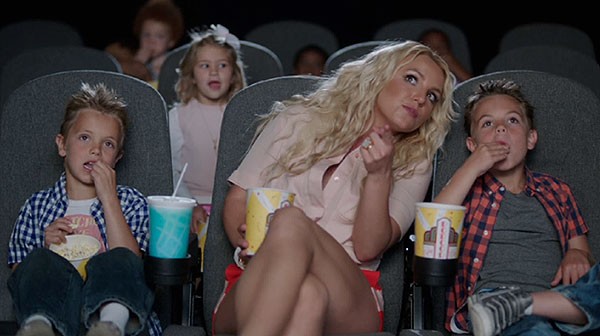 Britney Spears has finally released the long-awaited video for her new single, "Ooh La La," from the upcoming The Smurfs 2, which hits theaters July 31st.

The new single features cameos from Britney's two sons, Preston and Jayden.

"#OohLaLaVideoPremiere, featuring my very own Preston & Jayden!… Can't nobody get down like us," she tweeted Thursday.
At the beginning of the video, Britney's boys are sitting in a theater with their mom watching "The Smurfs 2," when all of a sudden she gets zapped into the movie.

Last week Britney siad she can't wait to give fans "a taste" of her new album and share what she's been working on. "Going to be my most personal album ever," she tweeted on July 3.

And that album is the most anticipated event of the second half of the year, according to a new poll on Billboard.com.

Britney landed 23% of the vote, beating Lady Gaga, whose album "ARTPOP" is due sometime this year, and Beyonce, who also has a new album on the way, along with her "Mrs. Carter" world tour.

The sequel to 2011's The Smurfs in 3D finds the evil wizard Gargamel creating a pair of Smurf-like creatures he calls the Naughties with hopes that he can capture the only person who knows the secret spell that gives the Smurfs their magic essence -- Smurfette!

Check out Britney's new video below...