Britney Spears Talks Makeup, Family And Haters In The December Lucky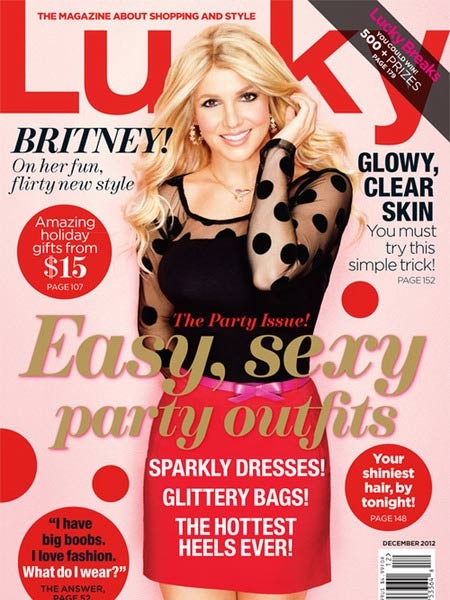 Britney Spears is featured in the December issue of Lucky magazine, and the images from her shoot recently received a bit of a backlash from fans over whether or not they were photoshopped (they were).

The X Factor star talks about her family life, dealing with haters and makeup in the new issue.

"I get, like, these giant boxes of lip gloss and nail polish, and it's like candy," she says; adding, "I really just wear mascara all the time. And powder, because I have zits."

Britney also gushes over fiance Jason Trawick, saying it's "sweet" that he doesn't mind "that I sit around in sweats all the time." She also explains how she deals with being a huge celebrity and how she explains her career to her sons, Jayden and Sean.

"They're in the middle right now of trying to figure it out. They try to figure out where I go when I go to film X Factor," she says. "They're like, 'Mommy's going off to be a superhero.' and then I get back, and they just see me as Mommy. And then when I'm back working on the show, they say, 'Oh, Mommy's a superhero again!'"

As for the haters -- she says they're always going to be there no matter what she does.

"It's just something that you get used to in this business. I think most people are their own worst critics. I'm a perfectionist. I want things done a certain way. I am hard on myself but not regretful."

See more of Britney at Lucky.com and in the December issue.