Britney Spears Nearing Nine-Figure Deal For Year-Long Las Vegas Residency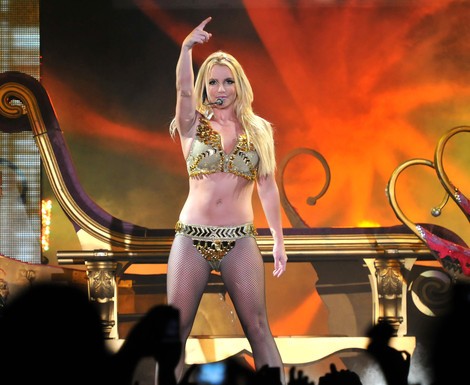 Now that she's free from The X Factor, Britney Spears may be headed to Las Vegas.

The pop singer is reportedly in "serious" talks to headline her own "big, nightly show" at one of the properties owned by Caesars Entertainment Corporation -- the largest casino gaming company in the world -- according to TMZ.com.

Caesars has reportedly been trying to get Britney to take up residency at one of its properties "for a while"; and now it appears that a deal is all but completed.
"The deal is a go," a source says. "There are several stipulations that could throw a monkey wrench in the deal, but it's basically done."
Britney stands to take home a lot more than the measly $15 million she earned for her work on the second season of The X Factor; early estimates point to her topping the $100 million per year that Celine Dion pulled in during her Sin City residency from 2003-07.
The singer, currently in the studio working on her eighth album, says she left The X Factor to focus more on her music.
"I've made the very difficult decision not to return for another season," she says. "I had an incredible time doing the show and I love the other judges... but it's time for me to get back in the studio. Watching [the contestants] all do their thing up on that stage every week made me miss performing so much! I can't wait to get back out there and do what I love most."
It's been a busy week for Britney, in addition to leaving X Factor she also ended her engagement from fiancee Jason Trawick.