Britney Spears' Lost 'Jackass 3D' Scene (Video)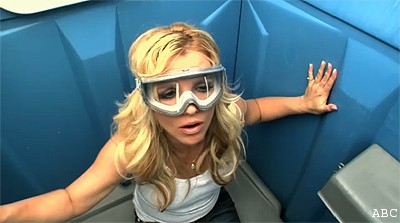 Johnny Knoxville visited the Jimmy Kimmel Live show Tuesday night and revealed that Britney Spears - the night's musical entertainment - shot a scene for Jackass 3D which, unfortunately, was left on the cutting room floor.

In the clip (which was actually commissioned by the show and shot earlier in the day, according to dickhouse.tv - home to Jackass on the web) - Knoxville and co. shot a version of the "Porta-Potty Bungee" with Britney in the hot seat.

If you've seen Jackass 3D, you know what the "Porta-Potty Bungee" is (for those of you who haven't, you can get an idea of what the real version for the film was by watching Britney's go of it below).

Knoxville was on Kimmel's show to promote Jackass 3.5, a web series premiering Friday, April 1 on Joost.com that features 85 minutes of outtakes from Jackass 3D that will be spread out into weekly episodes.

As for Britney though, she's got a sense of humor and took it all in stride. Earlier in the day she Tweeted, "Just did my first @jackassworld stunt with Knoxville and company. Knoxville better watch his back... -Britney."

Later in the show she performed a trio of songs to promote her new album, "Femme Fatale." Check out "Till The World Ends" below, after her debut as a Jackass.
*videos may take a few seconds to load, depending on your connection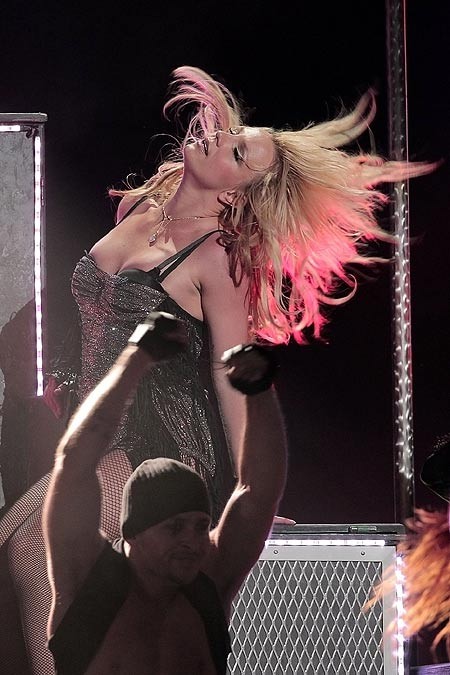 Click for more great Britney Spears pictures: