Britney Spears Freaks Out During 'X Factor' Thunderstorm As Wannabe Singer Freaks Out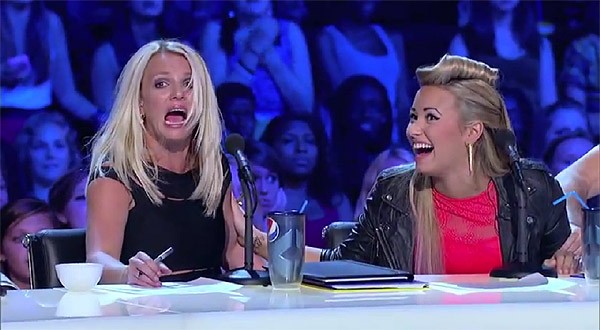 Britney Spears was startled by a loud crack of thunder during auditions for The X Factor during Thursday night's episode -- but she wasn't the only one freaking out.

During this summer's tryouts for the show that were held in Greensboro, North Carolina, large storms moved through the area and the studio where the show was taping was even struck by lightning. The tech crews got everything up and running after a short delay, but another huge crack of thunder nearly shook Britney from her seat.

"Oh my God!" She exclaimed. "That was f--king scary as f--k."

When the loud boom occurred though, contestant Krysten Colon was auditioning -- her second of the night after being given another chance.

Her second try at impressing the judges didn't go as well and she freaked out a lot more than Britney did.

After performing Whitney Houston's "I Have Nothing" (which was a just little pitchy) and being turned down by the panel; Krysten left the stage and was greeted with sympathies from family and friends. But their words couldn't calm the spurned wannabe singer and she began throwing a fit.

Check it out below...