Britney Spears Flaunts Her Figure In A White Bikini; Talks Changes On 'The X Factor'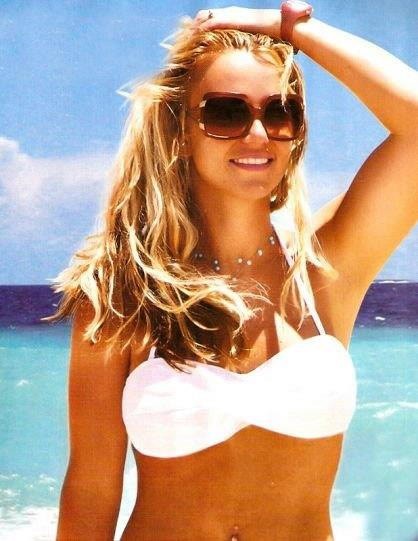 Britney Spears posted a picture on her Facebook page Saturday wearing a white bikini top and looking as good as ever -- but don't let her smile fool you, she isn't ready for summer to end.

"Y'all ready for summer to end?" she wrote, "I'm definitely not!"

The pop star has been working hard all summer long judging talent across the country for the upcoming second season of The X Factor, on which she and fellow pop star Demi Lovato have replaced Paula Abdul and Nicole Scherzinger as judges.

The two are ready for prime time, when season two kicks off next month; and will join music producer Antonio "L.A." Reid and Simon Cowell on the judges panel.

The four stars recently sat down for the new issue of TV Guide magazine; which hits newsstands Thursday; and shared some of their thoughts about working together.
Simon starts off by shedding light on why he got rid of Paula Abdul after just one season of the show, and he strikes it up to the fact that the two already had a past together on American Idol.

"I think there was too much history with me and Paula," he says in a preview of the interview on The Seattle Post-Intelligencer. "I adore her...but it just felt like that relationship was too steeped in American Idol history. With these shows, you can never be complacent."

And Reid says Cowell's choices for the new judges couldn't be better.

"I think Simon really nailed it. In the time that I've spent with both Britney and Demi, I'm impressed with their ability to really identify greatness and talent," he says.

So far the cast is getting along well -- there's been plenty of joking around and several reports from the set say the stars have a great chemistry together.

Lovato explains that people will get to see a different Britney on the show than the pop star we all know, also.

"I've said from Day 1, when [Spears] stepped on set, how funny she is," she says. "I don't think a lot of people have gotten to see her personality and her sense of humor."

Britney returned the compliment, saying that despite Demi being "really young" -- which is strange to hear Britney Spears say in and of itself -- she has a "sophistication about her."

"She's cooler than me," she adds.

One thing's for sure, the upcoming season of The X Factor is shaping up to be a good one, and Cowell knows it.

"It's quite difficult sometimes when you've got singers judging other singers, because they can be selfish," he says. "And I've watched this very carefully; these two want to find a star.